NCCAOM Acupuncture Continuing Education
NCCAOM Provider #602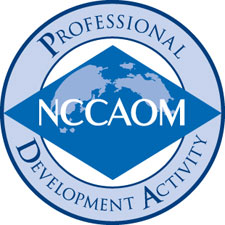 All HealthCMi courses for acupuncturists are pre-approved by the NCCAOM for national acupuncture continuing education points (1 PDA = 1 CEU). This covers most states (see below).
Special Topics: Safety and Ethics
HealthCMi offers acupuncture online courses that are pre-approved for NCCAOM Diplomate recertification credit toward the special 4 hour Safety and/or Ethics category requirement.

PDAs (CEUs) for Diplomate Recertification
All HealthCMi courses fulfill the NCCAOM Core Knowledge, Skill, Ability (KSA) requirements in our online classroom environment. The online classroom is an "in-classroom" activity by NCCAOM standards and therefore all PDAs (CEUs) may be obtained online at HealthCMi for NCCAOM Diplomate recertification (except for the required CPR course requirement).
Do I need Adjunct Therapy PDAs?
No. There is a limit of up to 11 PDAs for adjunct therapies such as martial arts but it is not required. Core Knowledge, Skill, Ability (KSA) courses (which are ALL HealthCMi courses) count toward all required PDAs except for the Safety and Ethics requirement and the CPR requirement. CPR counts as 4 Adjunct Therapy PDAs.

Acupuncture Continuing Education Pre-Approved for All

Diplomate of Acupuncture (Dipl. Ac.)
Diplomate in Oriental Medicine (Dipl. O.M.)
Diplomate in Chinese Herbology (Dipl. C.H.)


The NCCAOM approves acupuncture continuing education points for the following states: Alaska (AK), Arizona (AZ), Arkansas (AR), California (CA), Colorado (CO), Connecticut (CT), Delaware (DE), Florida (FL), Georgia (GA), Hawaii (HI), Idaho(ID), Indiana (IN), Iowa (IA), Kentucky (KY), Louisiana (LA), Maine (ME), Maryland (MD), Massachusetts (MA), Michigan (MI), Minnesota (MN), Mississippi(MS), Missouri (MO), Montana (MT), Nebraska (NE), Nevada (NV), New Hampshire (NH), New Jersey (NJ), New Mexico (NM), New York (NY), North Carolina (NC), Ohio (OH), Oregon (OR), Pennsylvania (PA), Rhode Island (RI), South Carolina (SC), Tennessee (TN), Texas (TX), Utah (UT), Vermont (VT), Virginia (VA), Washington (WA), Washington DC, West Virginia (WV), Wisconsin (WI). All acupuncture continuing education courses at HealthCMI meet these states' requirements for continuing education points. The NCCAOM refers to these as PDA's (professional development activity points) and these are commonly referred to as CEUs (continuing education units) by many state regulating bodies.
Other States: All acupuncture continuing education courses are also approved for California CEUs by the California Acupuncture Board and the Florida Board of Acupuncture for acupuncture CE credit. All NCCAOM approved courses are valid for Texas CAEs. HealthCMi courses meet CTCMA BC standards for credit in British Columbia, Canada.
For information regarding renewal of your national NCCAOM acupuncture certification, visit the NCCAOM (National Certification Commission for Acupuncture and Oriental Medicine) website. HealthCMI has provided the following link to the NCCAOM acupuncturist website for your convenience. The page provides current NCCAOM recertification information: NCCAOM Acupuncture. With the exception of CA, FL, and IL; all states use NCCAOM certification for acupuncture continuing education credit.

At HealthCMI, we have fielded many phone calls and emails from acupuncturists in states such as New York, Colorado, New Jersey, Oregon, Washington, Maine, Pennsylvania, Maryland, North Carolina, Arizona, Massachusetts, Virginia, Georgia, New Mexico, Ohio, Michigan, Minnesota, Wisconsin, and more! All have asked if the NCCAOM pda points are what is required for acupuncture continuing education credit. Yes! The NCCAOM approval covers almost every state in the USA.