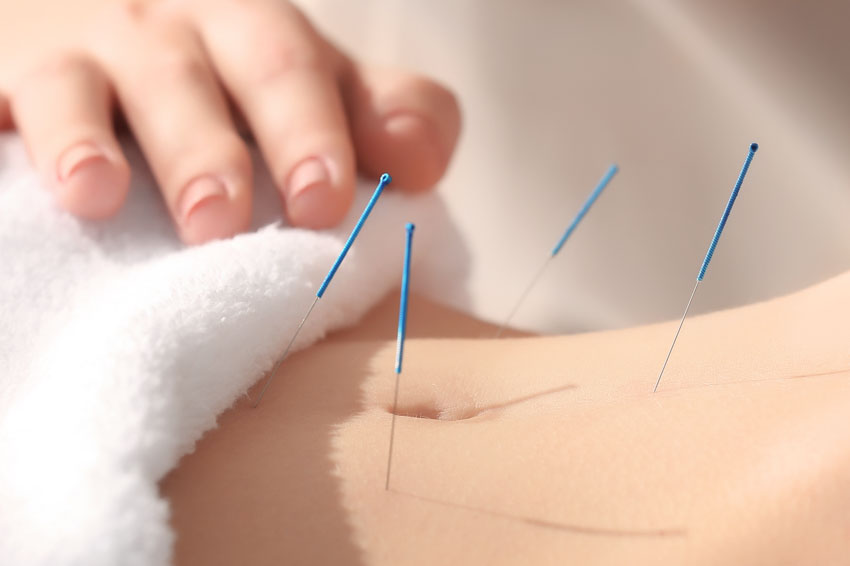 Acupuncture is effective for the alleviation of severe pneumonia. Across two independent studies, researchers made several important findings. Acupuncture reduced clinical symptom presentations, shorted mechanical ventilation times, reduced the need for antibiotics, and improved gastrointestinal functions in severe pneumonia patients.
In the first study, the addition of acupuncture plus herbs to conventional medication therapy produced superior outcomes compared with drug monotherapy. [1] In the second investigation, acupuncture combined into an integrated regimen of care was found effective for the treatment of gastrointestinal dysfunction for severe pneumonia patients. [2] Let's take a look at the results.
Second Traditional Chinese Medicine Hospital of Jiangsu Province researchers (Liu et al.) conducted a controlled clinical trial and confirmed that the combination protocol of acupuncture plus herbs with conventional drug therapy produces superior outcomes to using only medications to control severe pneumonia. Liu et al. find acupuncture plus the classic herbal formula Da Cheng Qi decoction effective for improving clinical symptom scores, shortening mechanical ventilation times, and reducing antibiotic use.
Liu et al. had a sample size of 62 patients. All received treatments for severe pneumonia. Patients were randomly divided into an acupuncture treatment group and a control group, with 31 patients in each group. The statistical breakdown for each randomized group was as follows. The treatment group had 25 males and 6 females. The average age in the treatment group was 79.82 years. The control group had 26 males and 5 females. The average age in the control group was 81.02 years. There were no significant statistical differences in gender, age, and other demographics relevant to patient outcome measures for patients initially admitted to the study.
In this investigation, ST36 (Zusanli) was selected bilaterally for the treatment group patients. After disinfection of the acupoint sites, a 0.30 mm × 40 mm disposable filiform needle was inserted into each acupoint, reaching a depth of 1.5 cun. Once a deqi sensation was obtained, the needles were manipulated with the Ping Bu Ping Xie (mild tonifying and attenuating) technique. One 30-minute session was conducted daily, for a total of seven consecutive days. The Da Cheng Qi decoction prescribed for the treatment group was comprised of the following herbs:
Da Huang 12 g
Mang Xiao 8 g
Hou Pu 24 g
Zhi Shi 5 g
The herbal formula Da Cheng Qi decoction chosen for the study has been in use since ancient times. Its uses and composition were first published by Zhang Zhongjing in the Shang Han Lun (Treatise on Cold Damage). The formula has since been an important part of Traditional Chinese Medicine for the treatment of febrile diseases, especially when presenting with constipation. Modern research confirms that this formula enhances the motility of gastrointestinal smooth muscles, reduces the absorption of intestinal endotoxins, reduces endotoxin damage to the body, and protect organ functions. In addition, research demonstrates that it improves the immune function of animals suffering from infections. One batch of the above herbs was boiled in water and simmered to yield a 200 ml decoction. One decoction was given to the patient, daily, in enema form for one hour, for a total of seven consecutive days.
In an independent research trial, Quan et al. from the Second Affiliated Hospital of Heilongjiang University of Chinese Medicine determined that administering conventional drug therapy with acupuncture and herbs increases the rate of positive patient outcomes. Patients receiving only mosapride citrate had a 78.6% total effective rate. However, adding standard acupuncture increased the total effective rate to 93.1%. Mosapride citrate is a 5-HT4 receptor agonist that is commonly used for the treatment of functional gastrointestinal disorders.
A total of 60 patients were treated and evaluated in the study. They were randomly divided into a treatment group and a control group, with 30 patients in each group. Both groups received conventional drug therapy. A total of 5 mg of mosapride citrate capsules (a prokinetic agent) were administered twice per day, for a total of seven days. The treatment group also received acupuncture. The primary acupoints selected for the treatment group were the following:
CV10 (Xiawan)
ST25 (Tianshu)
CV4 (Guanyuan)
ST36 (Zusanli)
Upon disinfection of the acupoint sites, a 40 mm filiform acupuncture needle was inserted into the acupoints. The needle insertion depth was 0.5 – 1.3 cun (dependent upon patient relative size). After achieving a deqi sensation, the needles were manipulated with a mild tonifying and attenuating technique. A needle retention time of 30 minutes was observed. The acupuncture treatment was conducted twice daily, for a total of seven days.
Patients were evaluated before and after the treatment course. First, gastrointestinal dysfunction and failure (GIDF) scores were measured. Second, intraabdominal pressure, bowel sounds, and gastric retention were recorded. Third, the total treatment effective rate was evaluated and categorized into 3 tiers:
Significantly effective: Bowel sounds were active and a patient could tolerate 25 kcal/kg/day of elemental diet. Defecation, gas production, and bloating showed improvement.
Effective: bowel sounds > 4 times / min.
Not effective: bowel sounds showed no improvement, or <3 times / min, 48 hours after treatment
The investigation found that patients receiving acupuncture plus drug therapy scored significantly better than patients in the drug monotherapy control group. Both aforementioned studies document the success of acupuncture in treating severe pneumonia. The results show that acupuncture is an effective procedure for improving clinical symptom scores, shortening mechanical ventilation times, reducing antibiotic use, and restoring gastrointestinal functions in severe pneumonia patients.
References:
[1] Liu KQ, Wang F, Xu M, et al. Effects of Acupuncture Combined with Dachengqi Decoction Enema on Pulmonary Infection Control Window of the Patients with Severe Pneumonia [J]. ournal of Emergency in Traditional Chinese Medicine, 2018,03:459-461+490.
[2] Quan AJ, Cai GF, Liu K, Zhong JF, Shang LL. Therapeutic Observation of Acupuncture for Gastrointestinal Dysfunction in Severe Pneumonia [J]. Shanghai Journal of Acupuncture and Moxibustion, 2017,03:287-290.