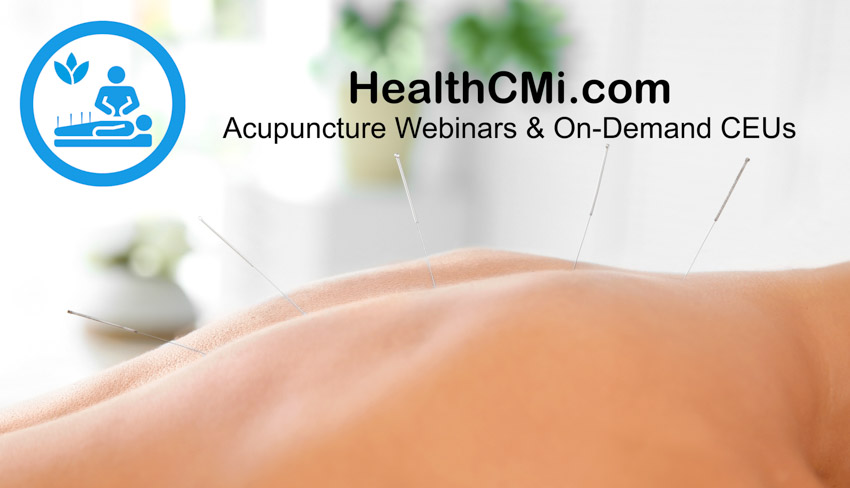 The HealthCMi (Healthcare Medicine Institute) roster has expanded, featuring new acupuncture CEU live webinars and online distance learning courses for NCCAOM PDAs and state CEUs. This includes acupuncture license renewal credit for the entire United States plus Canada, New Zealand, Australia, and much more. Acupuncture webinars are easy to attend on the Zoom platform and acupuncture distance learning courses are available anytime, 24 hours a day, at HealthCMi.
We get a asked a frequent question. Do HealthCMi acupuncture CEU webinars count toward in-person, face-to-face credit? In many states, including California and New Jersey, HealthCMi live webinars count toward your in-person classroom requirements. This facilitates the acupuncture license renewal process.
There is a new special feature available to NCCAOM diplomates. HealthCMi is the first acupuncture continuing education provider to automatically send your certificates of completion to the NCCAOM. There is no longer any need to upload your certificates to their system. Certificates will be in the NCCAOM portal for you and your CEU/PDA credits will be posted in their system.
September has several upcoming live webinars, including Acupuncture Live Webinar #94 on September 15, which features the treatment of irritable bowel syndrome and pain syndromes. On September 20, Acupuncture Live Webinar #95 features the treatment of high blood pressure and also the treatment of pain syndromes. Traditional acupuncture points are examined through the lens of modern research. The latest developments in COVID-19 acupuncture and herbal medicine research are also covered.
A recently added live webinar is Acupuncture Webinar Special, which is live via Zoom on September 27. This live acupuncture webinar features unique microscopic pictures of different acupuncture needle brands. Learn which brands have the traditional Chinese style tip and which brands feature other styles. An open chat discussion in the Zoom webinar allows acupuncturists to discuss the research and current concerns. Featured topics include depression, qi stagnation, and the treatment of pain syndromes.
Acupuncture Live Webinar #97 is on October 6, featuring the treatment of sciatica. This includes hospital research demonstrating the efficacy of acupuncture in alleviating sciatica related pain and MRIs showing brain connectivity changes related to specific acupuncture points. Acupuncture Live Webinar #96 is now available on October 11, featuring the treatment of depression and the treatment of pain syndromes. Other upcoming webinars are on October 18th and 25th. November webinars are on the 8th, 15th, 17th, and 29th. Many more will be available in December and in 2021.
The HealthCMi platform for webinars is on Zoom. Acupuncturists and medical professionals enjoy the user-friendly approach of each webinar, especially in the chat room. Participants are encouraged, but not required, to share their personal clinical experiences and ask questions. The Zoom platform is a great way to enjoy communicating and sharing with other acupuncturists around the world. Certificates of completion are sent to you the same day and no quiz is required for USA acupuncturists for live webinars. Canadian acupuncturists fulfill the two-way feedback requirement by completing a short survey.
All acupuncture CEU webinars feature unique microscopic pictures of different acupuncture needle brands, COVID-19 updates, Chinese medicine book reviews, and a free eBook with valuable course information. Many webinars also include Chinese medicine dietetics videos, featuring Prof. Jeffrey Pang, L.Ac. He shares traditional Chinese medicine foods for the treatment of specific conditions. Prof. Pang is a department chair and faculty member at Five Branches University (Santa Cruz, San Jose) and authors Chinese medicine and dietetics online CEU courses at HealthCMi.
Prof. Pang, L.Ac. offers many distance learning courses at HealthCMi that are available anytime, 24 hours a day, 7 days a week. The courses are easy to download digital books in the PDF format. The course Influenza, Asthma, Bronchitis features Pang family secrets for the treatment of infectious disease. Prof. Pang's course on Heart Disease covers the treatment of congestive heart failure, arrhythmias, tachycardia, and much more. A special section focuses on many types of irregular pulses.
HealthCMi provides NCCAOM requirement fullfillment. This include Safety, Ethics, and CPR courses. In addition, Prof. Liao, L.Ac. offers new courses drawing on ancient Taoist Dragon Sect teachings, exploring the original meanings and dynamics of acupuncture points. For example, the course True Meaning of Lung Acupoints connects the energetics of each acupuncture point with real world clinical applications. Enjoy the acupuncture CEU courses at HealthCMi, we look forward to sharing quality acupuncture continuing education experiences with you.