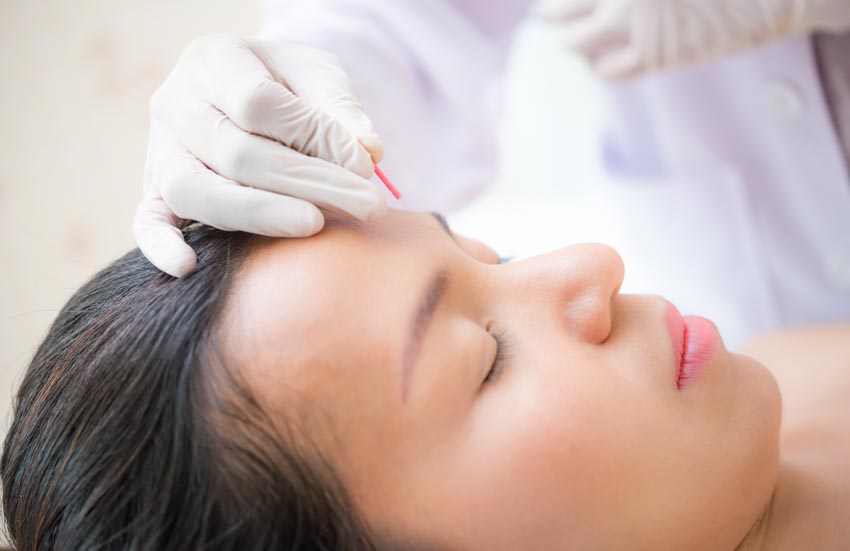 Acupuncture and moxibustion are effective treatment modalities for allergic rhinitis relief. In a meta-analysis of 39 studies involving 3,433 allergic rhinitis patients, acupuncture improved nasal symptoms and rhinoconjunctivitis scores. Researchers determined that all types of acupuncture modalities are significantly superior to sham controls. [1] Moreover, moxibustion was found effective within six treatments.
Integrative medicine produced excellent outcomes. A combination of acupuncture plus conventional medicine significantly improved overall nasal symptom reductions and quality of life scores within nine acupuncture treatments. The combination was more effective than conventional medicine monotherapy.
Allergic rhinitis (hay fever, allergies) is an inflammatory disorder of the nasal mucosa caused by allergen exposures triggering IgE mediated inflammation. Approximately 40–60 million people suffer from allergic rhinitis annually in the USA. Symptoms include rhinorrhea (thin & primarily clear nasal discharge), sneezing, nasal itching, and nasal congestion. It is associated with decreased concentration and focus, irritability, sleep disturbances, and fatigue. Patients with allergic rhinitis have an increased risk of developing asthma.
The researchers conclude that acupuncture is "not inferior to pharmacologic therapy." They conclude that acupuncture is recommended for patients that are unresponsive to conventional medicine or are intolerant to the adverse effects of medications. The researchers add that a combination of manual acupuncture plus conventional medicine produces superior patient outcomes over patients receiving only conventional medicine.
Data was based on quality of life scores and assessments of serum allergen specific IgE. The parameters were analyzed by STATA software (College Station, Texas) to generate plots of the meta-analysis network. Funnel plot digital modeling was used to eliminate bias.
Across the 39 randomized controlled trials, 37 were in Chinese and 2 were in English. The total sample size consisted of 3,433 allergic rhinitis patients. The main acupuncture points most commonly used across all of the studies were the following:
Yingxiang (LI20)
Yintang (DU29 extra)
Shangyingxiang, Bitong (EX-HN8)
Feishu (BL13)
Dazhui (DU14)
Hegu (LI4)
The treatment duration across all studies ranged from four to eight weeks of acupuncture sessions. Based on the data, the researchers conclude that acupuncture is an effective therapy for the treatment of allergic rhinitis.
Guidelines from the American Academy of Otolaryngology state, "Clinicians may offer acupuncture, or refer to a clinician who can offer acupuncture, for patients with allergic rhinitis who are interested in nonpharmacologic therapy." [2] This is consistent with UCLA (Los Angeles, California), Morehouse School of Medicine (Georgia), and Henry Ford Health System (Michigan) researchers that note, "There are high-quality randomized controlled trials that demonstrate efficacy and effectiveness for acupuncture in the treatment of both seasonal and perennial allergic rhinitis. Smaller head-to-head studies also show some preliminary benefit of acupuncture when compared with antihistamines." [3]
In a related study, Beijing University of Traditional Chinese Medicine Affiliated Hospital researchers conducted a meta-analysis of 30 clinical trials (sample size: 2,602 allergic rhinitis patients). The researchers conclude, "Acupuncture, either used alone or combined with other treatments such as moxibustion, herbal medicine, and western medicine, were proven to have both short and long-term clinical benefits to allergic rhinitis sufferers." [4] Common acupuncture points used across the multiple studies in the meta-analysis were the following:
LI20 (Yingxiang)
Yintang (extra)
LI4 (Hegu
ST36 (Zusanli)
EX-HN8 (Shangyingxiang, Bitong)
To learn more, explore the HealthCMi news department for additional studies on this topic.
References:
1. Yin, Zihan, Guoyan Geng, Guixing Xu, Ling Zhao, and Fanrong Liang. "Acupuncture methods for allergic rhinitis: a systematic review and bayesian meta-analysis of randomized controlled trials." Chinese medicine 15, no. 1 (2020): 1-28.
2. nccih.nih.gov/health/providers/digest/seasonal-allergies-and-complementary-health-approaches-science#mind-and-body-practices. NCCIH Clinical Digest for Health Professionals, NIH, National Center for Complementary and Integrative Health, 11-9-2020.
3. Taw, Malcolm B., William D. Reddy, Folashade S. Omole, and Michael D. Seidman. "Acupuncture and allergic rhinitis." Current opinion in otolaryngology & head and neck surgery 23, no. 3 (2015): 216-220.
4. Qu SH, Liu YX. Systematic Review and Meta-analysis of the Randomized Controlled Trial of Acupuncture for Allergic Rhinitis [J]. World Journal of Integrated Traditional and Western Medicine, 2016,11(07):900-906+948.