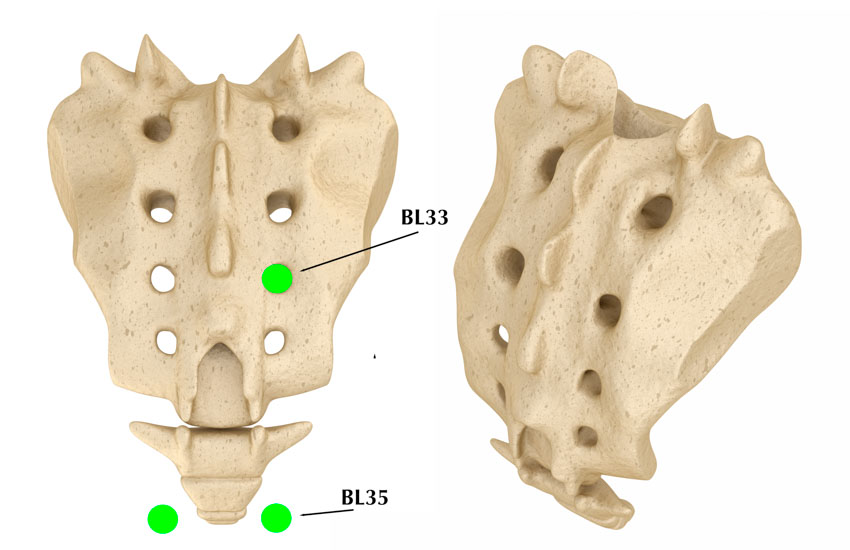 Acupuncture combined with pelvic floor muscle exercises is more effective than pelvic floor muscle exercise monotherapy for the treatment of Stress Urinary Incontinence (SUI). Researchers determined that electroacupuncture markedly alleviates symptoms, improves life quality, and reduces accidental urine loss for women with SUI when used in an integrative treatment regimen. [1]
A total of 320 women were admitted into the hospital study. Twenty-four cases dropped from the study. There were 149 patients in the electroacupuncture group and 147 in the pelvic floor muscle training monotherapy control group. Inclusion criteria consisted of women that lacked control of urination due to laughing, coughing, or walking. Standard exclusion criteria consisted of the following: history of pelvic surgery, surgical treatment for SUI, acute and chronic urinary tract infection, lower urinary tract obstruction, neuropathy of the cauda equina, pregnancy.
Pelvic floor muscle training was provided. A standing position, a supine position, or a sitting position was used. Patients tightened the pelvic floor muscles and held for a count of 10, then relaxed the muscles completely for a count of 10. Three sets of fifteen minutes exercises were conducted on alternate days. The treatment exercises were performed over a period of 8 weeks.
For the electroacupuncture group, a supine position was taken and an electronic acupuncture device was used. The skin was disinfected and Huatuo brand filiform needles (0.30 × 75 mm) were used to administer treatment. Main acupoints used were the following:
BL33 (Zhongliao)
BL35 (Huiyang)
For bilateral Zhongliao, needles were inserted at a 35 to 45 degree angle to the skin, with a 50–60 mm insertion length. For bilateral Huiyang, needles were inserted in the same way. Needles were lifted and thrust three times. After a deqi sensation was achieved, needles were connected to an electronic acupuncture device with a continuous wave. The frequency was set to 50 Hz (SDZ-V Huatuo brand electronic acupuncture instrument, Suzhou Medical Supplies Factory Co., Ltd.). Intensity levels were set to patient tolerance levels. Needles were retained for 30 minutes. Treatment were given on alternate days, three days per week. for the entire duration of 8 weeks. A total of 24 acupuncture treatments were administered to each patient. Treatments were suspended during menstruation.
Measurement parameters included the following: frequency of urinary incontinence per 24 hours, amount of urine loss, International Consultation on Incontinence Questionnaire-Urinary Incontinence Short Form (ICIQ-UI SF). The parameters were recorded and compared before and after completion of the treatment. The amount of urine loss was classified into 4 categories:
Level 0: No urine loss
Level 1: Minor
Level 2: Moderate
Level 3: Significant urine loss
For frequency of urinary incontinence, the results of the electroacupuncture group presented a greater improvement (3.74 ±1.94) compared with the exercise monotherapy group (2.08 ±2.11). As for the amount of urine loss, 130 cases turned to Level 0 or Level 1 after receiving electroacupuncture. A smaller change was observed in the exercise monotherapy control group. ICIQ-UI SF results also showed more significant improvement in patient life quality in the electroacupuncture group. Overall, the research shows that electroacupuncture is a safe and effective treatment modality for patients with SUI.
Reference:
[1] Multi-center Randomized Controlled Trial of Treating Stress Urinary Incontinence in Women with Electroacupuncture and Pelvic Floor Muscle Training, Journal of Traditional Chinese Medicine, 2021, Vol. 62, No. 5.