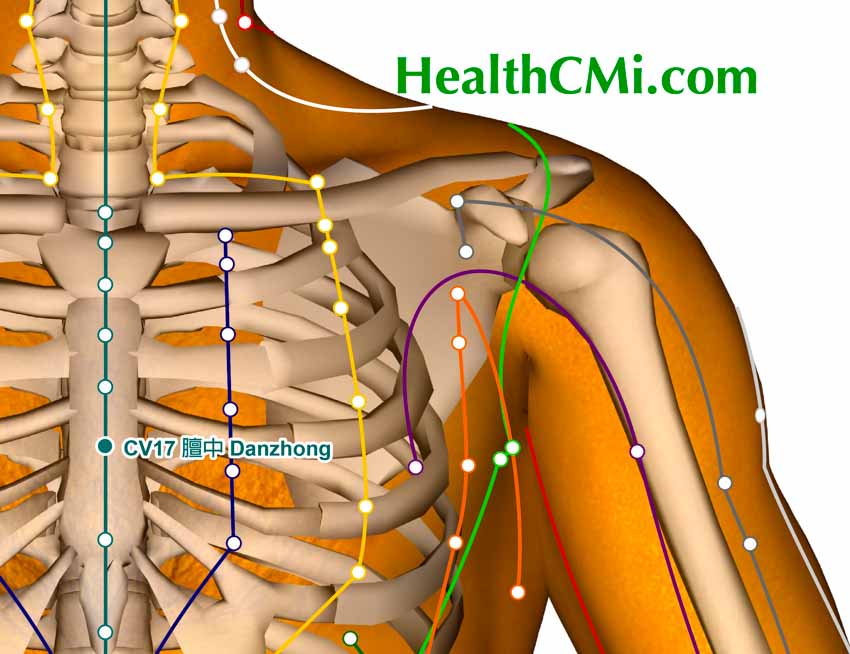 Acupuncture plus herbal medicine are found effective for the treatment of insufficient lactation. No. 3201 Hospital of Shanxi Province researchers determined that acupuncture plus herbal medicine has a 91.30% total effective rate when combined with routine breastfeeding care. This was an improvement over patients receiving only routine care.
As a standalone therapy, patients receiving routine care achieved an 85.71% total effective rate. Adding acupuncture and herbal medicine optimized breastfeeding by an additional 5.59%. The results were measured with time for initiating lactation, serum prolactin levels, breast fullness, and other related quantifications of milk production. [1]
TCM principles specify that hypogalactia, or lack of lactation, is often due to insufficient milk transformation or blockage of milk production channels after delivery. [2] TCM principles also notate that milk is transformed from blood and transported by qi. If the mother has a spleen and stomach deficiency constitution, there is not enough qi and blood for milk production and transportation. Combined with the loss of blood and qi during childbirth, the qi and blood become even weaker to nourish the chong and ren mai (penetrating and conception vessels), resulting in hypogalactia. [3]
The root cause of the condition is qi and blood deficiency. The treatment principle is reinforcing qi and blood by tonifying the spleen and stomach, and to stimulate milk transportation by stimulating the channel flow.
A total of 138 patients with postpartum hypogalactia were treated and evaluated in this study. They were randomly divided into an acupuncture plus herbs group and a routine care group with 69 patients in each group respectively. The acupuncture plus herbs group received both acupuncture and herbal medicine (Yang Xue Sheng Ru decoction) and routine breastfeeding care. For the other group patients, only routine care was given.
The statistical breakdown for each randomized group was as follows. The average age in the acupuncture plus herb group was 28.71 ±2.36 years. The pregnancy in the acupuncture plus herb group lasted 39.07 ±1.93 weeks on average. The average birth weight for babies in the group was 3.37 ±0.32 kg.
The average age in the routine care group was 29.02 ±2.52 years. The pregnancy in the routine care group lasted 39.33 ±1.99 weeks on average. The average birth weight for babies in the group was 3.43 ±0.39 kg. There were no significant statistical differences in terms of age, pregnancy duration, birth weight for babies, and other relevant demographics for patients initially admitted to the study.
Lactation Consultation
Both groups received the following routine care. Before the commencing of the clinical trial, patients and their families were educated about the benefits and importance of breastfeeding, and the patents were helped to develop the correct breastfeeding posture by watching education videos and receiving advice from doctors. Within 0.5 hours after the baby was delivered, patients were instructed to adopt the correct breastfeeding posture, and one breast should be emptied before the other was offered for breastfeeding. In addition, patients were advised to adhere to eating foods that are easy to absorb. Patient were advised about foods that are nutritious and good for milk production. They were also advised to stay in a quiet environment and maintain a regular healthy lifestyle after delivery.
Acupuncture Sessions
The treatment group patients also received administration of the following acupoints:
CV17 (Danzhong)

CV12 (Zhongwan)

CV10 (Xiawan)

CV6 (qihai)

CV4 (Guanyuan)

ST36 (Zusanli)

SI1 (Shaoze)
After standard disinfection, a 0.35 mm x 25 mm disposable needle was swiftly inserted into each acupoint with a high entry speed. The Danzhong acupoint was needled transversely to a depth of 8 mm. Bilateral Zhongwan, Xiawan, Qihai, Guanyuan, and Zusanli were needled perpendicularly to a depth of 10 mm. Bilateral Shaoze were needled superficially to a depth of 1 mm.
After achieving a deqi sensation, manual techniques were applied with lifting, thrusting, and twirling. A 30-minute needle retention time was observed. One 30-minute acupuncture session was administered, once per day. A full treatment cycle consisted of seven days. The ingredients used in the Yang Xue Sheng Ru (nourishing blood and boosting milk production) decoction were as follows:
Huang Qi 30 g

Dang Gui 10 g

Dang Shen 20 g

Bai Zhu 12 g

Shu Di Huang 15 g

Mai Dong 15 g

Chuan Shan Jia 10 g

Wang Bu Liu Xing 15 g
The above ingredients were boiled in water and simmered to yield a 200 ml decoction, which was subsequently split into 2 servings, taken separately in the morning and at night. Patients consumed the TCM herbal medicine at this rate for one week.
The results show that the time for initiating lactation was significantly earlier,and the number of lactating women within 24 hours in the TCM treatment group was significantly more than that in the control group. The serum prolactin levels at postpartum hour 48 and 72 in the acupuncture plus herbs group was significantly higher than that in the control group. The proportion of grade 1 breast fullness in the treatment group was higher than that in the control group.
The study indicates that acupuncture with herbal medicine improve lactation outcomes. The study also demonstrates that acupuncture is safe and effective for relieving lack of lactation. Important features of TCM protocols are that they bring forward the time to initiating milk production, improve serum prolactin levels, and produce breast fullness due to milk increases.
References:
[1] Li XJ, Yang FY. (2019). Preventive Effect of Specific Traditional Chinese Medicine Nursing Measures of Acupuncture Plus Herbs on Postpartum Hypogalactia in Puerperas with qi-blood Deficiency Type. Journal of Guangzhou University of Traditional Chinese Medicine, 2019,36(01):83-86.
[2] Zhao CX, Guo XX, Liu X, et al. (2017). Discussion on the Postpartum Oligogalactia Based on the Theory of Treating qi and Blood at the Same Time. China Journal of Traditional Chinese Medicine and Pharmacy, 2017, 32(10): 4506.
[3] Liang YM, Lu ML, Pan YC, et al. (2016). Effects of Phased Nursing Intervention on the Compliance of Exclusive Breastfeeding. Chinese Journal of General Practice, 2016, 14(7): 1231.