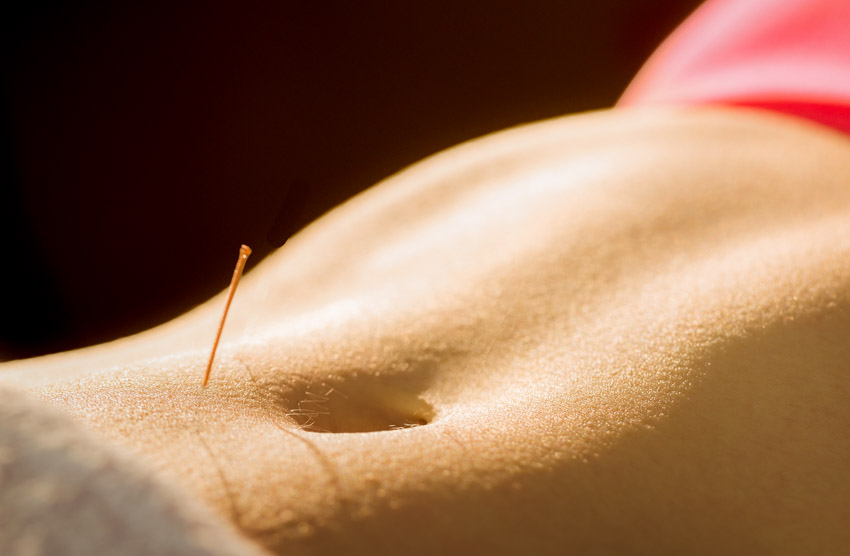 Acupuncture is effective for endometriosis relief. Research published by Changhai Hospital Affiliated to Second Military Medical University finds electroacupuncture more successful than a powerful hormone antagonist for treating endometriosis. This is consistent with an independent laboratory study, whose findings indicate that the combination of acupuncture and herbal medicine reduces the size of ectopic endometrial tissue and downregulates levels of vascular endothelial growth factor (VEGF).
Acupuncture outperforms mifepristone for the treatment of endometriosis. In a six-month randomized clinical trial conducted by Zhang et al., patients receiving electroacupuncture achieved a 94.4% total effective rate, while the other group of patients receiving the pharmaceutical mifepristone achieved a 91.7% total effective rate. In addition, compared with the mifepristone group, the electroacupuncture group had significantly lower CA 125 levels and recurrence rates. [1] CA125 (cancer antigen 125) is an important biological marker for determining the severity of endometriosis. High CA 125 levels are correlated with severe endometrial conditions and the presence of uterine fibroids. [2] A CA 125 test is also used to monitor ovarian, peritoneal, fallopian, and endometrial cancers.
A total of 72 patients diagnosed with endometriosis participated in the study. The patients were randomly divided into two groups: treatment and control. The electroacupuncture treatment group had 36 patients. The mean age was 33 ±6 years and the average course of disease was 33.6 ±18.9 months. The drug control group had 36 patients. The mean age was 35 ±7 years and the average course of disease was 31.4 ±16.9 months. There were no significant statistical differences in age or course of disease relevant to patient outcome measures for patients initially admitted to the study.
The control group was given 12.5 mg of mifepristone tablets once per day for six months. The treatment group received electroacupuncture at the following acupoints:
CV6 (Qihai)

CV4 (Guanyuan)

CV3 (Zhongji)

EX-CA1 (Zigong)

SP8 (Diji)

SP6 (Sanyinjiao)

LI4 (Hegu)

LV3 (Taichong)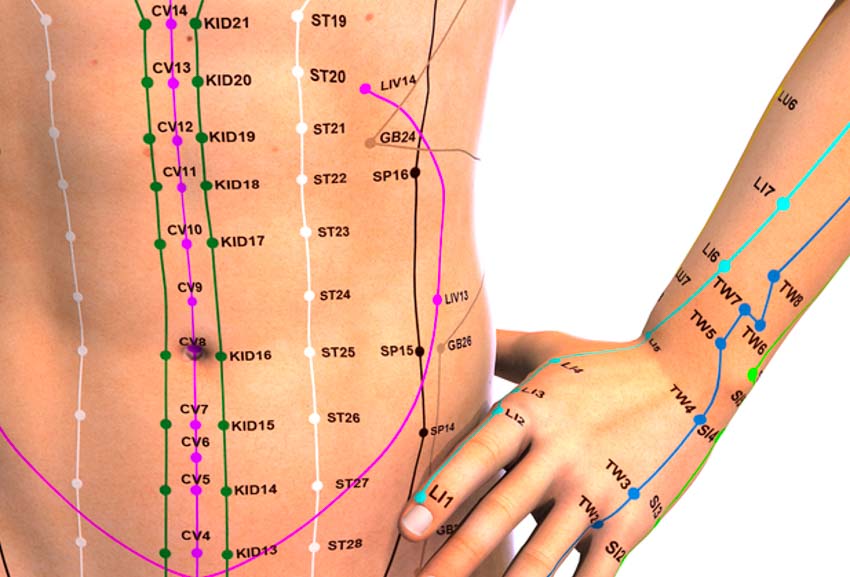 Upon disinfection of the acupoint sites, 0.30 mm x 40 mm filiform acupuncture needles were inserted into the acupoints to a standard depth. After elicitation of a deqi sensation, the acupuncture needles were connected to an electroacupuncture device. The bilateral Zigong points were connected to Guanyuan and Zhongji. A continuous wave (70 Hz, 3 mA) was applied. The needles were retained for 30 minutes.
The electroacupuncture treatments were administered every two days (except for during menstruation) for a total of six months. The results were measured after six months of treatments and the patients were followed up with a one year exam to calculate the recurrence rate.
The results demonstrate that electroacupuncture is an important therapeutic option for patients with endometriosis. Both methods provided significant improvements for patients. The electroacupuncture treatment method resulted in more significant positive patient outcomes, especially in reducing CA 125 levels and diminishing recurrence rates in the year following treatment. As a result, the researchers conclude that electroacupuncture is an effective protocol for the treatment of endometriosis.
The laboratory findings of another research study are consistent with the one above. Yueyang Hospital of Traditional Chinese and Western Medicine researchers tested the efficacy of different treatment protocols in treating endometriosis in rats. [3] The rats were randomly divided into four groups: model, electroacupuncture, herbal medicine, and electroacupuncture plus herbal medicine. They concluded that electroacupuncture plus Jia Wei Mo Jie Pian produces optimal treatment outcomes for endometriosis model rats, which correlates to its effect in downregulating VEGF levels.
The herbal medicine Jia Wei Mo Jie Pian was used in the study. Derived from Prof. Zhu Nansun's formula, it is used to activate qi and blood circulation, remove stasis, and relieve pain. The acupuncture treatment includes applying moxibustion to CV4 (Guanyuan) and using electronic stimulation at the following acupoints:
SP10 (Xuehai)
SP6 (Sanyinjiao)
The electroacupuncture plus herbal medicine group outperformed the other three groups (model, electroacupuncture, and herbal medicine) in the reduction of the size of ectopic endometrium tissue and the downregulation of VEGF serum levels.
The above studies support the use of electroacupuncture in producing positive outcomes for endometriosis patients. Moreover, the combination of acupuncture and herbal medicine introduces greater potential for increasing positive patient outcomes.
Reference:
[1] Zhang XX, Li WH. (2015). Efficacy on endometriosis treated with acupuncture. Chinese Acupuncture, 35(04): 323-326. DOI:10.13703/j.0255-2930.2015.04.003.
[2] Koninckx PR. (1994). Is mild endometriosis a condition occurring intermittently in all women? Hum Reprod, 9:2202–2205.
[3] Zhang CY, et al. (2014). Effect of combined acupuncture and medicine on the expression of vascular endothelial growth factor in endometriosis rats. Shanghai Journal of Acupuncture and Moxibustion, 33(08): 764-768. DOI:10.13460/j.issn.1005-0957.2014.08.0764.