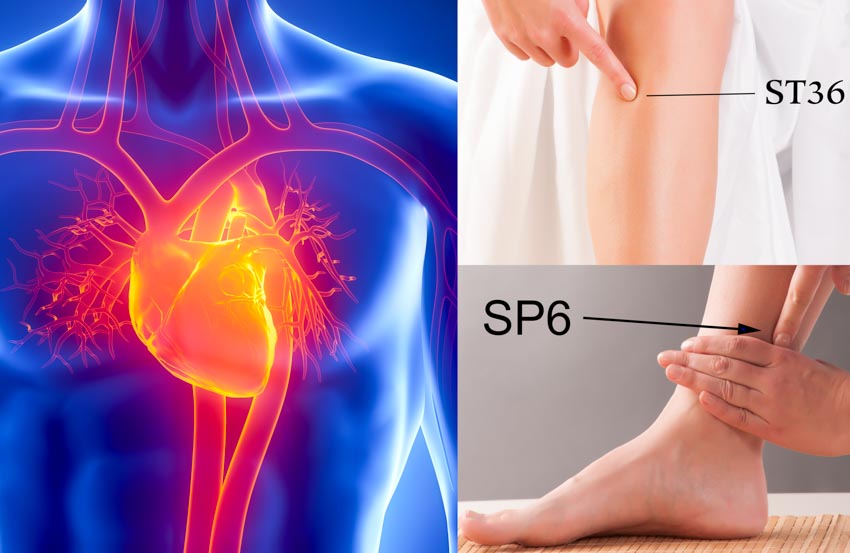 Acupuncture is effective for increasing the total effective rate of drug therapy for the relief of angina caused by coronary heart disease (CHD). Researchers from the Wuhan Seventh Municipal Hospital combined acupuncture with standard drug therapy. Patients receiving both modalities in a combined treatment protocol had superior patient outcomes compared with patients receiving only drug therapy. The results were confirmed with ECG outcomes, numbers of adverse events, and recurrence rates.
Two study groups were compared. Group one received simvastatin tablets (20 mg), aspirin enteric-coated tablets (100 mg), and Danshen Chuanxiongqin Injection (10 mL) once per day for 10 days. Simvastatin is a cholesterol-lowering medication used to protect artery walls. Danshen Chuanxiongqin Injection is a Chinese patent drug for the treatment of cardiovascular diseases. Group two received acupuncture plus the identical drug treatment administered to group one, once per day for a total of 10 days. The drug group had a 77.8% total effective rate. The acupuncture plus drug group achieved a 93.3% total effective rate. [1]
Design
Researchers (Wang et al.) used the following study design. A total of 90 patients were treated and evaluated in this study. The patients were diagnosed with CHD (with angina as a main symptom). They were randomly divided into two groups, with 45 patients in each group.
The statistical breakdown for each randomized group was as follows. The drug control group included 30 males and 15 females. The average age was 62.11 ±5.42 years. The average course of disease was 2.61 ±0.98 years. The acupuncture treatment group included 28 males and 17 females. The average age was 61.51 ±4.95 years. The average course of disease was 2.61 ±0.96 years. There were no significant statistical differences in the above demographics.
Acupuncture Procedure
The acupoints used for the treatment group included the following:
PC6 (Neiguan)

CV17 (Danzhong)

HT7 (Shenmen)

SP6 (Sanyinjiao)

SP10 (Xuehai)

ST36 (Zusanli)

CV4 (Guanyuan)
After needle insertion, a G6805 electrotherapy device was connected to the needles with a continuous wave for 30 minutes. The intensity was set to patient tolerance levels. Each acupuncture session was conducted daily for a total of 10 days.
Results
Patients were evaluated before and after the treatment course. The ECG improvement rate of the acupuncture treatment group was more significant than that of the drug control group. The adverse event occurrence rate in the acupuncture treatment group was zero, while that in the control group was 57.8% (26/45).
The researchers conducted follow-ups at week 2 and week 4 after treatment completion. They found that the recurrence rate in the acupuncture treatment group was zero and 6.7%, respectively. The recurrence rate in the drug control group was 20.0% and 66.7%, respectively. There were significant statistical differences between the two groups.
Acupuncture Research
In a similar finding, Chen et al. conclude that acupuncture and moxibustion reinforce the therapeutic effects of aspirin in treating angina caused by CHD. [2] Using aspirin (100 mg orally, once per day for 10 days) combined with acupuncture and moxibustion achieved a 73.4% total effective rate. The ECG performance was used to record the results. The primary acupoints used in the study were the following:
BL15 (Xinshu)
PC6 (Neiguan)
BL17 (Geshu)
CV17 (Danzhong)
Treatment commenced with patients in a supine or seated position. After disinfection of the acupoint sites, a disposable filiform needle was inserted into each acupoint with a high needle entry speed. For Xinshu and Geshu, the needle was inserted obliquely toward the direction of the spine, reaching a depth of 1–1.5 cun. For Danzhong, the needle was inserted transverslytransversely to a dept h of 0.5–1 cun. Once a deqi sensation was obtained, the needles were retained and moxibustion was conducted on the same acupoints. A 30-minute needle retention time was observed.
The total treatment effective rate was derived from the percentage of patients that achieved at least an effective treatment tier of improvement. The treatment efficacy for each patient was categorized into 1 of 3 tiers:
Significantly effective: Complete recovery of ECG
Effective: ST segment recovery ≥ 0.05 mV, a change from flat to upright inverted T waves or shallow T wave changes, and improvement of atrio- or intraventricular conduction block
Not effective: ECG showed no visible improvement
Both studies reviewed in this article demonstrate that acupuncture boosts the treatment efficacy of drug therapy angina and CHD. Acupuncture combined with traditional drug therapy produced a high total effective rate, low relapse rate, and no significant adverse effects. Given the data, acupuncture and other TCM modalities are recommended as viable treatment options by the researchers.
References:
[1] Wang B, Wu S, Xie J. (2017). Clinical Observation on Eletroacupuncture in Treatment of Angina Pectoris of Coronary Heart Disease with Blood Stasis Syndrome. Journal of Hubei University of Chinese Medicine, 19(3):77-80.
[2] Chen F. (2015). Clinical Effect of Acupuncture in Treating Coronary Heart Disease in 102 Cases. Chinese Health Industry, 12(20):166-167.