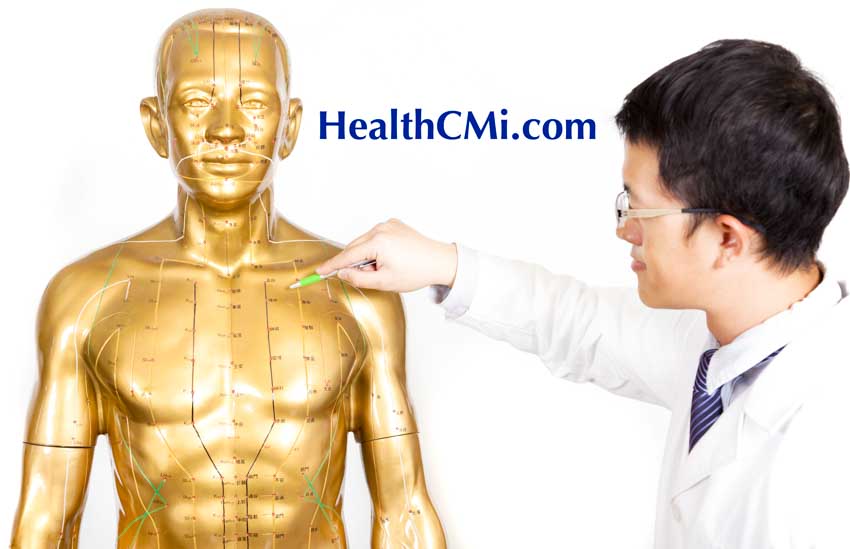 Acupuncture has been proven effective for the treatment of hip region degeneration due to avascular necrosis of the femoral head (ANFH). This is a condition wherein the upper parts of the thigh bone degenerate leading to hip, back, or groin pain. There may be difficulty walking, limping, and unevenness of the legs. ANFH results from inadequate blood circulation to the femur bone, which results in bone cell death and collapse of the femoral head.
Researchers tested the efficacy of combining Chinese herbal medicine nutrients with acupuncture treatments. The clinical trial produced significant patient outcomes. The combined protocol reduced the size of osteonecrosis in the hip and simultaneously reduced hip pain levels. Overall function of the hip joint improved and objective measures of serum pro-inflammatory factors (including IL-1β), IL-6, and TNF-α) improved. The data shows that patients receiving acupuncture and Chinese herbal medicine had greater hip function and improved hemodynamics, while showing reduced pro-inflammatory factors in the bloodstream.
Zhengzhou Traditional Chinese Hospital of Orthopedics researchers compared two groups. In one arm of the study, patients received Xianling Gubao capsules. In the other arm, patients received acupuncture plus Xianling Gubao capsules. Improvements in subjective and objective measures occurred in both groups; however, the group receiving acupuncture plus herbs had significantly greater patient outcomes (including hip function, levels of inflammatory factors, and hemodynamics). [1]
Several measurement tools were used in the evaluation of results. X-ray and MRI imaging was used in determining the changes in osteonecrosis size. Observational indicators in the study included the Japanese orthopedic association (JOA) scale and the Harris hip score for joint function. Blood was analyzed for plasma viscosity, whole blood high-shear viscosity, whole blood low shear viscosity, and fibrinogen hemodynamics. Levels of interleukin-1β (IL-1β), interleukin-6 (IL-6), and tumor necrosis factor-α (TNF-α) were quantified. The JOA and Harris hip score improved in both groups, with the acupuncture plus herbs groups significantly outperforming the herbs monotherapy group. Hemodynamics and levels of pro-inflammatory factors improved in both groups. Again, the combined protocol of acupuncture plus herbal medicine produced superior patient outcomes.
The efficacy rate was rated as follows:
Significantly effective: significant decrease in the size of osteonecrosis, hip pain significantly alleviated, hip function score improved by at least 80%
Effective: decrease in the size of osteonecrosis, hip pain alleviated, hip function score improved by 21% to 79%
Ineffective: no apparent change in the size of osteonecrosis, hip pain persisted, hip function score improved by less than 20%
The acupuncture plus herbal medicine group (57 cases) achieved a total effective rate of 96.5%. Out of the 57 cases, 43 patients achieved the significantly effective level. The herbs only group (56 cases) achieved an 82.1% total effective rate.
A total of 113 patients with ANFH were admitted into the research. They were randomized into a drug control group and a drug-acupuncture integral treatment group. The two groups had no statistical difference regarding gender, age, body mass, or course of condition at the outset. X-ray and MRI imaging confirmed ANFH in patients. Based on the 4-stage system of the Association Research Circulation Osseous (ARCO), all 113 patients fell into the classification of stage I and stage II.
Patients in the herbs only group were prescribed three Xianling Gubao capsules (Guizhou Tongjitang Pharmaceutical Co., 0.5 g/capsule) to be taken twice daily for three consecutive months. The formula contains the following herbs:
Yin Yang Huo
Dan Shen
Shu Di Huang
Bu Gu Zhi
Patients in the integral treatment group received the identical herbal medicine plus acupuncture treatments. A supine or a prone position was taken alternatively. When taking a supine position, knees were slightly bent and a soft pillow was placed underneath. When taking the prone position, the pillow was placed under the ankles. Primary points chosen in the procedure were ashi points around the hip area. The following points were also used as primary points:
ST31 (Biguan)
GB29 (Juliao)
GB30 (Yanglingquan)
Supplementary points used for specific cases were as follows:
GB39 (Xuanzhong)
ST36 (Zusanli)
CV4 (Guanyuan)
ST34 (Liangqiu)
SP6 (Sanyinjiao)
SP6 (Chongmen)
KI3 (Taixi)
BL23 (Shenshu)
LR3 (Taichong)
BL36 (Chengfu)
SP10 (Xuehai)
BL18 (Ganshu)
Acupuncture needles (0.30 mm × 40 mm) were inserted perpendicularly into disinfected acupoints sites and were then twisted and twirled. Upon achieving deqi, three moxa piecies, 2 cm in length, were connected to needle ends. Needle retention time was 30 minutes. Treatment was performed three times a week for three consecutive months. The results indicate that acupuncture plus herbal medicine is an important treatment option.
Reference:
[1] Zhang Xinkai, Guo Yongchang, Ma Jiabin, Wang Yingxiao, Sun Baoxia, Efficacy Observation of Warm Acupuncture in Treating for Mid-stage Avascular Necrosis of Femoral Head and Its Impacts on Inflammatory Factor Levels and Hemodynamics, Shanghai Journal of Acupuncture and Moxibustion, Oct 2022, Vol 41, No 10.