Delaware Acupuncture CEUs Online
Acupuncture Continuing Education
NCCAOM Recertification PDAs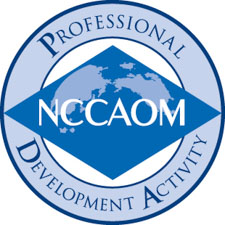 Delaware licensed acupuncturists fulfill their NCCAOM Diplomate recertification online at HealthCMi. All acupuncture continuing education online courses are pre-approved by the NCCAOM. HealthCMi provides quality online acupuncture CEU courses and simplifies the NCCAOM recertification process. We offer a variety of courses written by licensed acupuncturists. Topics include the treatment of liver disorders, tonify Qi, pelvic inflammatory disorders, and more.
Purchase the online course, download the course materials, and get a certificate of completion instantly. We have eBook, audio, video, and live webinar courses. The ebook, in PDF format, is Apple and PC compatible and is also searchable. Webinars are viewable on iPhones and Android phones. The eBook course material is also viewable on iPhones, iPads, Kindles, Androids and many other smart phones. Enjoy our valuable online courses and the easy process by which you can renew your acupuncture license.
At HealthCMi, we offer NCCAOM Diplomate online courses approved for general credit and special courses certified for the 4 hours of NCCAOM Safety and Ethics requirements.
A special thanks to local acupuncturists and the Delaware Medical Society for promoting the bill to bring acupuncture as a licensed profession to Delaware.