Oregon & Washington Acupuncture
NCCAOM CEUs/PDAs Continuing Education Online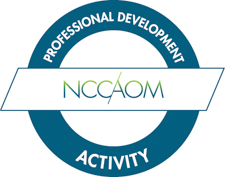 Oregon & Washington acupuncturists get acupuncture continuing education license renewal credit for their NCCAOM PDA/CEU requirements at HealthCMi. Simply download the course materials, take the online quiz and receive a certificate of completion instantly! You get to keep the course content and can print the eBook if you want a paper copy. The ebook, in PDF format, is Apple and Windows compatible and is also searchable.
HealthCMi provides acupuncturist continuing education in three main formats: ebook, prerecorded online video, and live webinar. Ebook and prerecorded video courses can be taken 24 hours a day, 7 days a week. These anytime courses have no time limits and can be completed at your own pace. Enjoy our quality, worthwhile content at affordable prices. We strive to make your acupuncture license renewal process both valuable and straightforward.
After reviewing the materials, simply take the online quiz and then download a certificate of completion. Need to take the quiz more than once? No need to worry, you can re-take the quiz as needed and there are no extra charges to do so. Enjoy these materials for credit in the Pacific Northwest! Our goal is to provide a quality learning experience and help you obtain your license renewal at the same time.
Oregon Medical Board
The Oregon Medical Board acupuncture CEU/PDA requirements (chapter 847, division 8) note, "30 hours of NCCAOM-approved courses per two years relevant to the licensee's current practice, or 15 hours if licensed during the second year of the biennium." All HealthCMi courses are NCCAOM approved and are therefore valid for all Oregon acupuncturist CEUs/PDAs.
At HealthCMi, we offer NCCAOM Diplomate online courses approved for general credit and special courses certified for the four hours of NCCAOM Safety, Ethics, and CPR requirements.
View Safety, Ethics, CPR Courses
Washington State Live Webinars
Free Webinars For WAEMA Members
HealthCMi offers up to four complimentary live webinars for WAEMA members. This offer applies to live webinar events and not to anytime distance learning courses. Click the following button to register for complimentary webinars: