Fibromyalgia Online CEU Sample
Course Excerpt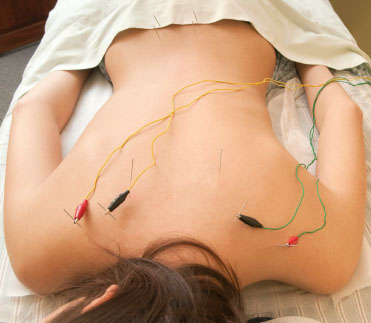 This course is approved for 4 California acupuncture CEUs (category 1), 4 NCCAOM Diplomate recertification PDAs, 4 Florida CEs (general), 4 general Texas CAEs and 4 CTCMA & CAAA CEs.
Download the course, complete the online quiz and receive immediate acupuncture license credit.
SAMPLE MATERIAL from Biomedicine Section Introduction:
Western Biomedicine Overview
Fibromyalgia is a rheumatic condition characterized by generalized pain in 11 of 18 myofascial tender points for over a period of 3 months. The pain is widespread, chronic, and usually accompanied by fatigue, memory problems, and sleep disturbances. Patients often experience depression, but the condition is not a psychiatric disorder. Multiple unexplained systemic symptoms may appear. Not all of the identified myofascial tender points are reactive in all patients. Other common FMS symptoms besides pain, memory problems, depression, and insomnia include irritable bowel symptoms, headaches or migraines, muscle weakness, and paresthesia. In summary, the clinical features of FMS include, but are not limited to:
High levels of generalized pain

Sleep disturbance

Fatigue

Memory problems

Muscle weakness

Paresthesia
The symptoms can be minor to debilitating and most patients experience periods of remission followed by periods of flare-ups. Since fatigue and pain frequently occur concomitantly with this condition, the limitations placed on the patient can sometimes be quite severe. In fact, some flare ups can be so severe that they even interfere with the patient's ability to work and perform routine daily functions.
Moreover, the cycle of fatigue and pain lend itself to both high levels of anxiety and depression in many cases. In one study by the National Bank for Rheumatic Disease, 64% of FMS patients reported experiencing depression while 8% reported mental illness. The most common pyscho-emotional symptoms are depression, dysthymia (mood disorder) and anxiety. Two big questions are whether the generalized pain and flare-ups cause the pyscho-emotional issues OR if the pyscho-emotional issues contribute to the pain and flare-ups? Depending on various internal and external factors, patients can have flare ups that range from mild to severe. The average flare may last days to weeks.
Pathophysiology / Mechanism
There are various mechanisms used to explain chronic pain. A common mechanism for FMS describes the condition as a central sensitization disorder. This means the person experiences exaggerated responses to peripheral nervous stimulation. The exaggerated response can be to something that's normally painful, such as the case with hyperalgesia. Or it can be an exaggerated response to something that is not normally painful, as is the case in allodynia.
Researchers have identified fibromyalgia as a non-nociceptive condition. In other words, FMS does not occur as a result of activating a nociceptor. Nociceptors are afferent (peripheral) neurons located in the skin, muscles, joints, and other tissues. These neurons are depolarized (activated) by heat, pressure, or chemical stimuli. A nociceptive mechanism results in pain AND inflammation. Non-nociceptive mechanisms involve an increased "gain" in pain processing in the central nervous system due to heighten sensitivity in the absence of normal nociceptive input. Non-nociceptive mechanisms do not involve inflammation. This is the reason inflammation is not a characteristic feature of FMS.