Idaho Acupuncture NCCAOM CEUs/PDAs
Acupuncture Continuing Education Online
NCCAOM Approved Courses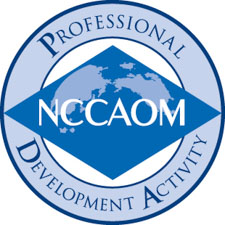 All Healthcare Medicine Institute (HealthCMi) courses are NCCAOM approved and are therefore valid for Idaho acupuncturist continuing education. Idaho licensed acupuncturists fulfill their NCCAOM Diplomate recertification online at HealthCMi. Purchase the online course, download the course materials, and get a certificate of completion online. Enjoy getting your acupuncture CEUs/PDAs online at HealthCMi.
HealthCMi provides acupuncturist continuing education in three main formats: ebook, prerecorded video and live webinar. Ebook and prerecorded video courses can be taken 24 hours a day, 7 days a week. These anytime courses have no time limits and can be completed at your own pace. You keep the course content and you may print the e-book if you wish to make a paper copy. The ebook, in PDF format, is Apple and Windows compatible and is also searchable. The course material is also viewable on iPhones, iPads, Kindles, and many smart phones.


Need A Syllabus?
If you require additional documentation or a syllabus for any course for purposes of providing information to the Idaho State Board of Acupuncture, please click the contact link. Provide specify the name of the course(s) and we will send it to you promptly.
Idaho Laws and Rules
The following are continuing education requirements for acupuncturists in Idaho as outline by the Idaho State Board of Acupuncture. The Idaho rules state, "All practitioners, for renewal of their license or certificate, shall be required to complete a minimum of fifteen (15) hours of continuing education within the preceding twelve (12) months." The content of continuing education courses "must be germane to the practice of acupuncture as defined in Section 54-4702, Idaho Code" and must also meet criteria for category 1 and have limits on category two 2 courses. The rules state "a minimum of ten (10) hours of continuing education must be from Category I topics, and a maximum of five (5) hours of continuing education may be from Category II topics...."
Category 1 course topics can be the following relating to acupuncture and the practice of acupuncture:
Topics that directly concern the history and theory of acupuncture, oriental medicine diagnosis and treatment techniques, and techniques of adjunctive oriental medicine therapies
The role of acupuncture in individual and public health, such as emergencies and disasters
Research and evidence-based medicine as related to acupuncture and Asian medicine

Category 2 course topics can be taken but are limited to a maximum of 5 hours of continuing education:
Western biomedicine and biological sciences
Scientific or clinical content with a direct bearing on the quality of patient care, community or public health, or preventive medicine
Laws and ethics
Enhancement of effective communication with other medical practitioners
Behavioral sciences, patient counseling, and patient management and motivation when such courses are specifically oriented to the improvement of patient health
Practice management unrelated to clinical matters and direct patient care, including, but not limited to, administrative record keeping, insurance billing and coding, and general business organization and management
Patient education including, but not limited to, patient education in East Asian therapeutic exercise techniques and Asian nutritional therapies
All acupuncture continuing education online courses are pre-approved by the NCCAOM.
General Information for Idaho Acupuncturists:
The Idaho Acupuncture Association is an organization comprised of Licensed Acupuncturists, Certified Acupuncturists, and Acupuncture Technicians in Idaho.
The IDAHO BOARD OF ACUPUNCTURE oversees acupuncture in the State of Idaho. Section 305 of Idaho State Law states that all acupuncture continuinug education courses are accepted in Idaho when approved by the NCCAOM.