Influenza, Asthma, Bronchitis
Samples of Course Materials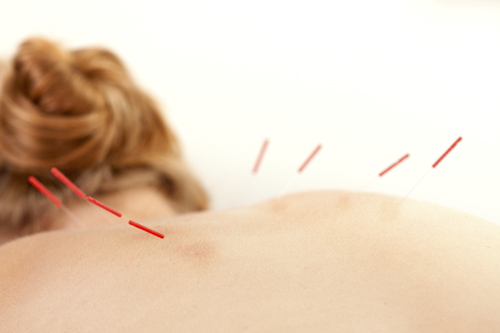 Samples from influenza biomedicine section
People with influenza are most contagious in the first three to four days after their illness begins….
Adults may be able to infect others beginning one day before symptoms develop and up to 5–7 days after becoming sick…
The time from when a person is exposed and infected with flu to when symptoms begin is about 2 days, but can range from approximately one to…
More in course materials...
Sample from the influenza 4 Levels section
In our discussion, influenza is a warm disease special category of the 4 Levels called Spring Warm. Spring Warm begins like the wei or qi level. In cases of Spring Warm, the disease quickly declines to a more serious condition. Usually, the presentation of the wei or qi levels lasts for up to approximately 1–2 days, followed by a rapid decline…
More in course materials...
Sample from the influenza herbal formula section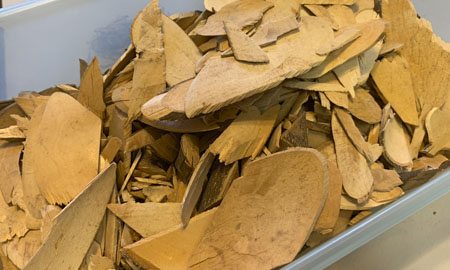 San Ya Hu
This herbal formula uses San Ya Hu (San Cha Hu Gen ) for high fever. San Ya Hu is bitter, cold, and clears heat and toxins. This herb treats lung heat coughing and swelling and pain of the throat. It is indicated for use for patients with fever, lung abscess, meningitis, encephalitis, and influenza. San Ya Hu clears wind dampness and is indicated for the treatment of dampness with itching (including topical applications), rheumatoid arthritis, sciatica, and low back pain (cooling, clear heat and toxins, wind damp bi pain). In a comparison of herbs, San Ya Hua is especially useful for clearing high fever temperatures whereas Gui Yu Jian is especially useful for clearing the influenza virus from the system.
Gui Yu Jian is used for its antiviral actions. Gui Yu Jian, also known as Cruciate Blueheart, is bitter and cold. It clears heat and toxins, cools the blood, and is used for the treatment of skin eruptions (e.g., measles) and other wind-toxin rashes….
More in course materials...
Sample from the influenza acupuncture section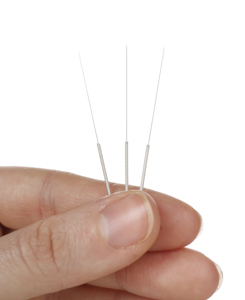 Neiting, ST44 (Inner Courtyard)

ST44 is 0.5 cun proximal to the margin of the web between the second and third toes.

ST44 is a ying-spring, water, and Ma Da-yang heavenly star point. ST44 clears heat and calms the spirit. ST44 is especially useful for clearing and draining stomach heat or intestinal damp-heat. ST44 regulates qi and suppresses pain. This point is special for heat in the upper jiao (burner), including yangming fevers. This point has a strong cooling effect and is especially effective for yangming channel forehead headaches...
More in course materials...
Sample from the asthma Chinese medicine section
Asthma is characterized by paroxysmal dyspnea (difficult or labored breathing) and wheezing. Excess conditions leading to asthma include wind-cold and hot-phlegm. Deficiency causes of asthma include lung and kidney deficiency; the kidney qi must be strong enough to grasp the lung qi.
Allergic asthma is seasonal or living in specific areas stimulates an allergy to something specific. Allergies are mostly related to wind evil (suddenly happens and disappears). All cases of asthma have general underlying lung and kidney deficiency. For allergic asthma, any of the six evils (exogenous pernicious influences) may stimulate an attack. Long term, by benefiting the kidney qi, the root of the disorder is addressed and may ultimately…
More in course materials...
Sample from the asthma acupuncture section
Dingchuan, M-BW-1 (Calm Dyspnea, Stop Wheezing)

This acupoint is located 0.5–1 cun lateral to the depression below the spinous process of the 7th cervical vertebra, level with GV14. A perpendicular-oblique insertion towards the spine to a depth of 0.5–1 cun is recommended by many texts.

 A cutaneous branch of the dorsal ramus of the 7th cervical nerve is located at Dingchuan. Deeply, this point is innervated by the medial branch of the dorsal ramus of the 8th cervical nerve.

This extra point is used for calming dyspnea and stopping both coughing and wheezing. Indications include asthma, coughing, bronchitis, stiff neck…
More in course materials...
Sample from the research section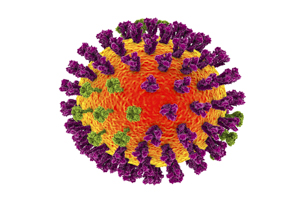 Influenza Virus Image
Acupuncture is effective for the treatment of influenza. Two independent investigations confirm acupuncture's efficacy for fighting influenza. One laboratory investigation tested acupuncture as a monotherapy and determined that acupuncture lowers mortality rates, increases serum interferon levels, and improves the phagocytosis of viruses. Another investigation finds acupuncture effective for enhancing the clinical efficaciousness of anti-viral drugs. Let's start with the integrative investigation and we'll look at the acupuncture monotherapy next.
Researchers from the Taizhou Municipal Hospital combined acupuncture with standard drug therapy. Patients receiving both oseltamivir and acupuncture in a combined treatment protocol had superior patient outcomes compared with patients receiving only oseltamivir. [1] In an independent laboratory experiment, the researchers proved that acupuncture exerts an antiviral effect by increasing the serum level of interferon (IFN) and improves phagocyte function in rats with influenza virus infections... [2]
More in course materials...
References:
[1] Lang BX, Jin LQ, Liu SN, Liu XR. Clinical observation on the effect of acupuncture combined with conventional therapy on influenza H1N1 [J]. Chinese Archives of Traditional Chinese Medicine, 2011, 29(2):411-412.
[2] Chou YF, Cao YM, Wang JL, Yang ZM, Qiu ML. Protective effect of acupuncture on mice infected with influenza virus [J]. China Journal of Traditional Chinese Medicine and Pharmacy, 1990(2):16-18.