Tonify Blood with Herbs
Course Sample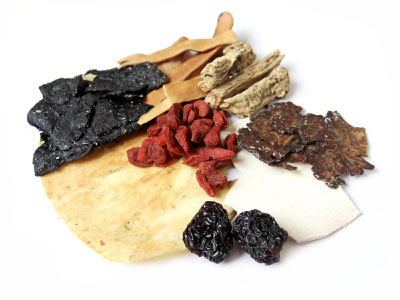 Select Course
Table of Contents and Introduction
Si Wu Tang applications for clinical practice
An introduction and explanation of Si Wu Tang including its history and a formula analysis is presented. A flow of Qi energetics discussion is also presented. The energetics of individual herbs used within each formula variation is presented in detail making this course accessible to acupuncturists of all levels. Beginners will appreciate a step by step guide as to how each herb is used within the formulas presented. Advanced herbalists will appreciate the sublte variations presented between each formula modification and will also value the comparison of individual herbs used within each formula.
1. Si Wu Tang for menstrual disorders with blood stagnation
1.1 Late menstruation with blood deficiency
With blood deficiency
With late menstruation cause by blood stagnation
With Qi deficiency
With bloated abdomen due to Qi stagnation
With Liver Qi stagnation
With Yang deficiency

1.2 PMS and painful menstruation with blood stagnation
With Liver Qi stagnation irritability
Excess pain with Qi and blood stagnation
Excess blood clots with blood stagnation
With cold and Kidney and Liver Yang deficiency

1.3 Excess or abnormal menstrual bleeding with blood stagnation
Excess bleeding due to Spleen Qi deficiency and prolapse
Bleding due to Kidney and Liver Yang deficiency
Bleeding due to Kidney Yin deficiency with empty heat sign.
Bleeding due to Kidney Yang deficiency
Bleeding due to blood stagnation
2. Injury with blood stagnation or wind damp Bi pain with blood stagnation
Head, neck and shoulder injury
Rib and chest injury
3. Dry skin with blood deficiency or stagnation
Dry and red skin with blood deficiency
Itching and dry skin due to Yin deficiency and Wind
Red and dry skin with excess heat or empty heat
4. Night blindness
Night blindness due to Yin and blood deficiency
5. Central retinitis
Central retinitis due to blood stagnation
Central retinitis due to dampness
6. Red nose with blood stagnation and heat signs


7. Low sperm count or swelling of the testicle


8. Chest pain with Qi and blood stagnation
About Prof. Liao
Professor Liao, L.Ac., Dipl.Ac., has served as professor of herbology and acupuncture theory at the Academy of Chinese Culture & Health Sciences in Oakland, CA. Prof. Liao has also served as faculty at Five Branches University in Santa Cruz, CA. His many years of teaching experience bring the highest quality of interesting and useful courses to HealthCMi continuing education online.