New acupuncture research shows that acupuncture is effective for the treatment of neck spondylosis, a type of degenerative osteoarthritis. This condition often causes pain, numbness and weakness of the limbs. The researchers compared to approaches to treatment.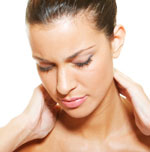 Acupuncture for Neck PainGroup 1 consisted of 55 subjects who received acupuncture at acupoints Bailao (Ex-HN15), Ht7 (Shenmen), and SI4 (Wangu). Next, Group 1 received moxibustion treatment at GV14 (Dazhui), UB15 (Xinshu) and UB23 (Shenshu). In the third stage of care, group 1 received intradermal needling at Bailao (Ex-HN15), UB15 and UB23. Group 2 consisted of 56 subjects who received acupuncture at acupoints Bailao and TB3 (Zhongzhu). Next, group 2 subjects received intradermal needling at Bailao and SI15.
Both groups improved significantly in a before and after treatment comparison. When the groups were analyzed for statistical differences between age groups, group 1 showed significantly better results for subjects over 45 years of age. The researchers concluded that the group 1 treatment program demonstrates clinically superior efficaciousness for patients that are 45 years or older with chronic cervical spondylosis.

Reference:
Zhongguo Zhen Jiu. 2012 Sep;32(9):769-75. [Chronic neck pain of cervical spondylosis treated with acupuncture and moxibustion in terms of the heart and kidney theory: a randomized controlled trial]. Xu SJ, Liang ZH, Fu WB. Acupuncture-Moxibustion Department of Guangdong Hospital of TCM, Guangzhou, China.