NCCAOM PDAs / CEUs Online
Acupuncture Continuing Education Online

NCCAOM Provider #602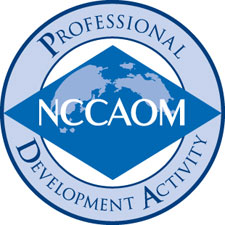 All HealthCMi courses are pre-approved by the NCCAOM for Diplomate PDAs. NCCAOM acupuncture continuing education points are referred to as PDAs (Professional Development Activity Points) and 1 PDA = 1 CEU.
Safety, Ethics, & CPR PDAs
HealthCMi offers acupuncture online courses that are pre-approved for NCCAOM Diplomate recertification credit towards the special Safety, Ethics, and CPR category requirements.
Diplomate Recertification
HealthCMi courses fulfill the NCCAOM Core requirements in our online classroom environment. The online classroom is an "in-classroom" activity by NCCAOM standards and therefore all PDAs (CEUs) may be obtained online at HealthCMi for NCCAOM Diplomate recertification (except for the CPR requirement).
Biomedicine and Core PDA Categories
Biomedicine PDAs that are "directly applicable to patient care in conjunction with AOM treatments and/or modalities" are now accepted as part of the Core category. All HealthCMi courses may be applied towards the Core category. Extra PDAs earned in the Safety and Ethics categories may also be applied towards the Core requirement.
Do I need Adjunct Therapy PDAs?
No, however, the NCCAOM allows activities including martial arts to count for a limited number of PDAs per renewal period.
NCCAOM Diplomate PDAs For:
Diplomate of Acupuncture (Dipl. Ac.)
Diplomate in Oriental Medicine (Dipl. O.M.)
Diplomate in Chinese Herbology (Dipl. C.H.)


For information regarding renewal of your national NCCAOM acupuncture certification, visit the NCCAOM (National Certification Commission for Acupuncture and Oriental Medicine) website. HealthCMi has provided the following link to the NCCAOM acupuncturist website for your convenience. The page provides current NCCAOM recertification information: NCCAOM Acupuncture.