A new study concludes that acupuncture is effective for reducing the syndromes caused by vascular dementia. Investigators discovered that acupuncture helps to reduce dysfunction of reasoning, memory and general cognition for patients with this disorder. Vascular dementia is caused by damage to the brain from impaired blood flow.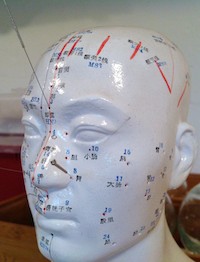 This may be caused by a stroke or conditions leading to damaged blood vessels or poor circulation that cause deprivation of oxygen and nutrients to the brain. Risk factors include hypertension, high cholesterol, smoking and heart disease.
A total of 63 patients were studied. Group 1 was a randomized acupuncture treatment group. Group 2 was a non-randomized acupuncture treatment group that self-selected to undergo acupuncture care. Group 3 received conventional guided rehabilitation. Groups 1 and 2 showed significant improvement from acupuncture treatments whereas the conventional treatment group did not show improvement.
Treatment assessments were based on a baseline established before any treatments were rendered. Next, measurements were taken during the 6 week treatment period. Interestingly, improvements in the acupuncture groups did not begin until after completion of the entire treatment regime. At a four week post-treatment follow-up, both acupuncture groups demonstrated significant improvements in reduction of vascular dementia syndromes.
A detailed analysis revealed an important finding. Traditional Chinese Medicine (TCM) differential diagnostics revealed that those patients improving the most suffered from excess syndromes, particularly Liver Yang hyperactivity and phlegm obstruction of the orifices. Patients with deficiency syndromes, including Kidney Jing-essence deficiency, demonstrated the least improvements.
This study is not isolated in its findings. Other research concludes that acupuncture is successful in reducing dementia and notes that "that acupuncture is beneficial at least in part by preventing oxidative damage." Yet another recent study of 184 vascular dementia patients discovered that scalp acupuncture caused significant improvements in cognition, activities of daily living, mental state and social behavior.
Similar findings have been discovered for herbal medicines. Herbal formula Yi Gan San demonstrates neuroprotective effects including protecting dopaminergic neurons from toxicity. The Acupuncture & Meridian Science Research Center at Kyung Hee University conducted research showing that Yi Gan San is useful for the management of neurodegenerative diseases. Yi Gan San showed significant neuroprotection in an induced Parkinsonian mouse model. The study notes that "in the mouse Parkinson's disease model, treatment with Yi-Gan San also significantly improved motor functioning and prevented dopaminergic loss."
Another study published in 'The Journal of Brain Disease' reported that Yi Gan San may be helpful in treating schizophrenia and neuropsychological disorders because it restores brain glutathione levels. In another study published in 'Progress in Neuro-Psychopharmacology and Biological Psychiatry,' the Shimane School of Medicine concluded that Yi Gan San is a serotonin modulator and is a "safe and useful" formula for treating behavioural and psychological symptoms of dementia and borderline personality disorder. The study also shows significant improvements in tardive dyskinesia, psychosis and schizophrenia.
Yi Gan San (Restrain the Liver Powder) contains the herbs Dang Gui, Fu Ling, Bai Zhu, Chuan Xiong, Gou Teng, Chai Hu and Gan Cao. The TCM indications for the use of this formula are rebellious Liver Qi and Liver Blood deficiency.
The mounting evidence that acupuncture and herbal medicines benefit patients with dementia and other neuropsychological disorders suggests that a more integrative medical model is appropriate for the treatment of these conditions. Barriers to access include underinsurance coverage for acupuncture and herbal medicine, cultural unfamiliarity with treatment options, non-integration of referrals within the conventional medical system and the extreme challenges faced by individuals and families in arranging quality medical care for persons who are at least partially mentally incapacitated. The latter involves issues of transportation, oversight and scheduling.

References:
Shi, G. X., C. Z. Liu, Wei Guan, Z. K. Wang, Lei Wang, Chuan Xiao, Z. G. Li, Q. Q. Li, and L. P. Wang. "Effects of acupuncture on Chinese medicine syndromes of vascular dementia." Chinese journal of integrative medicine (2013).
Shi GX, Liu CZ, Li QQ, Zhu H, Wang LP. Acupuncture and Moxibustion Department, Beijing Hospital of Traditional Chinese Medicine affiliated to Capital Medical University, Beijing, China. Journal of Traditional Chinese Medicine. 2012, 32(2):199-202.
Huang, Lin-na, An, Jun-ming, Su, Tong-sheng; Wang, Pu; Dong, Lan; Zhang, Ruo-ping; Ren, Yu-juan; Ren, Yuan-yuan. Therapeutic efficacy observation on scalp acupuncture for vascular dementia. Journal of Acupuncture and Tuina Science. 2012-02-01.