Researchers conclude that ear acupuncture effectively reduces anxiety. The research team initiated the new investigation based on prior studies demonstrating that ear acupuncture reduces anxiety prior to dental treatments, surgery and during ambulance transport.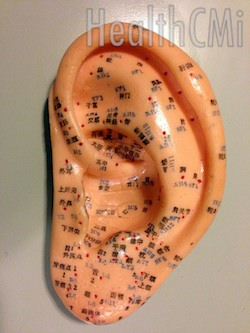 The research team discovered that ear acupuncture exerts "a specific and measurable effect" on anxiety levels.
Ear acupuncture, formally referred to as auricular acupuncture by licensed acupuncturists, involves using either standard filiform acupuncture needles or special auricular acupuncture needles. In this sham controlled trial, auricular acupuncture needles of 1.5mm length were inserted and retained for a total of 20 minutes and then removed. Sham needles were applied to patients in the control group. Looking at the photos below, one can see that the sham auricular needle does not have a penetrating tip. The needles are so tiny that they are affixed to the outer ear with an adhesive backing attached to each needle. In this study, Dongbang Acuprime brand auricular needles of a 0.22 diameter and 1.5mm length were used. Electroencephalography, a recording of brain electrical activity, was used to measure the depth of sedation.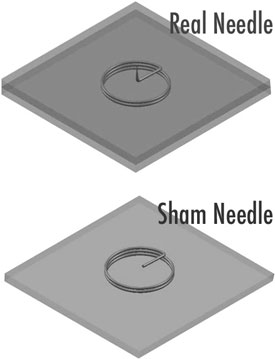 The researchers documented both anti-anxiety and sedative effects of true ear acupuncture. Sham ear acupuncture did not produce a significant reduction in anxiety levels or induce a sedative effect. Electroencephalograph (EEG) measurements taken using the Bispectral Index System (BIS) confirmed the results. The sham versus true acupuncture results confirm that the placebo effect was not responsible for the therapeutic anti-anxiety effects of the auricular acupuncture. The researchers note, "When comparing the effects of real and sham needles, it was noted that there was a significantly higher reduction of
anxiety in the real-needles group" for both the NRS (Numeric Rating Scale) anxiety score and the STAI-Y (State-Trait Anxiety Inventory) score. BIS values "were significantly reduced during the real-needles application" at the10, 15 and 20 minute measuring points. The BIS (Bispectral Index System) encephalography device used in the study is depicted below.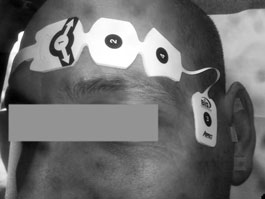 In related acupuncture continuing education research, investigators concluded that acupuncture relieves generalized anxiety disorder (GAD), a condition characterized by excessively intense and debilitating chronic anxiety. The researchers note that acupuncture has a fast effective action and high compliance. In addition, acupuncture has a relatively minimal risk of side effects compared with drug therapy. The acupuncture points in this study were located on the ankle and forearm at acupoints KI6 and LU7.
Many studies focus on the ability of acupuncture to reduce anxiety for specific conditions or situations. One recent study concludes that acupuncture reduces anxiety in women undergoing IVF (in vitro fertilization). A randomized-controlled study of 43 women undergoing IVF measured changes in anxiety levels. A total of four acupuncture treatments over a period of four weeks at a rate of once per week were administered. The acupuncture group received acupuncture at acupoints Yintang, HT7 (Shenmen), PC6 (Neiguan), CV17 (Shanzhong) and DU20 (Baihui). The control group received needle stimulation at non-acupuncture points near the areas of the true acupuncture points (sham acupuncture). The true acupuncture group showed a significant reduction in anxiety while the sham acupuncture group did not. The researchers concluded that acupuncture reduces anxiety and psychological strain for women undergoing IVF.
Another recent study receiving a great deal of attention is one that demonstrates that acupuncture reduces anxiety over dental procedures. In a patient-blinded randomized controlled investigation, researchers compared 182 patients. One group received true acupuncture at auricular points. The second group received sham acupuncture and a third group did not receive acupuncture or any medical procedures for the treatment of anxiety. The researchers measured anxiety levels prior to getting acupuncture and 20 minutes after receiving acupuncture, which was immediately prior to the administration of dental work. Anxiety levels in the true acupuncture group reduced significantly and but only very slightly in the sham acupuncture group. In the non-intervention group, anxiety increased. The researchers concluded that auricular acupuncture is both minimally invasive and "effectively reduces state anxiety before dental treatment."
Researchers conducted another double-blinded study and concluded that both auricular acupuncture and body acupuncture are effective in reducing pre and post-operative anxiety. Pre and post-perative anxiety has been identified in approximately 80 percent of patients, which prompted this investigation. The ear acupuncture group received needle stimulation at point ear Shenmen. The body acupuncture group received acupuncture needle stimulation at Du20, Si Shen Cong, Yin Tang, LV3 and ST36. The needles were 0.25-.30mm in diameter and ranged between 25-40mm in length. Needle depth ranged from 0.2cm to 0.5cm. Acupuncture therapy was administered for a period of four weeks at two sessions per week for a total of eight acupuncture treatments. The Traditional Chinese Medicine (TCM) treatment principles were to increase lucidity, tranquilize by nourishing the Heart, calm the nerves and regulate the Qi. Both ear and body style acupuncture were effective in significantly reducing anxiety.
References:
Gagliardi, Giuseppe, Mariarosa Meneghetti, Francesco Ceccherelli, Andrea Giommi, and Marco Romoli. "Auricular Acupuncture for Anxiety in Health Care Volunteers: Randomized Crossover Study Comparing Real and Sham Needles." Medical Acupuncture (2014).
Observation on the mechanism of acupuncture treatment for generalized anxiety disorder using Lieque (LU7), Zhaohai (KI6) as the main acupoints. Lin, Chuhua; Zhao, Xiaoyan; Liu, Xing; Fu, Wenbin. Bioinformatics and Biomedicine (BIBM), 2013 IEEE International Conference on. 18-21, 12-2-13
Effect of acupuncture on symptoms of anxiety in women undergoing in vitro fertilisation: a prospective randomised controlled study. Daniela Isoyama, Emerson Barchi Cordts, Angela Mara Bentes de Souza van Niewegen, Waldemar de Almeida Pereira de Carvalho, Simone Tiemi Matsumura, Caio Parente Barbosa. Acupunct Med acupmed-2011-010064Published Online First: 12 April 2012 doi:10.1136/acupmed-2011-01006.
Michalek-Sauberer, Andrea, Gusenleitner, Erich Gleiss, Andreas, Tepper, Gabor, Deusch, Engelbert. Auricular acupuncture effectively reduces state anxiety before dental treatment—a randomised controlled trial. Clinical Oral Investigations. Springer Berlin / Heidelberg; Issn: 1432-6981, 1-6.
Shengjun Wu, Jie Liang, Xia Zhu, Xufeng Liu, Danmin Miao. "Comparing the treatment effectiveness of body acupuncture and auricular acupuncture in preoperative anxiety treatment." JRMS 2010; 16(1): 39-42.