A new study demonstrates that acupuncture combined with massage is effective for the treatment of lumbar disc herniation (LDH). The research performed at the Acupuncture & Massage Department of People's Hospital of Hetong County (Hunan) involved randomly sorting 84 cases of LDH into a combined treatment group and an acupuncture-only control group. The control group received electroacupuncture treatment.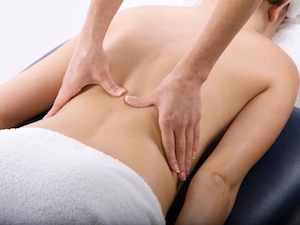 The combined treatment group received electroacupuncture combined with massage along the acupuncture channels. After 2 weeks of treatment, there was a significantly higher overall effective rate in the combined treatment group. The research documents that acupuncture combined with massage along the channels is significantly effective in treating LDH. Acupuncture and massage work together synergistically to produce superior clinical outcomes. In addition, the research documents that the combined approach is safe and without any serious adverse effects.
One course of treatment lasted 1 week and a total of 2 courses of treatment were applied. Electroacupuncture was applied to different acupoints according to differential diagnoses. Zusanli (ST 36), Liangqiu (ST 34) and Futu (ST 32) were selected for the stomach channel related presentations. Weizhong (BL 40), Yinmen (BL 37) and Zhibian (BL 54) were selected for the bladder channel related conditions. Kunlun (BL 60), Xuanzhong (GB 39), Zusanli (ST 36), Weizhong (BL 40), Huantiao (GB 30), Yanglingquan (GB 34) and Liangqiu (ST 34) were selected for complex presentations involving multiple acupuncture channels.
Oblique acupuncture needle insertion towards the direction of the lumbar disc was applied at the Hua Tou Jia Ji acupoints to a depth of 1-1.5 cun. Perpendicular acupuncture needle insertion was applied to other acupoints to a depth of 0.5-1.5 cun. The even reinforcing-reducing manipulation method was applied to all acupoints. The current of the electroacupuncture was limited to the range of 0.5-1 mA. Acupuncture needle retention time was 30 minutes.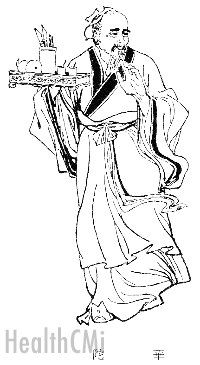 Hua Tou
In addition to electroacupuncture, the combined treatment group received massage on corresponding acupoints on the Foot Yangming Stomach Channel, the Foot Taiyang Bladder Channel and the Foot Shaoyang Gallbladder Channel. Acupressure was applied to clinically relevant and tender acupoints for 1-2 minutes. Finger point style acupressure was applied to the majority of acupoints. Elbow point acupressure was applied to some acupoints at thicker muscle regions. Following acupressure, the therapist massaged the patient from the lower back to lower limbs along channels to unblock collaterals to invigorate the qi and blood.
Following the completion of acupuncture & massage therapy, a total of 24 combined treatment group patients showed complete resolution of pain and a total of 14 patients showed significant clinical improvements. The overall effective rate for the combined treatment group was 90.5% compared to 71.4% for the acupuncture-only control group. Based on the positive clinical outcomes, the research documents that acupuncture combined with massage along channels has a significant positive and synergistic clinical effect on lumbar disc herniation.
Reference:
Liang, Bowei. "Efficacy Observation of Digital Acupoint Pressure and Massage along Meridian Combined with Electro-acupuncture Treating Lumbar Disc Herniation." Chinese Manipulation & Rehabilitation Medicine, 5.3 (2014): 57-58.