Acupuncture relieves neck pain and numbness and reduces levels of proinflammatory blood cytokines. Researchers conclude that warm needle acupuncture has a 92.05% total effective rate for the treatment of pain, numbness, and radiating discomfort due to cervical spondylosis with radiculopathy. This is a condition wherein there is spinal and soft tissue degeneration in the neck causing nerve impingement with subsequent pain or numbness.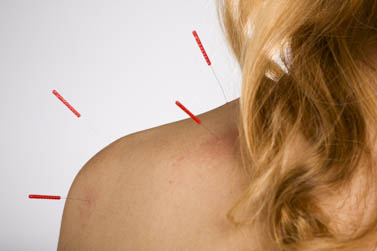 The symptoms often radiate from the neck to the shoulders, chest, back, and limbs. In addition, acupuncture successfully reduces blood levels of tumor necrosis factor-a (TNF-a) and the proinflammatory cytokines interleukin-1 beta (IL1β) and interleukin 6 (IL6).
A total of 169 patients participated in the hospital study. Most of the patients experienced pain upon stretching and all patients had a limited range of motion of the neck. Patients demonstrated significant reductions in neck, shoulder, and limb pain as a result of acupuncture treatments. Acupuncture also significantly relieved numbness in these areas.
Two groups were compared. One group received conventional acupuncture and the other group received warm needle acupuncture. The warm needle acupuncture group received a combination of moxibustion with acupuncture and had a 92.05% total effective rate. The conventional acupuncture group had an 81.48% total effective rate.
The acupuncture with moxibustion group received needling at the following acupuncture points and moxibustion at the acupoints and surrounding areas:
Jingjiaji, Jiaji points on the neck
Jianjing, GB21
Fengchi, GB20
Shousanli, LI10
Dazhui, DU14
Yanglingquan, GB34
Feishu, BL13
The conventional acupuncture group was needled at the following acupuncture points:
Dazhui (Bailao), DU14
Jianzhongshu, SI15
Zhongzhu, SJ3
One course of care comprised one treatment per day for six days. All patients received two courses of care. Both groups demonstrated a high effective rate with significant reductions in pain and numbness. In addition, both groups demonstrated significant improvements in range of motion.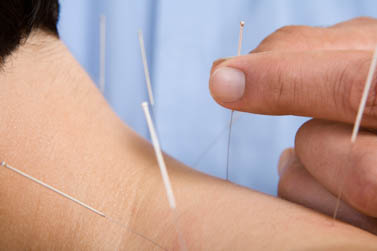 A related study finds acupuncture more effective than Meloxicam, a nonsteroidal antiinflammatory drug, for the treatment of neck disc herniations. A total of 420 patients were investigated in a randomized controlled study. Acupuncture was applied to acupoints:
DU14, (Dazhui)
BL11, (Dazhu)
SI3, (Houxi)
Electroacupuncture connected DU14 and BL11 with a continuous 40 Hz, 2 mA stimulation for 20 minutes. Acupuncture was administered once per day and 10 acupuncture treatments consisted of one treatment course. A day off was taken following the first course. This was followed by another treatment course. The drug group received a 7.5 mg tablet of Meloxicam at a rate of once per day. The oral tablet was taken in the evening for a total of 20 days.
Of the 207 electroacupuncture patients, 145 patients recovered in the short-term. Of the 208 drug patients, 93 recovered in the short-term. Improvements also occurred in an additional 53 acupuncture patients and 90 medication patients. The electroacupuncture group had 9 poor responses and the drug group had 25 poor responses to treatment in the short-term.
Electroacupuncture produced significantly greater positive patient outcomes than the medication group for 95% recovery and significant levels of improvement groups. Of the 207 electroacupuncture patients, a total of 180 patients had a 95% recovery in the long-term. Of the 208 drug patients, 142 patients had a long-term 95% recovery. Electroacupuncture caused 25 patients to improve significantly. The medication caused 52 medication patients to improve significantly.
Poor results for electroacupuncture were limited to 2 patients and 14 medication patients had poor results in the long-term. The researchers note, "With a randomized controlled multi-centered large-sampled method, this study has shown that the EA (electroacupuncture) group was better than the medication group in comparing both short-term and long-term therapeutic efficacies."

References:
Ye, Y. X., Xu, L. & Yao, J. (2015). The Clinical Observation on Acupuncture Thermal Moxibustion Combined with Convention Acupuncture in Treatment of Acute Cervical Spondylotic Radiculopathy. Journal of Emergency in Traditional Chinese Medicine. 24(6).
Wang WJ,Lu J,Niu CS,et a1.Effects of electroacupuncture of unilateral and bilateral "zusanli"(ST 36) Oil seixlm TNF— alpha.IL—l and IL一4 levels in rats with chronic inflammatory pain[J].ZhenCiYan Jiu,2010,35(6):429—432.
Pei J,Wei H,Liu ZD.Effects of moxibustion on the expression of IL—lbeta.IL一2,IL一6 mRNA and protein in the cerebral cortex in tumor beating mice [J] .ZhenCiYahJiu,2010,35(4):243—249.
Wu, Yao-chi, Jun-feng Zhang, Yi-jun Sun, Cheng-fei Huang, Ping Shao, and Gui-zhen Liu. "Clinical study on electroacupuncture for cervical intervertebral disc herniation." Journal of Acupuncture and Tuina Science 11, no. 6 (2013): 371-374.
Sun SC, Sun ZG. Clinical Orthopaedics and Traumatology. Beijing: People's Medical Publishing House, 2006: 750.
Xu LB, He YY. The effect of Du Meridian-regulating therapy on immunoglobulins in cervical intervertebral disc herniation. Shanghai Zhenjiu Zazhi, 2011, 30(9): 615-616.