Acupuncture is effective for the treatment of osteoporotic compression fractures of the spine. Researchers tested the efficacy of a specialized form of acupuncture and found it effective for enhancing pain reduction for patients with spinal compression fractures due to osteoporosis.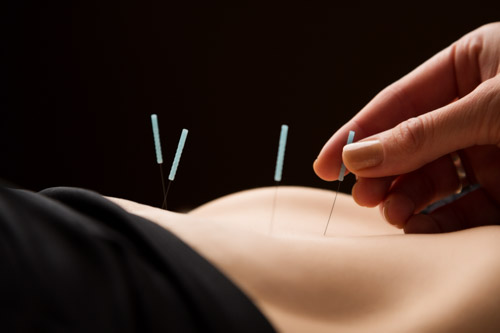 Acupuncture combined with medications produced significantly greater positive patient outcomes including pain reduction and improvements in activities of daily living over medications only as a standalone therapy.
Kim et al. from The Boston Spine Group at Tufts University Medical School (Boston, Massachusetts) and the Department of Orthopaedic Surgery at Thomas Jefferson University (Philadelphia, Pennsylvania) note, "Vertebral compression fractures affect at least one-fourth of all postmenopausal women. The most significant risk factor is osteoporosis, most commonly seen among Caucasian women a decade or so after menopause." Kim et al. document that osteoporotic metabolic disorders are often treated with calcium, vitamin D, bisphosphonates, or calcitonin. They add, "Routine hormone replacement therapy has fallen out of favor because of concerns regarding adverse effects…." Kim et al. also note, "Open surgical management with decompression and stabilization should be reserved for the rare patient with neural compression and progressive deformity with neurologic deficits."
Zhang et al. from the Suining Municipal Hospital of TCM (Traditional Chinese Medicine) conducted a clinical trial comparing the efficacy of acupuncture combined with drug therapy versus drug therapy as a standalone protocol. They document that adding abdominal acupuncture to the regimen of care significantly reduces pain levels and improves the quality of life for patients with osteoporotic compression fractures of the spine.
The protocol for abdominal acupuncture for the treatment of osteoarthritis and osteoporosis was innovated by Professor Bo Zhi-yun. The TCM treatment principle is to regulate the Zang-fu organs and acupuncture meridians. Acupuncture points Qihai (CV6) and Guanyuan (CV4) were needled for their ability to tonify the kidney qi and therefore benefit the bones. To regulate the spleen qi, Zhongwan (CV12) and Xiawan (CV10) were added.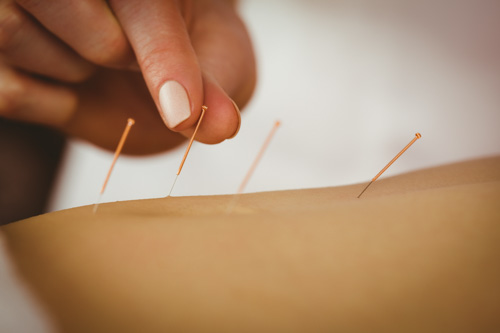 Supplementary points were added. Huaroumen (ST24) was selected for its ability to benefit the meridians and collaterals. Shuifen (CV9) was selected to ease pain by regulating meridian qi. The treatment strategy was to needle the anterior to benefit the corresponding region on the posterior aspect of the body. All acupuncture points were used to promote the generation and circulation of qi and blood and to cease pain by unblocking collaterals. Acupuncture needles were 0.22 x 40 mm. After the arrival of deqi, the needling depth was regulated to ensure a mild, painless sensation often characterized as a mild pulling or dull sensation. Results were analysed at one, two, and three week follow-up clinical assessments.
In the randomized study, a body style acupuncture group was compared with an abdominal acupuncture group. Body style acupuncture included local Jiaji and Ashi acupoints. Weizhong (BL40) and Chengshan (BL57) were also applied. Reinforcing and reducing manual acupuncture techniques were applied after the arrival of deqi.
Diclofenac, a nonsteroidal anti-inflammatory drug (NSAID), was used as part of the medication regimen. Diclofenac is used for its anti-inflammatory and analgesic properties. An injection of ossotide with saline was applied intravenously and daily. A calcium supplement and alfacalcidol, a vitamin D analogue, were orally administered once per day. In addition, a muscular injection of salcatonin, a calcitonin hormone found in salmon, was applied daily.
The researchers discovered that the group receiving medications had significantly greater positive patient outcomes when combined with abdominal acupuncture over body style acupuncture. However, body style acupuncture combined with medications is significantly more effective than medications as a standalone therapy. The results indicate that an integrative model of patient care produces superior patient outcomes for patients with osteoporotic compression fractures of the spine. The results indicate that medications combined with abdominal acupuncture achieves optimum results.

References:
Zhang, W., Qiu, X. Y. & Wang, J. (2015). Clinical study on abdominal acupuncture for osteoporotic vertebral compression fracture. Journal of Acupuncture and Tuina Science. 13(4).
Lei J, Dong XJ. Research progress of conservative treatment for thoracic and lumbar vertebral compression fracture. Zhongxiyi Jiehe Yanjiu, 2013, 5(6): 320-321.
Mirovsky Y, Anekstein Y, Shalmon E, Blankstein A, Peer A. Intradiscal cement leak following percutaneous vertebroplasty. Spine (Phila Pa 1976), 2006, 31(10): 1120-1124.
Wei ZC, Cai DZ, Rong LM, Wang K, Dong JW, Jin WT, Lu HD. Treatment analysis of osteoporotic vertebral compression fracture. Zhongshan Daxue Xuebao: Yixue Kexue Ban, 2003, 24(Suppl 1): 130-132.
Kim, David H., and Alexander R. Vaccaro. "Osteoporotic compression fractures of the spine; current options and considerations for treatment." The spine journal 6, no. 5 (2006): 479-487.