Olympians use cupping during training and research supports its use.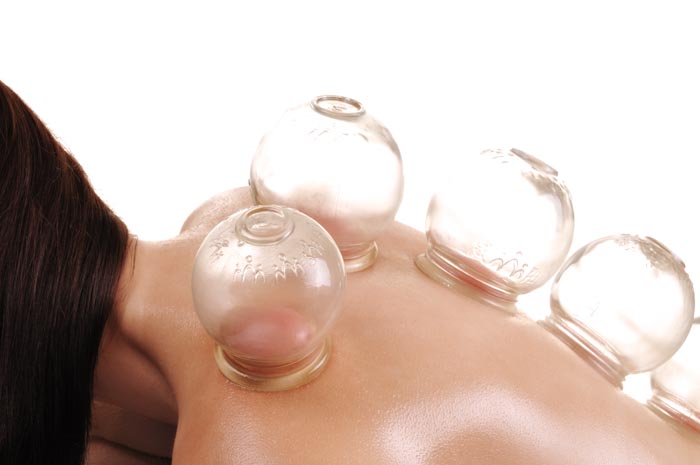 Olympic gold medalist Michael Phelps has attracted a great deal of attention for his use of cupping therapy. Phelps notes that he receives cupping before swimming meets, especially for soreness. Other Olympians including Alex Naddour, Natalie Coughlin, and Pavel Sankovich published photos of their cupping marks on social media. USA gymnast Alexander Naddour notes that cupping is "the secret" that maintains his health. Olympic swimmer Missy Franklin also employs cupping as part of her physical training regimen.
The research supports what trainers provide for our top athletes. Lauch et al. (University of Duisburg-Essen, Germany) conclude that cupping decreases "pressure pain sensitivity." Cupping demonstrated the ability to benefit pressure pain thresholds for patients with neck pain.
Huijuan Cao et al. conducted a meta-analyses and determined that cupping plus acupuncture produces superior patient outcomes to using only acupuncture in certain clinical cases. The results indicate an additive effect of cupping that produces clinical results. Also, wet cupping produced greater clinical outcomes than three pharmaceutical drugs: mecobalamin injections, diclofenac, flunarizine. The researchers note, "Results from other single studies showed a potential benefit of cupping therapy compared with conventional medications and usual care." A total of 16 investigations with a combined sample size of 921 participants were included in the study.
The researchers note that the chief side effect of cupping is a hematoma. The hematomas are the round bruises visible on the Olympic videos and social media posts. On the issue of clinical results the researchers conclude, "Findings of this review suggest that cupping therapy reduces pain intensity. . . ."
Notably, cupping is used by licensed acupuncturists. This is included in their scope of practice. At the Healthcare Medicine Institute, we provide acupuncture continuing education courses that review the appropriate uses for cupping. Contraindications are included in courses including the following online distance learning course:
Safety: Acupuncture Needle Cautions >
According to Traditional Chinese Medicine principles, cupping is contraindicated for use on pregnant patients in the abdominal and lumbosacral areas. It is also contraindicated for use on skin ulcerations, areas of edema, on large blood vessels, during a high fever with convulsions, or for patients with excess bleeding disorders. In addition, traditional glass fire-cupping has a well regulated suction intensity whereas care must be used with plastic cupping pump technology to ensure that the intensity of suction does not exceed therapeutic protocols. Licensed acupuncturists are trained to determine the appropriate applications of cupping as part of their standard and continuing education experience.

References:
Lauche R, Materdey S, Cramer H, Haller H, Stange R, Dobos G, Rampp T. Effectiveness of home-based cupping massage compared to progressive muscle relaxation in patients with chronic neck pain—A randomized controlled trial. PloS one. 2013 Jun 7;8(6):e65378.
Cao H, Li X, Yan X, Wang NS, Bensoussan A, Liu J. Cupping therapy for acute and chronic pain management: a systematic review of randomized clinical trials. Journal of Traditional Chinese Medical Sciences. 2014 Jul 1;1(1):49-61.