Acupuncture and herbs outperform drug therapy for the treatment of irritable bowel syndrome (IBS). Researchers compared two groups, one received acupuncture and herbal medicine and the other received drug therapy. The group receiving acupuncture and herbs had superior positive patient outcome rates. Acupuncture and herbs produced clinical outcomes yielding greater improvements in stool consistency and significantly greater reductions of abdominal pain, mucus in the stool, bloating, and bowel urgency.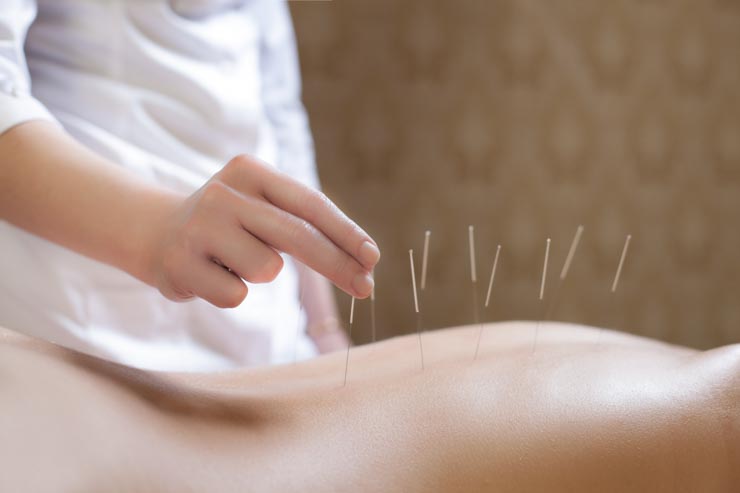 Chongqing Nanchuan Hospital researchers started with a sample size of 126 human patients with IBS. The patients were randomly divided into the acupuncture plus herbs group and the drug group, with a total of 63 patients in each group. For both groups, there were improvements in abdominal pain and discomfort scores. However, the acupuncture plus herbs group demonstrated significantly greater clinical improvements. In addition, the group receiving acupuncture plus herbs had greater reductions of anxiety levels and behavioral disorders. The data indicates that the acupuncture plus herbs group had significant improvements in general psychological well-being and overall perceived energy levels.
IBS affects the large intestine and involves cramping, distention, diarrhea or constipation, and abdominal pain. Often, there is mucus in the stool and the condition is chronic. Exacerbating factors include specific foods, hormonal changes, stress, and secondary illnesses. IBS tends to occur in younger patients and the rate is double for women. IBS, when presenting as a long-standing illness, often involves dietary restrictions and accidental malnourishment caused by an attempt to avoid exacerbating foods. The long-standing nature of the illness may also contribute to mental depression. Two major types of diagnostic criteria define IBS, the Rome criteria and the Manning criteria.
For the Rome criteria, one important parameter is that abdominal pain lasts for a minimum of 3 days per month and involves at least two of the following: decreased pain after defecation, changes in frequency of defecation, changes in consistency of stool. The Manning criteria includes pain relieved by defecation but also takes into account mucus in stool, incomplete bowels movements, and variability of stool consistency. An MD may order a colonoscopy, sigmoidoscopy, lower GI series (liquid barium X-ray), or CT scan to confirm the diagnosis.
All participants and procedures were approved by the Chongqing Nanchuan Hospital medical ethics committee. All participants were volunteers with a diagnosis of IBS. All participants had prerequisite abdominal pain and abnormal defecation frequencies. No participants were admitted to the study groups that had taken medications within three month prior to the investigation. Exclusion criteria involved several other parameters: mental illness, low blood pressure, history of abdominal surgery.
The sample size involved 67 males and 59 females, with an average age of 55 years. The average duration of IBS per patient was 31 years. After randomization into the two groups, there were no significant differences in terms of age, gender, and course of IBS duration.
The group receiving drug therapy was administered loperamide hydrochloride capsules (1 tablet, 3 times per day), 30 minutes before meals. In addition, they received 9 g of Si Shen Wan, two times per day. Loperamide hydrochlorida (trade name IMODIUM) is used to control diarrhea. Functionally, loperamide hydrochloride slows bowel movements to achieve its effective action. The drug may cause drowsiness, fatigue, or dizziness and is not recommended for breast-feeding mothers because the drug is transferred through the milk. In this acupuncture continuing education study, the group receiving acupuncture plus herbal medicine was administered the following medicinal formula (prepared in the form of a decoction):
Bai Zhu
Shan Yao
Bai Zhi
Chen Pi
Huang Qin
Chai Hu
Wu Mei
Gan Jiang
Zhi Gan Cao
Fang Feng
Based on diagnostics, modifications were made to the formula. For patients with severe diarrhea, Bai Bian Dou and Fu Ling were added. Zhi Ke, Fo Shou, and Mu Xiang were added for cases of pronounced abdominal swelling and pain. For mucus in the stool, Huo Po and Cang Zhu were added. Yu Li Ren was added for patients with constipation. The following protocolized set of acupuncture points were administered to the patients:
Shangjuxu, ST37 (Upper Great Void)
Quchi, LI11 (Pool at the Crook)
Dachangshu, BL25 (Large Intestine Shu)
Tianshu, ST25 (Heaven's Pivot)
Sterile filiform acupuncture needles were used. At ST37, the needle insertion depth range between 1–2 inches. For LI11, the depth of insertion was 0.5–2 inches. For BL25, the insertion depth was 0.8–1.2 inches. For ST25, needle depth was 1–1.5 inches. Reinforcing and reducing manual acupuncture techniques were applied with twisting, lifting, and thrusting motions. Total needle retention time was 30 minutes per acupuncture visit. For both the drug and acupuncture plus herbs groups, the total treatment duration was 28 days. Dietary modifications for all patients in both groups included the following recommendations:
No raw, cold, or spicy food
Regulate consumption of food to moderate levels of intake
Regular meals consumed at regular intervals, 3 times per day
Non-oily, light foods that are easily digested are appropriate
Non-oily, light, and easily digested foods are appropriate
Several important findings were made. The acupuncture plus herbal medicine group had greater positive patient outcomes. In addition, the relapse rate was lower in the acupuncture plus herbs group than the drug group. The results indicate that acupuncture, herbs, and continuing patient education on dietary modifications is an effective integrative approach to patient care for patients with IBS.
Heilongjiang University of Chinese Medicine researchers produced similar results using electroacupuncture compared with oral administration of pinaverium bromide. Electroacupuncture produced an 86.7% total effective rate. Pinaverium bromide produced a 50% total effective rate. The drug was administered in 50 mg doses, 3 times per day for a total of 3 weeks. Pinaverium bromide is a calcium antagonist that relieves spasms of the smooth muscle of the bowels.
Electroacupuncture was applied to Jiaji acupuncture points at the T-11, T-12, and L-1 vertebral levels. Deqi was elicited with manual techniques during insertion of 0.30 x 40 mm acupuncture needles to a depth of 20 to 40 mm. Upon the arrival of deqi, an additional 2 minutes of manual stimulation was applied followed by 60 Hz electroacupuncture at patient tolerance intensity levels. Total needle retention time per acupuncture visit was 30 minutes. Acupuncture was administered 1 time per day, 5 days per week, for a grand total of 3 weeks. Electroacupuncture produced a 36.7% greater total effective rate than pinaverium bromide.
Herbal medicine gained recognition for the treatment of IBS in the Journal of the American Medical Association (JAMA). The prestigious journal published the findings of an Australian randomized, double-blinded, placebo controlled study conducted by gastroenterologists and herbalists. The researchers concluded that Chinese herbal medicine "offer[s] improvements in symptoms for some patients with IBS."
Liu et al. investigated acupuncture and moxibustion for the relief of IBS-D (IBS with diarrhea). The total effective rate was extremely high (96.7%). A 3 month follow-up confirms that 65% of patients were completely asymptomatic with no instances of relapses. In excess of 30% additional patients had significant and sustained relief from IBS-D. Using only acupuncture, the total effective rate was 76.7%. However, the addition of moxibustion raised the rate to 96.7%. The researchers conclude that "acupuncture combined with ginger and salt-partitioned moxibustion can obtain a remarkable effect for IBS-D. This integrative therapy is simple and convenient."
One reason that the study produced outstanding results is that patients with IBS-D were categorized by differential diagnostic Traditional Chinese Medicine (TCM) patterns. Slight variations to the acupuncture point prescriptions were made based on these patterns. All patients received needling of the following acupoints:
Zhongwan (CV12)
Guanyuan (CV4)
Tianshu (ST25)
Zusanli (ST36)
Shangjuxu (ST37)
Pishu (BL20)
Dachangshu (BL25)
Additional acupoints were added based on differential diagnostics. For patients with spleen and stomach deficiency, Weishu (BL21) was added. For patients with liver qi stagnation combined with spleen deficiency, Ganshu (BL18), and Xingjian (LV2) were added. For patients with spleen and kidney yang deficiency, Shenshu (BL23) was added. Moxibustion over a salt pillar and a ginger slice was added to Shenque (CV8).
The semi-protocolized acupuncture point prescription allowing for customization more greatly reflects what an actual acupuncture office visit might entail. Although this introduces more variables into the clinical trial, it also accounts for more of the real world intervention expected by a licensed acupuncturist. The results reflect an enhanced positive patient outcome rate, which is consistent with the flexibility of the study design.

Reference:
Zhang Yousheng, Zhang Xiaodong, Investigation of the Effect on Treatment of Irritable Bowel Syndrome with Traditional Chinese Medicine and Acupuncture, Chongqing Nanchuan Hospital, 2016.
Sun YZ & Song J. (2014). Therapeutic Observation of Acupuncture at Jiaji (EX-B2) for Irritable Bowel Syndrome. Shanghai Journal of Acupuncture and Moxibustion. 34(9).
Zhongguo Zhen Jiu. 2012 Oct;32(10):957-60. [Meta analysis of acupuncture-moxibustion in treatment of irritable bowel syndrome]. Pei LX, Zhang XC, Sun JH, Geng H, Wu XL. Acupuncture and Rehabilitation Department, Jiangsu Province Hospital of TCM, Nanjing, China.
JAMA. 1998 Nov 11;280(18):1585-9. Treatment of irritable bowel syndrome with Chinese herbal medicine: a randomized controlled trial. Bensoussan A, Talley NJ, Hing M, Menzies R, Guo A, Ngu M. Research Unit for Complementary Medicine, University of Western Sydney Macarthur, Campbelltown, New South Wales, Australia.
Liu, Xiao-xia. "Moxibustion on Shenque (CV 8) improves effect of acupuncture for diarrhea-predominant irritable bowel syndrome." Journal of Acupuncture and Tuina Science 12, no. 6 (2014): 362-365.