Researchers find acupuncture effective for the relief of postoperative pain. In addition, the research team concludes that acupuncture reduces pain medication dosage requirements needed to achieve pain relief and reduces adverse effects caused by analgesic medications. In a meta-analysis of 13 randomized controlled studies, a total of 682 patient outcomes were analyzed. The studies selected for quantitative and qualitative analyses were narrowed down from an initial field of 219 studies. From that group, an initial 40 studies were chosen for a full reviewed based on the quality of the research. A total of 13 studies were then sorted from this group because they met the stringent rigors of randomized controlled trials set by the research team. This process ensured the quality of the research team's conclusions.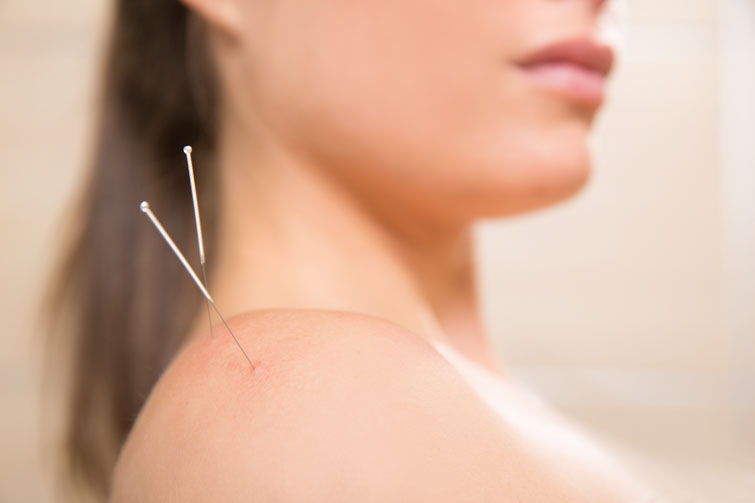 The research team concludes that acupuncture "significantly reduced postoperative pain and the use of opioids" after surgery. Important findings were supported by subgroups examined in the meta-analysis. The researchers note that adverse effects associated with opioid use (e.g. nausea, sedation, dizziness, urinary disorders, itching) were significantly reduced for patients receiving acupuncture therapy. The researchers add that their statistical analyses ensures that the conclusions are accurate. They note, "Sensitivity analysis using the leave-one-out approach indicated the findings are robust and not dependent on any one study. In addition, no publication bias was detected." The results were published in their research entitled The Efficacy of Acupuncture in Post-Operative Pain Management: A Systematic Review and Meta-Analysis.
The researchers primarily focused on patient clinical outcome measures. An additional investigation examined the mechanisms of acupuncture's effective actions. The researchers comment that evidence suggests that acupuncture may reduce or eliminate pain by activating neurotransmitters and other modulators including opioid peptides, norepinephrine, serotonin, and adenosine. Moreover, acupuncture demonstrates the ability to activate the body's endogenous pain inhibitory pathways.
The research brought to light several important findings. Acupuncture demonstrates the ability to stimulate the release of selective neuropeptides in the central nervous system. This results in significant beneficial physiological effects and activates the process of healing. Acupuncture has been shown to activate painkilling through both the peripheral and central nervous system pathways. The researchers cite the groundbreaking research of Erthal et al., whose findings track acupuncture's ability to reduce pain through opioidergic and serotonergic systems. In addition, there was significant evidence across multiple studies demonstrating that acupuncture stimulates endorphin mechanisms. Specific substances involved in significant pain reduction include β-endorphins, enkephalins, dynorphins. Receptor inhibition of cholecystokinin octapeptide, 5-hydroxytryptamine, and N-methl-D-aspartic acid also demonstrate pain reducing responses.
The researchers note that another team, independent of their research, also conducted a meta-analysis on acupuncture's effect on postoperative pain management. They cited the work of Sun et al. (Duke University Medical Center) whose meta-analysis of 15 studies, including a sample size of 1,166 patients, confirms that acupuncture reduces "postoperative pain intensity." The research was conducted by investigators in the Department of Anesthesiology at the Duke University Medical Center. The research was subsequently published in the British Journal of Anaesthesia. The independent meta-analysis confirms that acupuncture results in a significant reduction of opioid drug use for the management of postoperative pain. Acupuncture resulted in an average of 21% – 29% less use of opioid medications and a significant reduction of pain intensity levels.
The researchers cite an additional meta-analysis conducted by Cho et al. entitled Acupuncture for chronic low back pain: a multicenter, randomized, patient-assessor blind, sham-controlled clinical trial. The results of the study demonstrate that acupuncture significantly reduces lower back pain intensity levels for patients with chronic lower back pain. Notably, true acupuncture significantly outperformed sham acupuncture. A patient sample size of 116 patients combined with rigorous study design controls ensured the quality of the outcome measures. Patient outcomes were assessed at the end of the study treatment regimen and at 3 month follow-up examinations. The researchers note that pain reductions "improved continuously until 3-month follow-up." This finding demonstrates a long-lasting effect of acupuncture for the treatment of chronic lower back pain.
The importance of the postoperative pain research was presented by the research team in their paper entitled The Efficacy of Acupuncture in Post-Operative Pain Management: A Systematic Review and Meta-Analysis. They note that approximately 75% of postoperative patients experience moderate to severe pain. Medications (morphine, fentanyl, meperidine, etc.) are used to control pain levels. However, challenges are presented by the adverse effects of medications including hyperemesis, nausea, decreased peristaltic activity leading to gastrointestinal complications, etc. Doctors seek two important outcomes from customized approaches to pain management: reduced dependence on medications for pain control and less adverse effects associated with medications. The research team notes that their investigation and other investigations find acupuncture both safe and effective for the reduction of postoperative pain. Additionally, acupuncture reduces the need for medications to control pain and also reduces adverse affects associated with drug intake.
This is relative to the needs expressed by The Joint Commission, "The identification and management of pain is an important component of [patient]-centered care. [Patients] can expect that their health care providers will involve them in their assessment and management of pain. Both pharmacologic and nonpharmacologic strategies have a role in the management of pain." The Joint Commission notes that "acupuncture therapy" may be helpful in the control of pain. The current meta-analysis finding acupuncture effective for the control of postoperative pain supports the integration of acupuncture into primary healthcare settings as a standard protocol for pain management. This addresses the concern by The Joint Commission for analgesia in ambulatory care, hospitals, home care, nursing centers, and office-based surgery programs.

References:
Wu, Ming-Shun, Kee-Hsin Chen, I-Fan Chen, Shihping Kevin Huang, Pei-Chuan Tzeng, Mei-Ling Yeh, Fei-Peng Lee, Jaung-Geng Lin, and Chiehfeng Chen. "The Efficacy of Acupuncture in Post-Operative Pain Management: A Systematic Review and Meta-Analysis." PloS one 11, no. 3 (2016): e0150367. (Taipei Medical University, Taipei, Taiwan. National Chiao Tung University, Hsinchu, Taiwan. China Medical University, Taichung, Taiwan.)
Sun, Yanxia, Tong Joo Gan, J. W. Dubose, and A. S. Habib. "Acupuncture and related techniques for postoperative pain: a systematic review of randomized controlled trials." British Journal of Anaesthesia 101, no. 2 (2008): 151-160.
Cho, Yu-Jeong, Yun-Kyung Song, Yun-Yeop Cha, Byung-Cheul Shin, Im-Hee Shin, Hi-Joon Park, Hyang-Sook Lee et al. "Acupuncture for chronic low back pain: a multicenter, randomized, patient-assessor blind, sham-controlled clinical trial." Spine 38, no. 7 (2013): 549-557.
Joint Commission Perspectives, Clarification to Standard PC.01.02.07, November 2014, Volume 34, Issue 11, p 11.