Acupuncture combined with supplementary Traditional Chinese Medicine (TCM) modalities is found effective for the alleviation of chronic neck, shoulder, back, and osteoarthritis pain. Researchers provided acupuncture treatments over the course of eight weekly sessions in a group setting. The researchers confirm that the therapeutic benefits of acupuncture have lasting results. All acupuncture treatments ceased at the eight week data point. A 24 week follow-up confirms that pain levels remain reduced even though no treatments were provided after the eight week data point.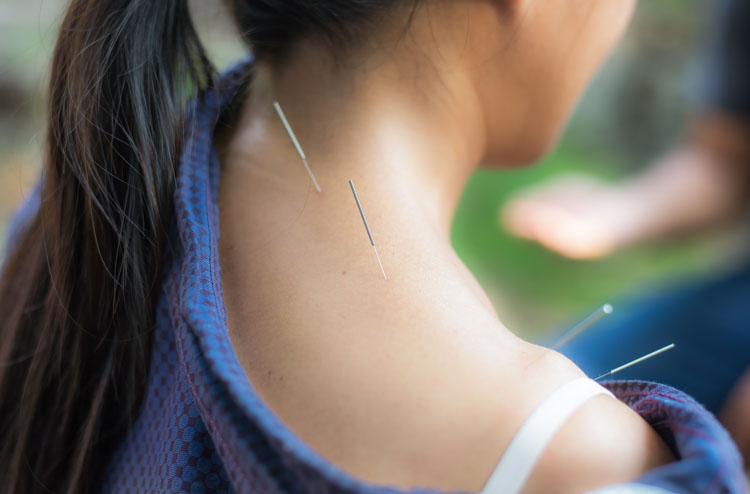 The total therapy package provided to participants included weekly acupuncture, Tui-Na massage, auricular acupoint stimulation, and Gua Sha. The research was conducted by investigators from the Icahn School of Medicine at Mount Sinai (New York), Mount Sinai Beth Israel Medical Center (New York), and the Hunter-Bellevue School of Nursing (New York). The results were published in Pain Medicine, a publication of the American Academy of Pain Medicine.
The researchers quantified significant clinical benefits. Acupuncture plus TCM modalities not only reduced pain levels, but also significantly reduced pain interference and depression levels. Pain interference is a measure of pain's debilitating influences on aspects of life including mood, walking, work activities, general activities, and sleep. Moreover, study participants document a significant reduction in pain medication consumption. Pain medication rates dropped from 87% at baseline to 65% at the 24 week data point. The findings demonstrate that although no additional acupuncture treatments or TCM modalities are provided after the 8 week data point, patients have enduring benefits as documented at the 24 week data point.
Pain intensity and pain interference were evaluated on a 1 – 10 scale (1 = no symptoms, 10 = maximum severity). Pain level severity dropped from a 4.92 to a 2.72 by the 24 week follow-up data point. Pain interference dropped from a 3.59 to a 1.87 by the 24 week data point. Notably, 57.8% of participants had a minimum of a 30% reduction of pain intensity. Also, 68.0% of participants had a minimum of a 30% reduction of pain interference levels.
Another important benefit was an increase in the number of days without any pain. Initially, participants averaged 1.4 days over a two week period without pain. At the 24 week data point, participants averaged 4.8 days without any pain over a two week period. Depression scores were based on the CES-D (Center for Epidemiological Studies – Depression Scale). Depression dropped from an initial average of 13.47 to 9.79 at the 24 week data point.
Although weekly acupuncture sessions were provided, not all patients made it to all of their appointments. In many ways, this reflects the realities of scheduling and compliance commonplace across multiple medical modalities. The average number of acupuncture treatments provided to patients was 6.7.
All participants were outpatients from New York City primary care facilities. All patients were diagnosed with chronic pain (back, shoulder, neck pain, or osteoarthritis). Chronic pain was defined as pain persisting for at least a minimum of three months. The average age of participants was 54.4 years, with a minimum age requirement of 18 years.
Community Acupuncture
The study stands out for its design and approach to care. The acupuncture treatments were provided in an open space setting, with multiple patients located in the same room, primarily seated in chairs. This is commonly termed community acupuncture. The researchers note that an important goal of the study design was to determine if a low-cost method of providing acupuncture for the treatment of chronic pain is effective. The community acupuncture style was chosen as the efficient delivery system. Based on the results of the investigation, the researches conclude that acupuncture is safe and effective for the treatment of chronic pain in the community acupuncture setting.
Design
The study design was intended to reflect treatment options available in a real-world clinical setting. Acupuncture points and TCM modalities were chosen based on differential diagnostics for each individual patient by licensed acupuncturists. This varies from the design of many studies wherein there is a standard acupuncture point prescription applied to all participants. Needling methods included manual acupuncture stimulation techniques. Acupuncture points were stimulated with filiform acupuncture needles to obtain deqi. The researchers stipulate, "Noncoated acupuncture needles were used to maximize the connective tissue response and analgesic effect."
A total of eight weekly acupuncture visits combined with TCM modalities were made available to all participants. Licensed acupuncturists made the diagnoses and applied the therapeutic measures to participants. Appointment times were scheduled every 15 minutes and participants were present in the community acupuncture setting for 40 – 60 minutes per acupuncture session. Each acupuncture treatment was between 20 – 40 minutes. There were eight participants in each group session in the community acupuncture environment.
Basis
The researchers note that their findings are consistent with prior research and existing formal recommendations. Several examples are cited. The 2017 formal recommendation of the American College of Physicians is that acupuncture is an effective treatment option for the treatment of lower back pain (Qaseem et al.). Yuan et al. confirm that acupuncture is effective for the treatment of chronic pain. Group setting acupuncture treatments for knee pain caused by osteoarthritis was found effective by A. White et al. This list is not exhaustive, the researchers presented additional supportive documentation demonstrating the efficaciousness of acupuncture for the alleviation of chronic pain.
Results
The study finds weekly acupuncture treatments provided in a group setting effective for the relief of chronic pain. The results are published in the research entitled Acupuncture Therapy in a Group Setting for Chronic Pain. Pain intensity levels and pain interference levels were both significantly reduced. Patients consumed less medications after completion of acupuncture treatments and levels of depression were also significantly reduced.
Access to affordable healthcare has emerged as an important societal need. The study design demonstrates that the group setting acupuncture is a possible method for providing effective low-cost acupuncture services for the treatment of chronic pain. Based on the evidence, additional studies are warranted to determine varying geographic and demographic implementation protocols.

References
Kligler, Benjamin, Arya Nielsen, Corinne Kohrrer, Tracy Schmid, Eve Waltermaurer, Elidania Perez, and Woodson Merrell. "Acupuncture Therapy in a Group Setting for Chronic Pain." Pain Medicine (2017).
Qaseem A, Wilt TJ, McLean RM, Forciea M; for the Clinical Guidelines Committee of the American College of Physicians. Noninvasive treatments for acute, subacute, and chronic low back pain: A clinical practice guideline from the American College of Physicians. Ann Intern Med 2017; 166(7): 514–530.
Yuan QL, Wang P, Liu L, et al. Acupuncture for musculoskeletal pain: A meta-analysis and meta-regression of sham-controlled randomized clinical trials. Sci Rep 2016;6:30675.
White A, Tough L, Eyre V, et al. Western medical acupuncture in a group setting for knee osteoarthritis: Results of a pilot randomised controlled trial. Pilot Feasibility Stud 2016;2:10.