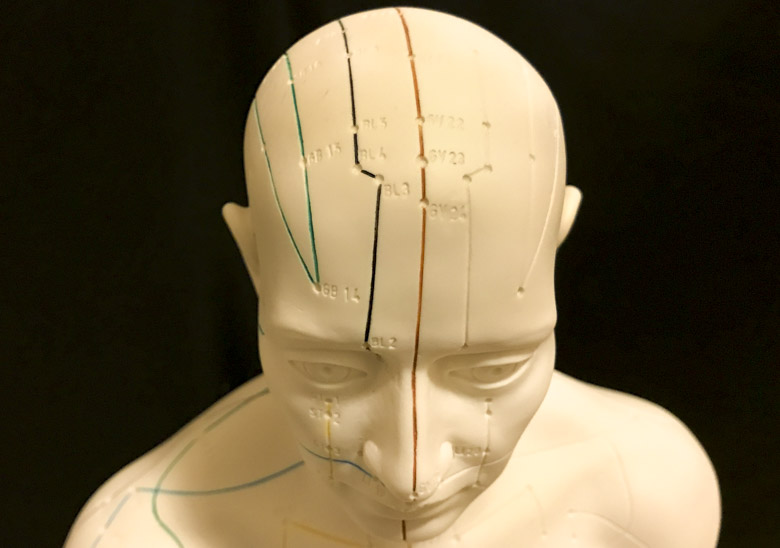 Acupuncture points of the scalp
Acupuncture benefits stroke patients. Pei et al. conducted a randomized controlled clinical trial and concluded that electroacupuncture reduces both impairment and disability, according to the Chinese Stroke Scale. A total of 86 patients participated in the trial. The Brunnstrom-Fugl-Meyer and Barthel Index scores demarcate significant improvements, measured at the three month data point after completion of a four week regimen of acupuncture therapy. Overall motor function and activities of daily living improved significantly and neurological deficits decreased significantly compared with a control group. [1]
In related research, Wenzhou Medical University researchers (Zhou et al.) achieved significant results using two different types of acupuncture protocols for the treatment of lower limb spasticity and paralysis after a cerebral infarction. Composite acupuncture had a slight edge over Yangming meridian acupuncture in the motor relearning process, although both types of acupuncture were determined safe and effective. [2]
A total of 50 patients from the Neurology and Rehabilitation Department of Wenzhou Medical University were treated and evaluated. The patients were admitted for sequela of cerebral infarction. They were randomly divided into two groups, the Yangming meridian acupuncture group and the composite acupuncture group, with 25 patients in each group. All patients fulfilled the following inclusion criteria:
Cerebral infarction diagnosis standards set by the 1995 4th Annual Cerebrovascular Disease Conference
Cerebral infarction diagnosis with CT scan or MRI
Brunnstrom Stage I and II (flaccid paralysis)
Between 40 – 85 years of age
Composite spasticity scale (CSS) score <7.5
The primary acupoints selected for the Yangming meridian acupuncture group were the following acupoints on the Stomach Foot-Yangming channel and one acupoint on the Liver Foot-Jueyin channel:
Biguan (ST31)
Futu (ST32)
Zusanli (ST36)
Jiexi (ST41)
Taichong (LV3)
After needle insertion, a KWD-808 electrotherapy device was connected to the needles and set to a low frequency (2 Hz) for 30 minutes. One 30 minute acupuncture session was conducted daily, 5 days per week. The entire treatment course comprised 4 weeks. The selected acupoints for the composite acupuncture protocol were the following:
Chengfu (BL36)
Yinmen (BL37)
Fenglong (ST40)
Xuanzhong (GB39)
Zuwuli (LV10)
Ququan (LV8)
Weizhong (BL40)
A KWD-808 electrotherapy device was connected to the needles after insertion and set to a low frequency (2 Hz) for 30 minutes. One 30 minute acupuncture session was conducted daily, 5 days per week. The entire treatment course comprised 4 weeks.
Prior to and after the treatment, the myoelectric activity of the agonist and antagonist muscles during maximum isometric voluntary contractions (MIVCs) of the knee flexors and ankle dorsiflexors were recorded using surface electromyography. A ten channel biological function experiment system (Class I, Type BF) was used to collect electromyographic signal images. The images were then analyzed with the assistance of specialized software.
Functional Ambulation Categories (FACs), Fugl-Meyer Assessment (FMA), and Composite Spasticity Scale (CSS) instruments were used to evaluate lower limb motor function. Evaluations were performed before and after acupuncture treatment. As a result of acupuncture therapy, patients achieved improved FAC, FMA, and CSS scores. Both Yangming and composite acupuncture scores improved across the board, with a slight edge to the positive patient outcome results in the composite acupuncture group. Both types of acupuncture reduced muscle spasms, benefitted knee flexion and ankle dorsiflexion, and improved overall lower motor limb function.
In a related finding, Guangzhou University of Chinese Medicine researchers note that acupuncture "promote[s] the proliferation and differentiation of neural stem cells in the brain... accelerate angiogenesis and inhibit[s] apoptosis." The investigation focused on brain repair following a stroke due to cerebral ischemia. Based on their findings, the research team identified specific acupuncture channels (Ren, Du) that "prevent and treat neural injuries following cerebral ischemia." [3] Electroacupuncture applied to Ren channel acupoints upregulated growth factors (bFGF, EGF, NGF, mRNA) in the sub-ventricular zone and the hippocampal dentate gyrus. The Ren channel points identified were:
CV24 (Chengjiang)
CV4 (Guanyuan)
CV3 (Qihai)
The researchers determined that acupuncture at Du channel acupoints—GV20 (Baihui) and GV14 (Dazhui)— increases neural repair following cerebral ischemia. Increased expression VEGF (vascular endothelial growth factor) and Ang-1 (angioprotein 1) in the area of the ischemic focus were documented. Needling GV20 and GV26 (Shuigou) upregulated VEGF, VEGFR (VEGF receptor), and Ang-2 (angioprotein 2) at the ischemic focus. Needling GV20 and GV14 regulates expression of STATs (signal transducers and activators of transcription). The researchers note that this indicates that acupuncture regulates "apoptosis of the nerve cells in and around the ischemic focus." [4]
The aforementioned research indicate that acupuncture benefits patients following a stroke. Mainstream protocols including acupuncture in conventional medical care already exist in Japan and China for patients after a stroke. In the USA, acupuncture is rare or disallowed in many hospital and convalescent settings. Essentially, proven recuperative measures are blocked to patients needing immediate attention.
Notes
1. Pei, J., L. Sun, R. Chen, T. Zhu, Y. Qian, and D. Yuan. "The effect of electro-acupuncture on motor function recovery in patients with acute cerebral infarction: a randomly controlled trial." Journal of traditional Chinese medicine= Chung i tsa chih ying wen pan 21, no. 4 (2001): 270-272.
2. Zhou, L. H., Lu, J. Y., Lin, H. Y., Xie, W. X., Liu, B. H. Du, Z. H., Li. Z. H. & Ye. T. S. (2015). Motor relearning with acupuncture in the treatment of lower limb spasticity. Chinese Journal of Physical Medicine and Rehabilitation. 37 (4).
3. Research advances in treatment of cerebral ischemic injury by acupuncture of conception and governor vessels to promote nerve regeneration. Zhou-xin Yang, Peng-dian Chen, Hai-bo Yu, Wen-shu Luo, Yong-Gang Wu, Min Pi, Jun-hua Peng, Yong-feng Liu, Shao-yun Zhang, Yan-hua Gou. Journal of Chinese Integrative Medicine, Jan. 2012. vol. 10, 1. Department of Acupuncture and Moxibustion, Shenzhen Traditional Chinese Medicine Hospital, Guangzhou University of Chinese Medicine, Guangdong Province, China.
4. Ibid.
5. Kane NM,Oware A.Nerve conduction and electromyography studies [J]. J Neural,2012,259(7):1502-1508.