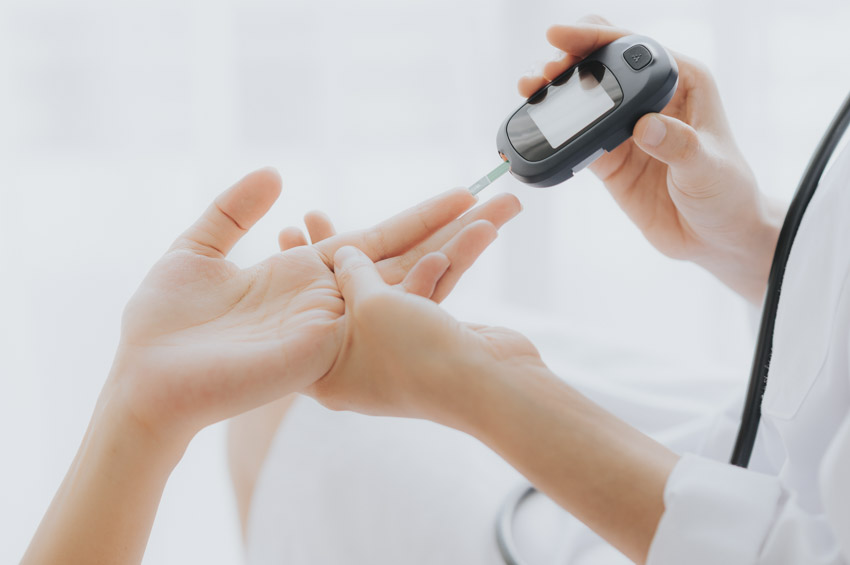 Acupuncture combined with drug therapy outperforms drug monotherapy for the treatment of diabetic postural hypotension (also known as orthostatic hypotension). Shanxi Provincial Hospital of Traditional Chinese Medicine researchers conducted a controlled clinical trial and concluded that acupuncture plus metformin outperforms metformin monotherapy for diabetic patients suffering from postural hypotension. [1]
Orthostatic hypotension involves a sudden drop in blood pressure upon changing position, typically from sitting or lying to a standing position. Upon standing, blood pressure naturally decreases. In healthy individuals, this is usually compensated for by an increase in heart rate, but if something interrupts this response, hypotension can occur.
The sudden reduction of blood pressure can cause clinical symptoms such as dizziness, blurred vision, confusion, weakness, fatigue, palpitations, and syncope. Orthostatic hypotension is a common disorder in diabetic patients, especially those with poorly controlled blood glucose. High blood glucose levels may cause frequent urination, which can lead to dehydration, contributing to an increased incidence of postural hypotension. Damage to the nerves supplying blood vessels may also be a contributing factor in some cases.
Other risk factors for postural hypotension include anemia, heart problems, peripheral neuropathy, Parkinson's disease, hypovolemia (decreased circulating blood), and certain medications. A drop in systolic blood pressure of 20mmHg or more within 1–3 minutes of standing can be clinically diagnosed as orthostatic hypotension.
Shanxi Provincial Hospital
All patients in the study had received a definitive diagnosis of postural hypotension related to diabetes mellitus. Patients with other serious cardiovascular diseases, malignant tumors, psychological disorders, allergies to the medication used in the study, and pregnant women were all excluded from taking part in the clinical trial.
The 89 participants meeting all inclusion and exclusion criteria were randomly assigned to receive either acupuncture plus usual care or usual care monotherapy. The acupuncture group was comprised of 45 patients, ages 43–63 years (mean age 54.12 years). The mean duration of disease was 8.55 years, and the mean resting blood pressure was 127/67mmHg, falling to 91/57mmHg upon standing.
The usual care group was comprised of 44 patients, ages 44–64 years (mean age 54.45 years). The mean duration of disease was 8.64 years, and the mean resting blood pressure was 126/66mmHg, falling to 90/56mmHg upon standing. No statistically significant differences in baseline characteristics between the two groups existed at the onset of the investigation.
Usual Care
The participants of both groups received treatment with the anti-diabetic drug metformin to keep blood glucose levels within a range of 45–70mmol/L. The starting dose was 0.5g, to be taken twice daily with food. Blood glucose levels were monitored closely throughout the study period, and if necessary, metformin was increased by 0.5g every seven days to a maximum of 2.5g daily. Treatment was administered for 30 successive days.
Traditional Chinese Medicine Acupuncture
In addition to usual care, participants in the acupuncture group were provided acupuncture treatments based on the principles of Traditional Chinese medicine (TCM). According to TCM theory, diabetes is a form of chronic yin deficiency. The symptoms of postural hypotension stem from this chronic disease, which leads to stagnation of qi and blood, disharmony between yin and yang, damage to the collaterals, and dysfunction of the zang-fu organs.
Acupuncture has the potential to reverse this condition by dispersing blood stagnation and dredging the channels, restoring harmony between yin and yang, strengthening upright qi, and dispelling pernicious influences. By relieving yin deficiency and improving the circulation of qi and blood, normal function is restored to the vessels and organs, thus allowing symptom resolution. Based on these treatment principles, the following key acupoints were selected for the study:
Baihui (GV20)
Renying (ST9)
Renzhong (GV26)
Yongquan (KD1)
Guanyuan (CV4)
Qihai (CV6)
Zusanli (ST36)
The acupoints were stimulated using various techniques according to their functions. Baihui was stimulated using a balanced reinforcing-reducing technique. Renying was stimulated with a twisting and rotating, reinforcing technique. Renzhong was stimulated using a sparrow-pecking, reducing technique. Yongquan was stimulated using a lifting and thrusting, reducing technique. Once needles were in situ at all of the above acupoints, warm needle acupuncture was applied at Guanyuan, Qihai, and Zusanli. Treatment was administered once daily for 30 consecutive days.
Outcomes
The outcomes of the study were assessed using a combination of blood glucose levels and clinical symptoms. At the end of the one month study period, patients with normal blood glucose levels and a total resolution of clinical symptoms were classified as markedly effective. Patients with some improvement in blood glucose levels and clinical symptoms were classified as effective. Patients showing no improvement in blood glucose levels or clinical symptoms were classified as ineffective. The markedly effective and effective scores for each group were added to give the total effective rates.
In the usual care monotherapy group, there were 16 markedly effective cases, 16 effective cases, and 12 ineffective cases, yielding a total effective rate of 32 (72.73%). In the acupuncture plus drug therapy group, there were 27 markedly effective cases, 15 effective cases, and 3 ineffective cases, yielding a total effective rate of 42 (93.33%). Both groups showed significant improvements in both blood glucose levels and clinical symptoms. The acupuncture plus drug therapy group outcomes were significantly superior compared with the usual care monotherapy group outcomes.
The outcomes of this study indicate that acupuncture is an effective treatment for diabetic patients with symptoms of postural hypotension. Acupuncture assists in the regulation of blood glucose levels, alleviation of clinical symptoms, and boosts the effectiveness of usual care. To find out more about acupuncture for diabetic postural hypotension, contact a local licensed acupuncturist.
Reference
Zhao Xiaohua, Gao Wenli (2018) "Clinical Observation on Traditional Chinese Medicine Acupuncture and Moxibustion in the Treatment of Diabetic Postural Hypotension" Guangming Journal of Chinese Medicine Vol. 33 (15) pp. 2220-2222.