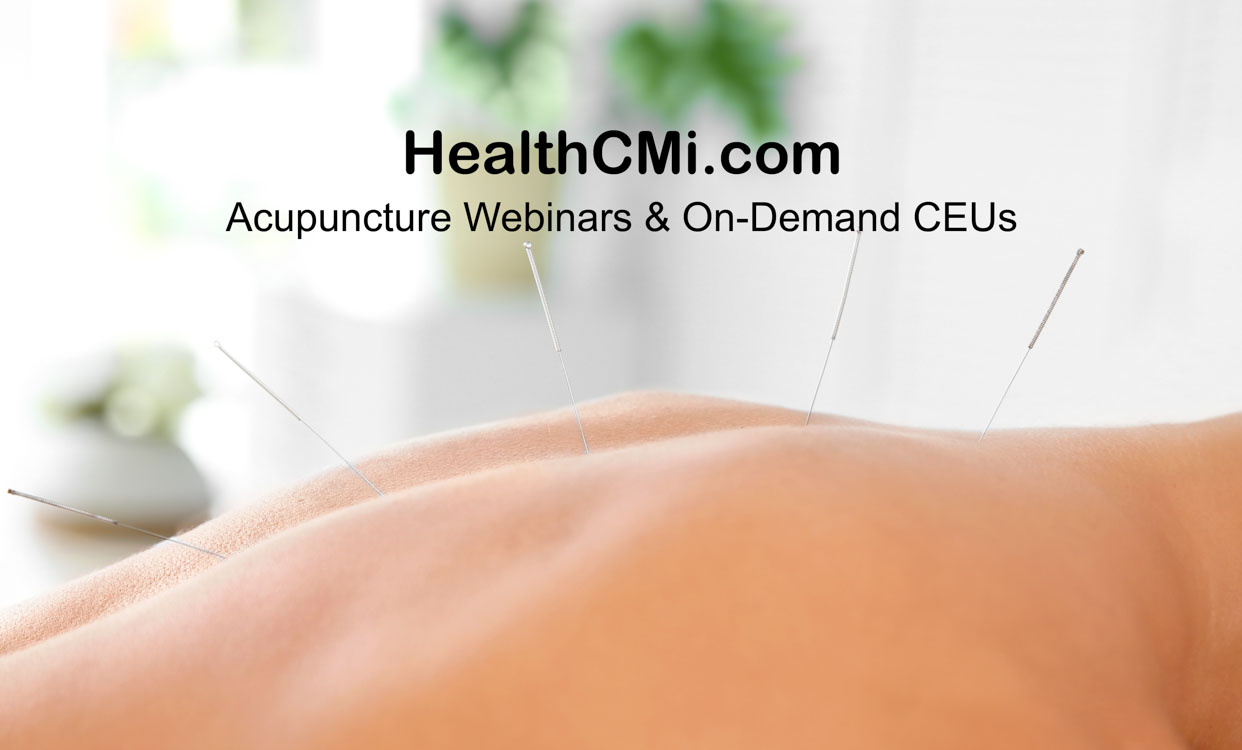 HealthCMi (Healthcare Medicine Institute) has expanded its schedule for acupuncture CEU webinars. HealthCMi live webinar CEU and NCCAOM PDA credits are valid for acupuncturist license renewal throughout the entire USA, Canada, New Zealand, Australia, and more. The expanded schedule includes the addition of new webinars and topics.
In addition, Prof. Richard Liao, L.Ac. has added a new on-demand course featuring lung channel acupuncture points according to both ancient and modern Chinese medicine principles. Drawing on ancient Taoist Dragon Sect teachings, Prof. Liao explores original meanings and dynamics of each acupuncture point in the course entitled True Meaning of Lung Acupoints. Prof. Liao connects the energetics of each acupuncture point with real world clinical applications. This course is available online, 24 hours a day, 7 days a week, and the course material is an eBook for easy download that you get to keep and use.
No longer is there a need to upload certificates to the NCCAOM system. HealthCMi is first acupuncture continuing education provider to automate this process. Now, your certificates of completion are loaded into the NCCAOM portal for you. All state certificates are available and sent to you immediately after each webinar. At HealthCMi, we make learning fun and license renewal reliable and easy.
All acupuncture live webinars in July, August, and September include COVID-19 (coronavirus) research updates. This includes laboratory and clinical findings, using acupuncture and herbs toward improved patient outcomes. In addition, updates show how COVID-19 protection and treatment is managed in acupuncture clinics that are currently open. A review of reopening procedures and protective equipment is also included in the webinars.
The July 26 webinar (Acupuncture Live Webinar #89) includes a detailed look at acupuncture for the treatment of plantar fasciitis. Acupuncture Live Webinar #90 is on July 28, 2020 and features the treatment of headaches, pain syndromes, and much more. The August 2nd webinar (Acupuncture Webinar On HBP And Arrhythmias) features acupuncture and herbal medicine for the treatment of hypertension and arrhythmias plus additional topics.
The August 16th online presentation (Acupuncture Live Webinar #91) has a detailed look at research supporting the use of specific acupuncture points for the treatment of back pain. Acupuncture Live Webinar #92 is on August 18th and features the treatment of neck pain, range of motion impairment, insomnia, and more.
The August 23rd webinar (Frozen Shoulder Webinar) is something new and different for HealthCMi. Most webinars are taught by acupuncture professors from Chinese medicine universities. For this webinar, we welcome respected educator, Dr. Michael Koplen, D.C. He covers all of the tests and diagnostics on shoulder and rotator cuff disorders. In the past, this has been a featured segment at HealthCMi webinars. Now, due to popular demand, the course material has been expanded to a 4 CEU live webinar for acupuncture CEU and NCCAOM PDA credit.
There are several webinars in September, and one is already available for purchase. The September 13th webinar (Acupuncture Live Webinar #93) covers the treatment of arthritis including rheumatoid arthritis and osteoarthritis. All of the Acupuncture Live Webinar series webinars also feature acupuncture needle microscopy. Enjoy taking a look at acupuncture needles under high magnification and learn about different needle qualities, shapes, tips, and coatings. There is a great variation between brands and this is a great opportunity to learn more about the types of needles that best match your needs.
The HealthCMi platform for webinars in 2020 is on Zoom. Our participants enjoy the casual and relaxed approach of each webinar, especially in the chat room. Participants are encouraged, but not required, to engage in discussions. During this COVID-19 time, where isolation has become an issue, acupuncturists comment that this provides a great way to enjoy communicating and sharing with colleagues. No quiz is required for USA acupuncturists and Canadian acupuncturists fulfill the two-way requirement by completing a survey.
There are more webinars coming to the HealthCMi website soon. The current web listings include the webinars mentioned above and expect more this summer and in the autumn. HealthCMi is continuing to add more acupuncture continuing eduction webinars to the schedule. Stay tuned and feel free to contact us if you have any questions.