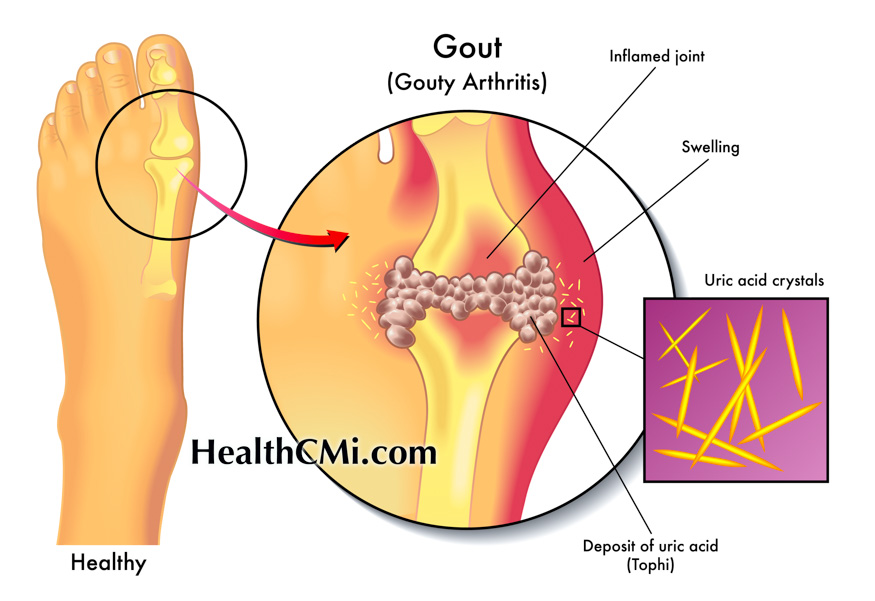 Acupuncture provides immediate pain relief for patients with acute gouty arthritis (AGA) when paired with a low dose of diclofenac, a nonsteroidal anti-inflammatory drug (NSAID). Researchers from Longhua Hospital affiliated with Shanghai University of Traditional Chinese Medicine conducted a clinical trial with 90 AGA patients. The researchers compared the efficacy of a low dose diclofenac treatment, a regular dose diclofenac treatment, and a combination of electroacupuncture and a low dose diclofenac treatment. The results indicate that the integrated approach using acupuncture achieved more significant pain relief with fewer adverse reactions. [1]
The HealthCMi panel finds that the results clearly indicate that significantly lower levels of NSAIDs are required for optimal pain and inflammation relief when acupuncture is included in an integrated treatment regimen. Less pain, swelling, and a significant reduction of adverse effects associated with NSAIDs are the benefits associated with the combined treatment protocol. Learn more about gout treatments, acupuncture, and dietary modifications to prevent gout attacks in the acupuncture continuing education course Gout Treatments >
The primary measurement parameter in the study was a visual analogue scale (VAS) score of pain. Scores were recorded at T0 (prior to the treatment), T1 (ten minutes following the treatment), T2 (two hours following the treatment), T3 (four hours following the treatment), and T4 (six hours following the treatment). Supplementary measurment parameters involved a scoring system for joint pain and swelling, measured at T1 and T4.
One point indicated mild pain upon pressing and palpable swelling, two points indicated moderate pain and visible swelling, and three points indicated severe pain and swelling. The administering rate of diclofenac within 24 hours after completion of the initial therapy was also calculated and assessed.
Both the primary and supplementary parameters demonstrated more marked improvements in the electroacupuncture and pharmaceutical integrated group at all time points measured. The VAS score in the combined group at T1 reached 4.6 ±1.7, significantly lower than those of the other two groups (5.9 ±1.9 and 5.9 ±1.9). At T4, the VAS score was lower in the integrated group (3.4 ±1.4) than in the regular dose group (3.5 ±1.8).
Patients requiring additional NSAID administration were less in the acupuncture group. It was 3.3% in the integrated treatment group, 3.5% in the regular dose group and 17.9% in the low dose monotherapy group. This indicates that the holistic treatment protocol achieves considerable pain relief without over reliance on analgesic medications.
The study used a sample of 90 male patients admitted into the Yueyang Hospital affiliated with the Shanghai University of Traditional Chinese Medicine from October 2020–February 2021, all of whom were within 24 hours of their AGA onset. The 90 cases were randomized into a low dose group, a regular dose group, and an integrated electroacupuncture and pharmaceutical group, with no statistically significant differences among them prior to treatment. The age range of the patients was 35–70 years. The AGA had affected one or more sites, including the first metatarsophalangeal joints, the joints of the foot, and/or the ankle joints. VAS scores exceeded four points in all patients.
In the low dose group, the patients were orally administered 50 mg of diclofenac sustained-release capsules while those in the regular dose group were given 100 mg. The diclofenac could be readministered when patients experienced unbearable pain within the first 6.5 hours following treatment. Maximum daily dosage was 200 mg.
When the diclofenac patients exceeded the maximum or had to take other analgesic drugs, they were excluded from the research. In addition to taking 50 mg diclofenac, patients in the integrated group were also given electroacupuncture at the following points:
Ashi
Dadu (SP2)
Taichong (LV3)
Taibai (SP3)
Neiting (ST44)
Sanyinjiao (SP6)
Zusanli (ST36)
Yinlingquan (SP9, on the affected side)
The electroacupuncture therapy was administered while patients laid in a supine position. The 0.25 × 40 mm needles were perpendicularly inserted at Ashi points, Dadu, and Neiting. Insertion length was 5 to 10 mm. For Taichong and Taibai, perpendicular insertion of 10–15 mm was utilized. For Sanyinjiao, needles were perpendicularly inserted to a depth of 20–25 mm. For Zusanli and Yinglingquan, perpendicular insertion was used, with an insertion length of 20–30 mm.
Upon obtaining deqi, two pairs of acupoints, including Taichong and Zusanli alongside Sanyinjiao and Yinlingquan, were connected to an electroacupuncture device. A continuous wave at a frequency of 2 Hz was applied.
The HealthCMi acupuncture CEU course Gout Treatments covers the history of gout, biomedicine, diagnostics, acupuncture points, and important dietary modifications. A special feature is a review of purine rich foods that are contraindicated for patients prone to gout attacks. Common food items that are high in purine include anchovies, grains, herring, liver, mackerel, mussels, and sardines. The course material takes a close look at these foods and more, providing important answers for practitioners and patients in the quest for eliminating pain and inflammation due to gout.
Reference:
[1] Liu Lumin, Yin Ping, Hu Junwei, Chen Yuelai, Immediate analgesic effect of electroacupuncture combined with diclofenac on acute gouty arthritis: a randomized controlled trial, Chinese Acupuncture & Moxibustion, ISSN, May 6 2023, 0255-2930, CN 11-2024/R.