New research compared the effectiveness of electroacupuncture with warming needle acupuncture technique for the treatment of knee osteoarthritis for patients with kidney deficiency.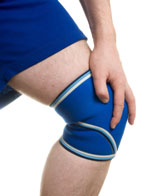 Acupuncture for Knee PainA total of 74 cases were randomly divided into an electroacupuncture and a warming needle moxibustion group. Local acupuncture points in the knee region were chosen for the study. This included acupoints ST35 (Dubi), Xiyan, SP10 (Xuehai), ST36 (Zusanli), GB34 (Yanglingquan) and others. In the electroacupuncture group, stimulation was applied with a 5 Hz continuous wave. For the warming needle moxibustion group, two moxa rolls were applied at each acupuncture point during every treatment. Acupuncture treatments were administered at a rate of three acupuncture treatments per week over a period of four weeks.
Over sixty-four percent of the electroacupuncture group received a score from markedly effective to completely cured. Forty percent of the warming needle moxibustion group received a score ranging from markedly effective to completely cured. The electroacupuncture group received a higher score for the relief of joint pain. The acupuncture with moxibustion group received higher scores for the relief of joint stiffness. The researchers concluded that each technique has specific advantages and noted that, "The total efficacy of electroacupuncture is superior to that of the warming needle moxibustion."
HealthCMi Online: Our authors provide acupuncture CEUs online for acupuncture continuing education credit and publish up-to-date research through the HealthCMi news portal.
Reference:
Zhongguo Zhen Jiu. 2012 May;32(5):395-8. Comparison of the clinical therapeutic effects between electroacupuncture and warming needle moxibustion for knee osteoarthritis of kidney deficiency and marrow insufficiency pattern/syndrome. Gao J, Ouyang BS, Zhang Y, Li J, Yang HZ, Ji LL, Wu YJ, Wang W. Department of Acupuncture and Moxibustion, Suzhou Hospital of TCM, Suzhou, Jiangsu Province, China.