New research demonstrates that heat stimulation of an acupuncture point located on the hand benefits the lips of patients with Bell's Palsy, a type of facial paralysis. Application of moxibustion (radiant heat generated by burning herbs) to acupuncture point LI4 (Hegu) was shown to benefit symmetry of the face and restore proper facial skin temperatures. Using infrared thermography, the researchers conclude, "Moxibustion stimulation at the Hegu (LI4) not only improves the global circulation but also has specific effects on the lips in Bell's palsy patients.…"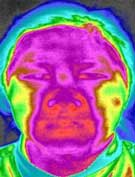 Facial Thermography
Why LI4 on the hand?
The researchers note that MRI studies show that acupuncture at acupoint LI4 demonstrates similar changes to the brain as electroacupuncture to the mouth. In addition, LI4 intersects "sensory afferent pathways of the face and mouth in the central nervous system." In addition, acupuncture point LI4 has been historically indicated in traditional Chinese medicine for the treatment of Bell's palsy.
References:
Neural Regen Res. 2012;7(9):680-685. Infrared thermography and meridian-effect evidence and explanation in Bell's palsy patients treated by moxibustion at the Hegu (LI4) acupoint. Ling Guan, Gaobo Li, Yiling Yang, Xiufang Deng, Peisi Cai.
Du YH. Clinical Evidence of Acupuncture and Moxibustion Therapy. Beijing: People's Health Publishing House. 2011.
Li CY, Wang QS, Liu Y, et al. Effects of amplitudes of facial nerve evoked potential acupuncture at hegu on peripheral facial paralysis patients. Liaoning Zhongyiyao Daxue Xuebao. 2009;11(10):140-141.
Zhang JB. Clinical analysis of the point LI4 treating diseases in the face and mouth phenomenon. Zhongguo Zhen Jiu. 1998(10): 636-637.
About HealthCMi: Authors and presenters provide acupuncture continuing education for acupuncture CEUs online and publish the HealthCMi web news service.