Acupuncture makes another strong showing at the Olympic Games. Dr. Bret Moldenhauer, an acupuncturist from Chattanooga (Tennessee), will travel to the Olympics with world class runner and Team USA Olympian, Dee Dee Trotter. As her personal acupuncturist, he brought his acupuncture equipment to the track and treated Dee Dee Trotter on the spot during training. In pole vaulting, Team USA Olympian Jeremy Scott sailed through Olympic trials in Eugene, Oregon. Acupuncture is included in his regime of care for the treatment of his knee.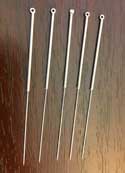 Acupuncture USAAnother acupuncturist is returning to the Olympics as a competitor! The London Olympics will be Amy Acuff's fifth time on the USA Olympic team. A licensed acupuncturist in Austin, Texas; she attributes some of her long-term success in the sport of high jump to acupuncture. She notes that high jump is an injury-prone sport and that acupuncture is successful in the prevention and recovery from injuries.
Team USA isn't the only Olympic team to benefit from acupuncture. The South Korean Olympic team has a successful history using acupuncture. Volleyball player Kim Yeon-koung notes that acupuncture boosts her performance capabilities. Men's handball player Park Jung-geu notes that acupuncture provides rapid recoveries from sporting injuries.
About HealthCMi: The Healthcare Medicine Institute provides acupuncture CEU continuing education credit for licensed acupuncturists. The HealthCMi news division provides up-to-date research and acupuncture continuing education news.