New research concludes that acupuncture combined with moxibustion and cupping is effective for the treatment of menstrual pain. Researchers evaluated sixty-six patients with dysmenorrhea, menstrual pain. The pain was significantly relieved or eliminated in all sixty-six patients with a combination of acupuncture, cupping and moxibustion within two to six treatments.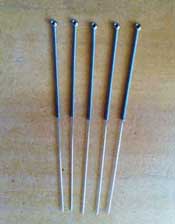 AcupunctureThe primary acupuncture points used in the study were: CV4 (Guanyuan), SP10 (Xuehai), K3 (Taixi), SP8 (Diji), SP6 (Sanyinjiao). A differential diagnosis was made for each patient. Based on the diagnosis, cupping and moxibustion were added to CV4 and ST28 (Shuidao) when appropriate. Moxibustion was added for ten minutes and cupping for fifteen minutes.
Definitions:
Moxibustion is a technique involving the burning of herbs to warm the skin or acupuncture needle. Cupping is a technique of applying suction to the skin.
About the Healthcare Medicine Institute: HealthCMi provides online acupuncture CEU credit to licensed acupuncturists and publishes current events related to acupuncture, herbal medicine and important innovations in healthcare technology.
Reference:
World Journal of Acupuncture - Moxibustion. Volume 22, Issue 2, 30 June 2012, Pages 68–70. Acupuncture and moxibustion combined with cupping for primary dysmenorrhea in 66 cases. Ming-gao LI, De-chen LI, Shu-ren LI. Department of Acupuncture-Moxibustion, Chengzhong People's Hospital of Huai'an City, Huai'an, Jiangsu Province, China. doi.org/10.1016/S1003-5257(12)60032-4