A new study finds that acupuncture is effective for the treatment of shoulder pain following a stroke. Shoulder pain commonly occurs after a stroke and interferes with the normal functioning of the arms. Approximately 70 percent of stroke patients develop significant shoulder pain.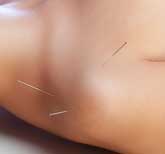 AcupunctureA review of 453 randomized controlled studies investigated the effects of acupuncture for the treatment of shoulder pain after a stroke. 300 studies were written in English, 137 in Chinese and an additional 16 studies were written in Korean. Seven of the highest quality studies were chosen for a detailed review and clinical assessment. The researchers conclude that "acupuncture is an effective treatment for shoulder pain after (a) stroke." The researchers also note that acupuncture is more effective for the relief of shoulder pain when combined with exercise compared with exercise standalone therapies.
About HealthCMi: Authors and presenters provide acupuncture continuing education for acupuncture CEUs online and publish the HealthCMi web news service.
Reference:
Jung Ah Lee, Si-Woon Park, Pil Woo Hwang, Sung Min Lim, Sejeong Kook, Kyung In Choi, and Kyoung Sook Kang. The Journal of Alternative and Complementary Medicine. September 2012, 18(9): 818-823. doi:10.1089/acm.2011.0457.