A new study of patients with vascular dementia concludes that acupuncture is effective in improving cognition. Vascular dementia, caused by brain damage due to impaired blood flow to the brain, is common after a stroke. Any condition damaging blood vessels that feed oxygen and nutrients to the brain may lead to vascular dementia. The researchers observed that acupuncture measurably reduced levels of 8-OHdG, a marker of oxidative damage. As a result, the researchers conclude "that acupuncture is beneficial at least in part by preventing oxidative damage."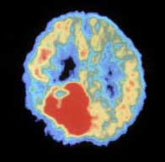 Acupuncture for the BrainAnother study compared scalp acupuncture with body-style acupuncture. In this randomized controlled clinical trial, 184 subjects with vascular dementia received either scalp acupuncture or body acupuncture. The scalp acupuncture group showed significantly greater improvements in cognition than the body-style acupuncture group. Social behavior scores and ADL (Activities of Daily Living) improved significantly in both groups. The researchers concluded that scalp acupuncture significantly improves cognition, activities of daily living, TCM (Traditional Chinese Medicine) signs and symptoms, mental state and social behavior in patients with vascular dementia.
References:
Shi GX, Liu CZ, Li QQ, Zhu H, Wang LP. Acupuncture and Moxibustion Department, Beijing Hospital of Traditional Chinese Medicine affiliated to Capital Medical University, Beijing, China. Journal of Traditional Chinese Medicine. 2012, 32(2):199-202.
Huang, Lin-na, An, Jun-ming, Su, Tong-sheng; Wang, Pu; Dong, Lan; Zhang, Ruo-ping; Ren, Yu-juan; Ren, Yuan-yuan. Therapeutic efficacy observation on scalp acupuncture for vascular dementia. Journal of Acupuncture and Tuina Science. 2012-02-01.