New research reveals that acupuncture is effective for treating athletes with functional ankle instability. The investigators showed that electroacupuncture applied to ST41 (Jiexi), UB60 (Kunlun), GB40 (Qixu) and Ashi points not only functionally improved ankle stability but also significantly increased proprioception. In a comparison with physiotherapy, the investigators discovered that the acupuncture study group showed greater improvement than the conventional physiotherapy group.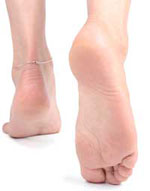 Acupuncture for AnklesChronic ankle instability is typically caused by sprains that have damaged the ligaments. This results in a decrease in proprioception, a person's ability to sense relative bodily positions and the relative strength applied to parts of the body. As a result, ankle instability affects balance and gait. This may lead to susceptibility to further injury. The researchers concluded that electroacupuncture improves proprioception for athletes with functional ankle instability and that electroacupuncture achieves greater clinical results than conventional physiotherapy.

About HealthCMi: Authors and presenters provide acupuncture continuing education for acupuncture CEUs online and publish the HealthCMi web news service.

Reference:
Zhongguo Zhen Jiu. 2012 Jun;32(6):503-6. [Effects of electroacupuncture on the proprioception of athletes with functional ankle instability]. [Article in Chinese] Zhu Y, Qiu ML, Ding Y, Qiang Y, Qin BY. Department of Rehabilitation, Shanghai Hospital of TCM Affiliated to Shanghai University of TCM, Shanghai, China.