February rings in the Chinese new year with the California Acupuncture Board acupuncture written licensing exam. The exam will be given on February 21, 2013 at the Ontario Convention Center in Ontario, California. February 10th brings the Year of the Snake. Traditional wisdom is that the snake waits patiently and then strikes. A wise snake will carefully review each question, take a moment to reflect and then decisively answer.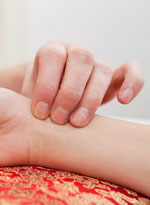 Pulse DiagnosisAll attendees must present an official photo ID prior to taking the exam. Attendees are not allowed to bring personal pens or pencils, cell phones, coats, multi-layered shawls and scarves and puffy vests into the exam room. Other items that are banned include purses, food, drinks, herbs, over-the-counter medicines and acupuncture needles. Water will be made available in the exam room. Sweaters and pullovers are allowed.
The exam is a total of 200 multiple choice questions. After the first 100 questions, there is a lunch break. Attendees get 2.5 hours to answer the first 100 questions and another 2.5 hours to answer the second 100 questions. The test will be given in three languages: English, Chinese, Korean. The Chinese version of the test will primarily appear in traditional print style with the addition of some simplified characters. Translators and interpreters will be present to administer oral instructions in both Chinese and Korean.
The examination covers five basic areas of medicine: patient assessment, developing a diagnostic impression, acupuncture, herbs, public health and safety. Patient assessment is broken down into the patient history, physical exam, evaluation of supplements and pharmaceuticals and diagnostic testing. Developing a diagnostic impression is broken down into four parts: diagnosis, syndrome differentiation, patient education and referral, treatment plan. The acupuncture section is subdivided into six parts: acupoint selection principles, acupuncture point categories, point location and needling techniques, axillary treatments, microsystems (scalp and auricular acupuncture), observation and modification of the treatment plan. The herbs section is subdivided into two categories: identification of herbs, prescription and administration of herbs. Regulations for public health and safety involves knowledge of infectious disease control, maintenance of patient records and legal requirements for reporting abuse.
One interesting choice of the California Acupuncture Board is to use the abbreviation 'Liv' to identify the Liver meridian when choosing numbered acupuncture points. Many abbreviations are used across a variety of texts including LR, LV, LIV and Li. The choice of 'Liv' seems logical as it will not be confused with 'L' for the Lung meridian.
The California Acupuncture Board provides a list of all the individual herbs and herbal formulas on the exam. Some of the formulas are: Chai Ge Jie Ji Tang, Xie Xin Tang, Qing Hao Bie Jia Tang, Zhen Wu Tang, Bai He Gu Jin Tang, Li Zong Wan, Dang Gui Bu Xue Tang and Jin Suo Gu Jing Wan. Attendees may also download sample questions from the California Acupuncture Board website at www.acupuncture.ca.gov . Good luck to all those sitting for the boards!