Prof. Richard Liao, L. Ac. uncovers two more lost acupuncture and herbal medicine works. A respected professor and longtime acupuncturist, Prof. Liao has worked for years to seek out and translate important Traditional Chinese Medicine (TCM) works that have been lost. Ringing in the Year of the Snake with two important acupuncture continuing education courses for acupuncture CEU credit online, Prof. Liao has published the first English translations of special Chinese medicine case histories on the treatment of gynecological and pediatric disorders. All of the revived works are presented at HealthCMi.com as acupuncture continuing education courses online.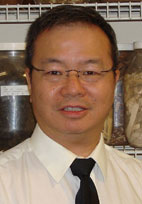 Prof. Liao, L.Ac.Never before have these great works been available in English. In addition, they have all but been lost in China as well. Prof. Liao's decades long vision to restore the great works of prominent TCM practitioners has been realized in two more great online acupuncture and herbal medicine course offerings.
Prof. Liao served as a faculty member at Five Branches University, Santa Cruz and at the Academy of Chinese Culture & Health Sciences in Oakland, California. His many years of dedication to the restoration of acupuncture and herbal medicine writings comes to life in his latest works. One course offering focuses on both pediatrics and gynecology. Pediatric topics include febrile diseases, lymph infections, chickenpox, tetanus and more. Gynecology topics include abnormal uterine bleeding, amenorrhea, leukorrhea, postpartum disorders, restless fetus syndrome and several other gynecological concerns. A special section in this online acupuncture and herbal medicine course demonstrates an important clinical protocol for the treatment of emotional shock and another protocol for the treatment of skin disorders.

Prof. Liao has also just uncovered and translated another lost work of Chinese medicine from the early 20th century into English. This online course offering, available at HealthCMi, covers the treatment of fear, pain, headaches, insomnia, jaundice, infections and nocturnal emissions. This online course features clinical case histories that present concise vignettes with all of the classic features expected in a modern online course. Indications, syndrome identification, pulse and tongue presentation, diagnosis, treatment principles, acupuncture and herbs are covered. This format takes a licensed acupuncturist from the begining of a case history to its resolution.
Prof. Liao notes that these courses are intended for licensed acupuncturists who want to further their education. The Healthcare Medicine Institute presents these courses for acupuncture CEU and PDA credit valid throughout the USA and Canada. All HealthCMi courses are valid for California acupuncture CEUs, NCCAOM Diplomate PDAs, Texas CAEs, Florida CEs, CTCMA continuing education credits and more. These course approvals make HealthCMi courses officially approved for CEUs in every state and province where acupuncture is legal in the USA and Canada. In addition, Prof. Liao's courses meet the 10 hour Massachusetts requirement for herbal medicine continuing education for acupuncturists. To find these new online courses, visit HealthCMi.com and view the courses: Pain, Headaches, Insomnia and Fear; Chinese Medicine Pediatrics and Gynecology.