New research shows that acupuncture research meets blinding standards in randomly controlled trials. The research shows that patients in blinded studies believe they have received acupuncture even in cases where researchers have only applied sham acupuncture. The researchers conclude that data derived from studies using objective blinding potentially offer important and "meaningful" ways to interpret the conclusions of randomly controlled trials.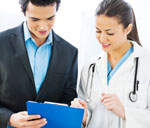 Acupuncture ResearchThe importance of this seemingly simple study is in its confirmation of the quality of procedures used in acupuncture investigations. A constant criticism of acupuncture research is that patients report positive results because they know they have received acupuncture. The new study shows that this allegation of bias based on a breakdown of the blinding procedure is completely unfounded.
The study was not a simple, isolated investigation. Researchers from prestigious universities collaborated in the review. A total of 54 studies with 4,783 total participants was chosen for the investigative analysis. The ultimate goal was to determine if patient bias could be eliminated based on the quality of the blinding procedure. The study confirmed that patients simply could not determine if they received verum acupuncture or sham acupuncture. The experts participating in the study hailed from the New York University of School Medicine, Brown University (Providence, Rhode Island), University of California (Davis) and the University of North Carolina (Chapel Hill).
The prestigious collaboration of research investigators cited that there is no agreement across the field of research on the viable control measures for acupuncture studies. The lack of a singular scientific protocol prompted the researchers to investigate the viability of using a blinded study for purposes of eliminating patient bias in acupuncture investigations. The researchers determined that the protocols for blinding in acupuncture studies are effective and that patients cannot determine if they have received verum acupuncture or another procedure in place of acupuncture.
Reference:
Park, Jongbae J. "Blinding Measured: A Systematic Review of Randomized Controlled Trials of Acupuncture." Evidence-Based Complementary and Alternative Medicine 2013 (2013).