Chinese Medicine dietetics, a longtime area of expertise in the acupuncture community, gets a boost with a new live webinar in May followed by several more dietetics webinars in the coming months. Prof. Jeffrey Pang, L.Ac. will unravel the secrets of healing with foods. Recipes for the treatment of headaches and respiratory disorders will be given a special focus in this live webinar presentation presented with Adobe Connect technology. Other topics include benefitting the kidneys, heart and liver. The webinar is accessible by computer, iPhone, iPod Touch, iPad, Android smartphones and other smart devices. The webinar is geared toward licensed acupuncturists needing CEU/PDA credit but is also available to the general public.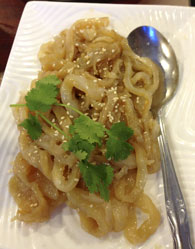 Jellyfish with SesameAdam White, L.Ac., co-presenter of the live acupuncture CEU webinar, notes that there will be interesting video footage and slides of both common and hard to find foods. He notes that it is becoming easier to find fresh healing herbal foods such as Yu Xing Cao, Shan Yao, Ge Gen, Pomelo (Ju Hong), Zi Su Ye, purple yams and more. White notes, "The expansion of Asian markets has increased accessibility to Chinese Medicine healing foods and herbs. Our dietetics webinars feature simple healing recipes made with common foods and more advanced entrées that incorporate foods and herbs found primarily in Asian supermarkets." Adam White, L.Ac. noted that the quality of black skinned chicken, renown for its ability to benefit the kidneys, has dramatically improved in recent years and that certified organic Asian foods at affordable prices is an emerging trend.
White notes that simple healing techniques such as eating kumquat skins to clear the sinuses are not commonly known and used. "Most of the focus is on biomedical constructs such as nutritional value and antioxidant properties," notes White, "Sure, kumquats are loaded with vitamin C and bioflavonoids but the functional action of eating them clears sinus congestion. I'd like to see a greater awareness of the functional healing properties of food such as making a simple snack made with jellyfish and mung bean sprouts to clear acne or beef shank stew with kudzu root (Ge Gen) and herbs to treat muscle cramps and tendinitis." The live webinar presented by the Healthcare Medicine Institute (HealthCMi) will roll out a variety of foods and recipes focusing on direct functional benefits to human health.
Prof. Jeffrey Pang, L.Ac., academic chair of both the theory and herbal medicine departments of Five Branches University located in Santa Cruz and San Jose, notes that there is a rapid expansion of Asian supermarkets. Ranch 99 Asian supermarkets recently expanded into Cupertino, California. Ranch 99 markets are located throughout California, Washington, Nevada and Texas. Lion, another Asian supermarket, now has five locations including two in San Jose, California and others in the greater San Francisco Bay area. Mitsuwa Asian supermarkets are located in California, Illinois and New Jersey. These are just a few of the Asian supermarkets sprouting up around the nation.
Prof. Pang notes that obesity is a major problem in the USA. He stated that a few simple dietary modifications can help with weight control. Prof. Pang notes that foods high in fiber and low in carbohydrates such as bamboo shoots are rarely consumed in American cuisine yet this is exactly the type of food that can promote weight loss.
The following is a sample of the course material video. On the day of the event, the course will be in high quality, full screen video for use on your computer or smart device. This clip is from a prior live Chinese Medicine dietetics webinar.
Excerpts of Course Video Content