New research published in the Annals of Oncology (Oxford University Press, Oxford Journals) concludes that acupuncture is effective for relieving dry mouth caused by cancer radiation therapy. A sample size of 145 patients with chronic radiation induced xerostomia, dry mouth, was studied in a randomized investigation of acupuncture treatments compared with oral care education. The researchers noted that acupuncture was superior to oral care and produced pronounced and clinically significant results.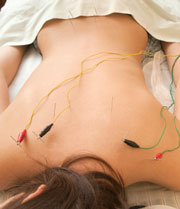 The researchers documented that acupuncture significantly reduced severe dry mouth, reduced issues of sticky saliva and reduced the need for patients to sip fluids to swallow food. Acupuncture also significantly reduced the need to wake up at night to drink. The researchers concluded that eight acupuncture treatments performed at a rate of one per week was superior to oral care education for the relief of xerostomia induced by cancer radiation therapy.
In a related case history published by the Medical College of Wisconsin in the Journal of Cancer Therapeutics & Research, researchers conclude that acupuncture reduces chemotherapy and radiation treatment side effects. The study demonstrated that acupuncture reduced painful swallowing and dry mouth that resulted from chemotherapy and radiation treatment.
Manual acupuncture, electroacupuncture and auricular acupuncture were used. Stomach and Large Intestine Yangming channel points used in the study were: ST3, ST4, ST5, ST6, ST7, ST36, LI4 and LI11. Shaoyang, Taiyang, Taiyin, Ren and Du points were also used: SI18, SI19, GB2, GB3, SP6, GV20, CV23, CV24. Ear acupuncture points Shenmen and Point Zero were also included. Electroacupuncture was applied to ST5, ST6 and ST7 bilaterally for some acupuncture treatments and to ST3 and ST4 as well. The acupuncture needles were 15mm and 25mm in length respectively and the needle depth ranged from 0.25cm to 1cm. Electroacupuncture was set to 30Hz with an amplitude adjusted for patient tolerances.
In another related study, researchers concluded that acupuncture significantly relieves hiccups for patients with late-stage cancer. A total of thirty patients were included in the investigation. Ten improved markedly, eighteen patients demonstrated improvement and two patients did not respond to acupuncture therapy. The total effective rate for the acupuncture therapy exceeded 93 percent.
These three recent investigations suggest that acupuncture plays an important role in supporting patients with cancer. Patient comfort and bodily functions were shown to improve markedly. The amelioration of chemotherapy and radiation side effects serves to relieve suffering and improve the quality of life for cancer patients.
Reference:
Simcock, R., L. Fallowfield, K. Monson, I. Solis-Trapala, L. Parlour, C. Langridge, and V. Jenkins. "ARIX: A randomised trial of acupuncture v oral care sessions in patients with chronic xerostomia following treatment of head and neck cancer." Annals of Oncology 24, no. 3 (2013): 776-783.
Author Affiliations:
Department of Oncology, Brighton and Sussex University Hospitals Trust, Sussex Cancer Centre, Brighton.
Sussex Health Outcomes Research and Education in Cancer (SHORE-C), Brighton and Sussex Medical School, University of Sussex, Brighton.
MRC Human Nutrition Research, Elsie Widdowson Laboratory, Cambridge, UK.
Colorado, Berdale, and Hong Wu. "Acupuncture for the relief of odynophagia and xerostomia after chemoradiation therapy in oropharyngeal cancer: a case report." (2013).
Journal of Acupuncture and Tuina Science, Volume 10, Number 2 (2012), 117-119, DOI: 10.1007/s11726-012-0585-x. Electroacupuncture combined with auricular point sticking for hiccups in late-stage cancer. Xia-ping Shao.