A new study finds acupuncture effective for relieving menstrual pain. According to Traditional Chinese Medicine (TCM) theory, periodic pelvic pain associated with dysmenorrhea is related to several differential diagnoses including cold stasis in the lower abdomen.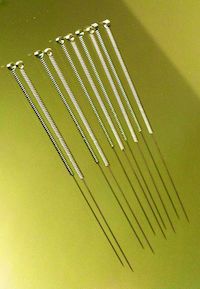 In this investigation, researchers measured skin temperatures on the lower abdomen after the application of the warming needle technique to see if there is a relationship between warmth and comfort levels. The investigators made some important discoveries.
At the onset of the menstrual related abdominal pain, thermographic measurements revealed that the skin temperature is lower at the exact area of pain when compared with surrounding areas. The researchers discovered that acupuncture relieved the lower abdominal pain when incorporating the warming needle technique. After the application of acupuncture, skin temperatures returned to normal at the exact area of pain and matched the temperatures of surrounding areas. The researchers concluded that there is a relationship between skin temperatures and pain levels.
The researchers note that acupuncture delivered immediate and effective pain relief in this human clinical study. At the onset of menstrual pain, the skin temperature of acupuncture point CV4 (Guanyuan) was 4ºC lower than the surrounding areas. This acupuncture point is on the midline of the abdomen, 3 cun below the navel. Note that 1 cun is approximately 1 inch. Warming needle technique is when either moxibustion or an electrical heating device is used to warm the needle.
CV4 is a Traditional Chinese Medicine acupuncture point that is historically indicated for the treatment of abdominal pain, diarrhea, irregular menstruation, dysmenorrhea, leukorrhea, nocturnal emissions, hernia and enuresis. Given its historical use, it seems that the researchers have chosen the study of this point based on its location and traditional indications. According to TCM theory, CV4 is the Front Alarm point of the small intestine and functions to nourish and stabilize the kidneys, regulate Qi and restore Yang. It is also noted as an intersection point of the three leg Yin acupuncture channels.
The researchers find that when acupuncture restores normal temperatures to the lower abdomen, the pain is eliminated. Acupuncture point CV4 is known for its warming, Yang restoring, intrinsic properties. Combined with warming needle technique, the investigators were able to uncover the relationship between relief of cold stasis and the relief of pain.
This study is consistent with existing research. Another study of 66 patients with menstrual pain finds that acupuncture combined with cupping and moxibustion is an effective treatment approach for the relief of menstrual pain. The patients had significant relief of menstrual pain within 2 - 6 acupuncture treatments. As in the prior study, CV4 was one of the primary points used for the elimination of menstrual pain. In addition, this study employed the use of other acupuncture points: SP10 (Xuehai), K3 (Taixi), SP8 (Diji), SP6 (Sanyinjiao). All 4 of these additional acupuncture points are located on the legs.
The choice of SP6 for this second study matches that of yet another study finding acupuncture effective for the treatment of menstrual pain. In this additional study, blood samples were taken from control groups and the SP6 acupuncture group. The researchers were looking for a positive relationship between pain relief using SP6 and a change in plasma prostaglandins levels (PGE2, PGF2a, TXB2, 6-keto PGF1a). Although acupuncture effectively reduced or eliminated menstrual pain, no positive relationship between the pain relief and prostaglandins levels were established. The researchers concluded that the analgesic effects of SP6 are not mediated by prostaglandins in the bloodstream.

References:
Huang, Tao, Bin Han, Lu Wang, Ingrid Gaischek, and Gerhard Litscher. "Warming Needle Eases Severe Pain During Menses: A Case and Thermographic Measurement." Medical Acupuncture 25, no. 3 (2013): 227-231.
World Journal of Acupuncture - Moxibustion. Volume 22, Issue 2, 30 June 2012, Pages 68–70. Acupuncture and moxibustion combined with cupping for primary dysmenorrhea in 66 cases. Ming-gao LI, De-chen LI, Shu-ren LI.
Shi, Guang-Xia MSc,†Liu, Cun-Zhi PhD; Zhu, Jiang BSc,;Guan, Li-Ping MSc; Wang, De-Jin MSc; Wu, Meng-Meng MSc. Effects of Acupuncture at Sanyinjiao (SP6) on Prostaglandin Levels in Primary Dysmenorrhea Patients. Clinical Journal of Pain: March/April 2011 - Volume 27 - Issue 3 - p 258–261.