Chinese Medicine dietetics is the topic of this weekend's featured live webinar at HealthCMi.com for acupuncture continuing education CEU and PDA credit online.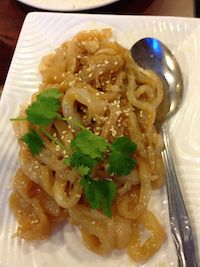 Prof. Jeffrey Pang, L.Ac. and Adam White, L.Ac. will present recipes for the treatment of urogenital and metabolic disorders. Special topics include food treatments for high cholesterol, high triglycerides, diabetes, weight loss, urinary tract infections (UTI) and chronic kidney conditions including nephritis. Visit the HealthCMi website and reserve your space for the June 30th online live video presentation. The course is valid for 4 CEUS/PDAs and runs from 9am to 1pm (Pacific Time) on Sunday.
This webinar is pre-approved for NCCAOM Diplomate PDA credit, which applies to almost every acupuncturist in the United States. Special pre-approvals are also for California Acupuncture Board CEUs, Florida Board of Acupuncture CEs, Texas Medical Board CAEs, CTCMA & CAAA acupuncture continuing education credit and more! Massachusetts acupuncturists can apply the credits towards their herbal medicine requirement.
The webinar covers the healing properties of individual food items. Some foods are common to most supermarkets. Specialty foods found only in Asian supermarkets are also covered. In addition, how to cook with Chinese herbal medicines in entrées is covered.
Adam White, L.Ac. noted, "I want to put a bit of fun into this online workshop. Chinese medicine dietetics features healthy eating and I want licensed acupuncturists to genuinely enjoy working with herbal medicines in everyday dishes." He noted that getting flavors to work correctly is at the heart of popularizing Chinese medicine dietetics cooking techniques.
Prof. Jeffrey Pang, L.Ac. is the Department Chair of Five Branches University for both the theory and herbal medicine departments. His favorite classes are those on dietetics. His love for Chinese medicine dietetics comes through in his presentations. Participants have the opportunity to ask questions during the seminar via text on their computers and smart devices. Users can access the course on laptops, smartphones, iPads, iPhones, Android phones and more.
The webinar features photographs of the herbs and foods covered in the lecture. This is both useful and fun. Participants will learn special medical applications for common foods and learn how to identify less common foods with powerful medicinal value. The webinar is an opportunity for licensed acupuncturists to relax and enjoy learning Chinese medicine dietetics. To see a sample of a previous online webinar, take a look at the video below. Although the sample below is small, the actual webinar fills the entire screen for ease of visibility.
To purchase or learn more click the following: Chinese Medicine Dietetics.
Live Webinar Sample
Some of the Foods in Our Webinars