The Healthcare Medicine Institute (HealthCMi) has selected its winner for the best acupuncture app of 2012 for the iPhone, iPad and iPod Touch. The year draws to a close and even the Year of the Dragon begins its shift to the Year of the Snake. An enormous amount of innovation, research and changes have come to Chinese medicine, acupuncture and herbal medicine. One app stands above the rest in 2012 as the most practical, user-friendly and accurate acupuncture tool for licensed acupuncturists and students. The Manual of Acupuncture iOS app is this year's winner.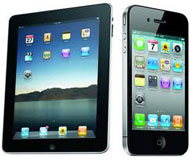 iPhone & iPad Acupuncture AppAt HealthCMi, we feel that Chinese medicine involves a lifelong process of learning. The Manual of Acupuncture iPhone/iPad app infuses fun into this clinical and scholarly adventure. Based on the source text A Manual of Acupuncture by Peter Deadman & Mazin Al-Khafaji with Kevin Baker, this app adds new value with its audiovisual clips demonstrating location and needling tips for each acupuncture point.
The textbook, DVD-ROM and Windows PC digital download versions provide an in-depth analysis and commentary on the acupuncture points. The iPhone/iPad app version summarizes each point in a clear and concise manner and adds friendly search features, videos, the option to add personal notes and flag points and a self-testing module. In this way, the iOS app functions as a handy reference tool and the textbook provides deep analysis including quotes from classical acupuncture works. Both are highly recommended.
This acupuncture iOS app includes all of the channels and extra points included in the textbook. Each point is referenced by its number, English translation, pinyin and Chinese character. There are diagrams and illustrations for individual acupoints, primary channels, luo-connecting channels, divergent channels and sinew channels. Simply tap on a diagram and it zooms in for a closer look! Reference material includes information on cun measurements, location tips, needling guidelines and a glossary. The videos provide audiovisual support making every point easily located.
Listing the features of this acupuncture app doesn't begin to share the elegance and simplicity with which a wealth of information is presented. At your fingertips are the needling techniques, location, indications and functions of each acupuncture point. All data is easily accessible, accurate and concise. Appropriate needling precautions are added for sensitive points such as ST9 (Renying) and ST1 (Chengqi).
An updated version coming in 2013 will include additional easy swipe features, more live links, additional diagrams and functional enhancements. We applaud this continued commitment to an already superb acupuncture app. Available in the Apple App Store online, this app is priced at $35.99 USD and is an excellent value.