Acupuncture and herbs relieve osteoporosis and increase bone mineral density. Research published in the Journal of Clinical Acupuncture and Moxibustion demonstrates that acupuncture and herbs reduce pain, numbness, and dizziness while improving walking for patients with osteoporosis. Compared with a control group receiving only standard medical care, a group receiving standard care plus acupuncture and herbal medicine achieved significantly greater positive patient outcomes.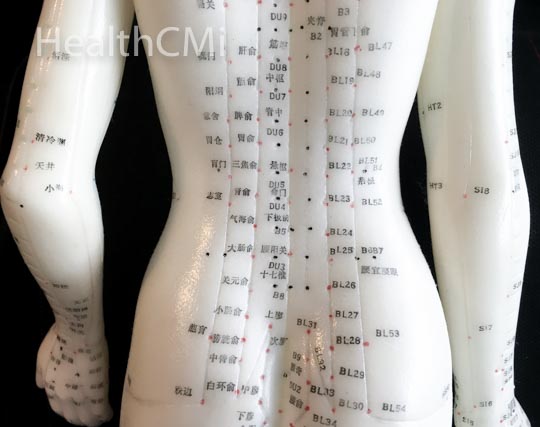 A total of eighty osteoporosis patients were randomized into two groups. Group one received calcium carbonate with vitamin D orally and injections of Calcitonin-Salmon. Group two received the same medications plus electroacupuncture and herbal medicine. The specific calcium carbonate with vitamin D pills used in the study were Caltrate 600+D supplements. This is used for preventing calcium deficiency and is used in the treatment of osteoporosis related bone loss and weak bones due to conditions such as osteomalacia. Calcitonin-Salmon is an endocrine-metabolic agent used for regulating bone metabolism by blocking bone resorption. As a result, it is useful for treating osteoporosis and bone related Paget disease.
One tablet of Caltrate 600+D was given once per day at night. Calcitonin-Salmon was injected once per day. A total of four weeks of care completed the treatment regimen.
Electroacupuncture was applied to primary acupoints including:
Ashi points
Shenzhu, DU12
Pishu, BL20
Shenshu, BL23
Qihai, CV6
Mingmen, DU4
Yaoyangguan
Juegu, DU3
Disposable acupuncture needles (0.25 x 40 mm) were inserted to a depth of 25 to 50 mm. Manual stimulation was used to elicit deqi at the acupoints. Upon arrival of deqi, electroacupuncture was applied using a 60 Hz continuous was set to patient tolerance for intensity levels. Total needle retention time per acupuncture treatment was thirty minutes.
Herbal medicine was administered. The formula Jia Wei Shen Tong Zhu Yu Tang was used. Ingredients included: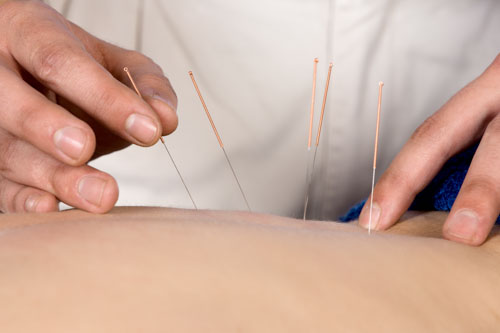 Dang Gui
Chuan Xiong
Xiang Fu
Qiang Huo
Qin Jiao
Tao Ren
Hong Hua
Di Long
Wu Ling Zhi
Niu Xi
Xu Duan
Gu Sui Bu
Gan Cao
The herbs were decocted once per take and taken orally twice per day. Each dosage was 200 mL. Both acupuncture and herbs were administered for the four week regimen of care.
The group receiving calcium carbonate with vitamin D and Calcitonin-Salmon had an 80% total effective rate. The group receiving calcium carbonate with vitamin D, Calcitonin-Salmon, acupuncture, and herbal medicine had a 92.5% total effective rate. In addition, the bone mineral density in the group that received acupuncture and herbs had greater and significant increases in bone mineral density.
Zhang et al. from the Suining Municipal Hospital of TCM (Traditional Chinese Medicine) had similar findings. In a clinical trial, Zhang et al. compared the efficacy of acupuncture combined with drug therapy versus drug therapy only. Adding acupuncture to the regimen of care significantly reduced pain levels and improved the quality of life for patients with osteoporotic compression fractures of the spine.
References:
Yuan LM, Li YM, Chen LM, Lei XH & Jia SJ. (2015). Therapeutic Effect on Primary Osteoporosis Treated by Electro-acupuncture Combined with Jiawei Shentong Zhuyu Decoction. Journal of Clinical Acupuncture and Moxibustion. 31(8).
Qi L, Wen L & Luo WX. (2013). Thermal acupuncture combined with TCM in treating primary osteoporosis: 74 cases. Jiangsu Journal of TCM. 45(5): 56-57.
Zhang, W., Qiu, X. Y. & Wang, J. (2015). Clinical study on abdominal acupuncture for osteoporotic vertebral compression fracture. Journal of Acupuncture and Tuina Science. 13(4).