Acupuncture alleviates irritable bowel syndrome (IBS). Researchers from the Heilongjiang University of Chinese Medicine investigated the efficacy of electroacupuncture for the treatment of IBS. A comparison group in the clinical trial received oral administration of pinaverium bromide. The acupuncture treatment group demonstrated an 86.7% improvement rate. The drug group demonstrated a 50% improvement rate.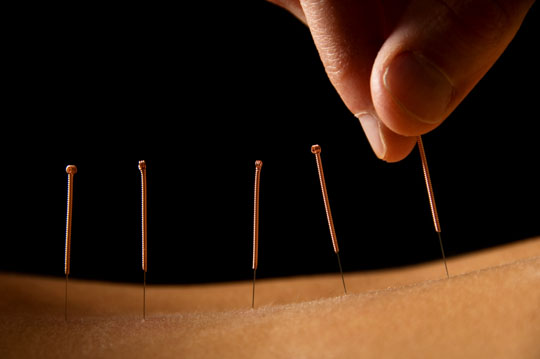 Sixty patients were randomized equally into two treatment groups. Group one received electroacupuncture and group two received pinaverium bromide. Electroacupuncture was applied to Huatoujiaji acupoints of the back at the level of T11, T12, and L1.
The researchers note that the acupuncture prescription was developed using a traditional approach to care. They note the Traditional Chinese Medicine (TCM) principle that Huatoujiaji acupoints are located between the du and bladder taiyang channels and have the ability to regulate both of these bordering channels and respective acupoints at specific spinous process levels. For example, the spleen back-shu point of the bladder taiyang channel is located lateral to the lower border of the spinous process of T11. Likewise, the stomach-shu point is located lateral to the lower border of the spinous process of T12. In addition, the sanjiao-shu point is located lateral to the lower border of the spinous process of L1.
All three bladder taiyang channel acupoints have traditional functions for regulating the digestive system. At the same spinous process levels, the Huatoujiaji acupoints share similar medicinal actions. The same applies for du channel acupoints. They too share similar actions to Huatoujiaji points at corresponding spinous process levels.
The acupuncture needles were inserted and manual acupuncture techniques were used to elicit deqi at each acupuncture point. The needles were 0.30 x 40 mm stainless steel filiform type and needle depth was 20 to 40 mm. Once deqi arrived, manual stimulation was applied for an additional two minutes followed by electroacupuncture of 60 Hz at patient tolerance levels for intensity. Needle retention time per each acupuncture session was thirty minutes. Acupuncture was applied once per day at a rate of five days per week for a total of three weeks.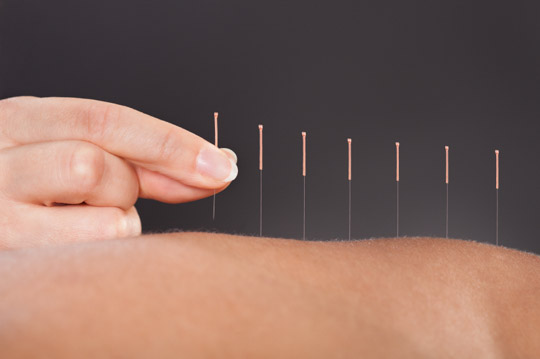 The medication group received 50 mg of pinaverium bromide at a rate of three times per day for three weeks. Pinaverium bromide is a gastrointestinal calcium antagonist. As a spasmolytic agent, it relieves spasms of the smooth muscle of the bowels. This medication is used for the relief of IBS for purposes of controlling abdominal pain and other bowel disturbances. Ultimately, the data shows that electroacupuncture significantly outperformed pinaverium bromide.
Jiangsu Province Hospital of TCM researchers had similar findings. Their meta-analysis of eleven trials with a sample size exceeding 950 patients demonstrates that acupuncture plus moxibustion relieves IBS. The study also revealed that acupuncture outperformed medications. The Jiangsu Province Hospital of TCM researchers concluded, "Acupuncture-moxibustion for irritable bowel syndrome is better than the conventional western medication treatment."
Chinese herbal medicine has also been shown effective for the treatment of IBS in modern research. The Journal of the American Medical Association (JAMA) published the findings of a randomized double-blinded placebo-controlled trial noting that Chinese herbal medicine "offer(s) improvements in symptoms for some patients with IBS." The study represents a joint effort by gastroenterologists and herbalists.

References:
Sun YZ & Song J. (2014). Therapeutic Observation of Acupuncture at Jiaji (EX-B2) for Irritable Bowel Syndrome. Shanghai Journal of Acupuncture and Moxibustion. 34(9).
Zhongguo Zhen Jiu. 2012 Oct;32(10):957-60. [Meta analysis of acupuncture-moxibustion in treatment of irritable bowel syndrome]. Pei LX, Zhang XC, Sun JH, Geng H, Wu XL. Acupuncture and Rehabilitation Department, Jiangsu Province Hospital of TCM, Nanjing, China.
JAMA. 1998 Nov 11;280(18):1585-9. Treatment of irritable bowel syndrome with Chinese herbal medicine: a randomized controlled trial. Bensoussan A, Talley NJ, Hing M, Menzies R, Guo A, Ngu M. Research Unit for Complementary Medicine, University of Western Sydney Macarthur, Campbelltown, New South Wales, Australia.