Researchers find acupuncture effective for the alleviation of acute asthma attacks. In a controlled clinical study, researchers determined that acupuncture plus moxibustion increases the effectiveness of usual care by 18.75%. Two groups were compared. Both groups received drug therapy, consisting of anti-inflammatory and antispasmodic pharmaceutical medications. One group, however, received Traditional Chinese Medicine (TCM) therapies (acupuncture and moxibustion) in addition to drug therapy. The drug therapy group achieved a 79.17% total effective rate and the TCM plus drug therapy group achieved a 97.92% total effective rate.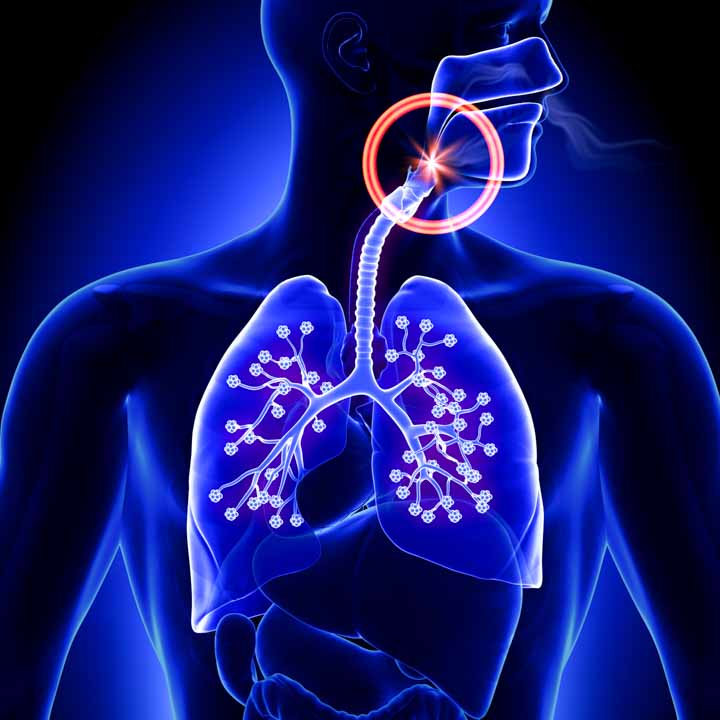 Clinical effectiveness was confirmed using several metrics including fractional exhaled nitric oxide (FeNO), peak expiratory flow (PEF), and serum IgE levels. The asthma control test (ACT) was included in the evaluation parameters, with measurements taken before treatment and one month after treatment. The TCM treatment group outperformed the drug only group in all parameters. Based on the results, the researchers conclude that acupuncture plus moxibustion increases positive outcome rates for patients suffering from acute asthma attacks.
Four tiers of effectiveness were derived from the data. Clinical results were categorized as cured, significantly improved, improved, and no significant improvement. The drug only group produced 11 cured, 13 significantly improved, 14 improved, and 10 with no improvement. The acupuncture plus drug therapy group produced 24 cured patients, 12 significantly improved, 11 improved, and 1 with no improvement. The researchers conclusively find acupuncture plus moxibustion effective for enhancing clinical efficacy across multiple improvement tiers.
Jiangmen Wuyi Traditional Chinese Medicine hospital researchers (Song et al.) used the following study design. A total of 96 patients were randomly distributed into a control group and a treatment group, each consisting of 48 cases. The control group received drug therapy. The treatment group received acupuncture plus the same drug therapy administered to the control group. All patients were diagnosed with acute asthma between December 2014 and September 2015.
The statistical breakdown for each randomized group was as follows. The treatment group was comprised of 24 males and 24 females. The average age in the TCM treatment group was 47.61 (±8.13) years. The average course of disease in the treatment group was 4.81 (±2.74) years.
The drug control group was comprised of 26 males and 22 females. The average age in the control group was 45.59 (±8.72) years. The average course of disease was 4.79 (±2.53) years. There were no significant statistical differences in terms of age, gender, and course of disease relevant to patient outcome measures. Interestingly, all patients involved in the study were diagnosed with coly type asthma, according to Traditional Chinese Medicine differential diagnostic pattern definitions.
Both groups received conventional anti-inflammatory and antispasmodic therapies. The TCM treatment group also received acupuncture and ginger moxibustion. The acupoints used were the following:
CV22 (Tiantu)
Dingchuan (Extra)
For Tiantu, patients were instructed to rest in a seated position. Upon disinfection of the acupoint site, a 0.30 mm x 40 mm filiform acupuncture needle was inserted into the acupoint. First, the needle was inserted perpendicularly to a depth of 0.1—0.2 cun (units). Next, the needle was slanted downward toward the manubrium of the sternum, to a maximum depth of 0.4—0.6 cun.
For Dingchuan, patients were instructed to rest in a seated position. Upon disinfection of the acupoint site, a 0.30 mm x 40 mm filiform acupuncture needle was inserted perpendicularly, to a maximum depth of 0.5—0.8 cun. A 15 minute needle retention time was observed. After insertion, the needle remained motionless and was not rotated, lifted, or thrust.
Tiantu is a hui-meeting point of the Ren channel and Yinwei (Yin Linking) channels. It is also a window of sky point, which indicates that this acupoint is beneficial for the treatment of rebellious qi (inversion qi). This acupoint descends rebellious qi and is effective for alleviating coughing, asthma, and wheezing. Tiantu (CV22) is also indicated for benefitting the throat and voice. The researchers cited an independent investigation finding this acupoint effective for relaxing the smooth muscles of the bronchi and inhibiting airway mucus hypersecretion.
Tiantu (Heavenly Prominence) is located on one of the main fourteen channels. Dingchuan is not located on a main channel and is an extra point, numerically designated as M-BW-1. Dingchuan is located 0.5–1 cun lateral to the lower border of the spinous process of the 7th cervical vertebra, in line with the Huatuojiaji points located inferiorly. Dingchuan, translated as calm dyspnea, is indicated for diffusing lung qi, transforming phlegm, and alleviating asthma and wheezing. The researchers note that Dingchuan provides an immediate effect for increasing the secretion of endogenous adrenocortical steroid hormones effective for alleviating allergic reactions and dyspnea caused by asthma. After acupuncture treatment, ginger moxibustion was applied to the following acupoints:
GV14 (Dazhui)
BL12 (Fengmen)
BL13 (Feishu)
CV17 (Danzhong)
Ginger was cut into slices, 2—3 cm across and 0.3 cm thick. Next, moxa cigar cuttings were attached to each slice and placed on the acupoints. Acupuncture plus moxa treatments were administered once daily for 7 consecutive days. Song et al. cite prior research determining that moxa reduces airway resistance and benefits the immune system. From a TCM perspective, Song et al. note that ginger moxibustion is effective for warming the channels and dispersing the cold.
The researchers conclude that ginger moxibustion and acupuncture benefits patients with acute asthma. The data shows that acupuncture and moxibustion increase the efficaciousness of drug therapy by 18.75%. As a result, integration of acupuncture and moxibustion into usual care will increase the rate of positive patient outcomes.

Reference
Song et al. Clinical Observation of Acupuncture Combined with Ginger Moxibustion on Bronchial Asthma of Acute Attack [J]. Journal of Emergency in Traditional Chinese Medicine, 2016, 25(3):512—514.