A new study of 236 patients published in the Journal of Musculoskeletal Pain concludes that acupuncture is an effective treatment modality for the relief of lower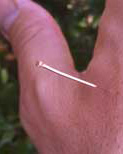 Acupuncture at LI4back pain. A total of 14 acupuncture treatments were applied over a period of four weeks in this randomized investigation. The researchers concluded that acupuncture has "beneficial and persistent effectiveness against CLBP (chronic lower back pain)."
In related research, acupuncture at acupoint LI4 (Hegu) was found to help in the relief of lower back pain. A group of 187 patients with CLBP received 18 treatments over a period of 7 weeks in this controlled clinical trial. Two separate acupuncture groups, one using LI4 and one not using this acupoint in the prescription, showed statistically significant relief from lower back pain.
The LI4 acupuncture point findings are consistent with acupuncture theory. LI4 is known for its pain relieving effects (including the neck, head, face and upper limbs) along with other points located on the hand. Yaotongxue, located on the dorsum of the hand, is a common acupuncture point used in the treatment of acute lumbar strain. Its lower back pain relieving effects are often immediate with lasting results.
References:
Mingdong, Yun. Na, Xiong. Mingyang, Guo. Jun, Zhang. Defang, Liu. Yong, Luo. Lingling, Guo. Jiao, Yan. Acupuncture at the Back-Pain-Acupoints for Chronic Low Back Pain of Peacekeepers in Lebanon: A Randomized Controlled Trial. Journal of Musculoskeletal Pain. P 107-115, V 20.
Hegu Acupuncture for Chronic Low-Back Pain: A Randomized Controlled Trial. Mingdong Yun, Yongcong Shao, Yan Zhang, Sheng He, Na Xiong, Jun Zhang, Mingyang Guo, Defang Liu, Yong Luo, Lingling Guo, and Jiao Yan. The Journal of Alternative and Complementary Medicine. February 2012, 18(2): 130-136. doi:10.1089/acm.2010.0779.