A collaborative investigation between researchers from the University of Maryland School of Medicine (Baltimore) and the Shanghai University of Traditional Chinese Medicine concludes that, "Recent clinical trial and systematic review results clearly show acupuncture to be more beneficial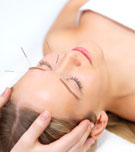 Acupuncture Researchthan conventional standard care for many pain conditions…." Published in Medical Acupuncture, the review notes that basic science research has identified several mechanisms by which acupuncture exerts its effectiveness in the treatment of pathological conditions. The authors note that "an extensive body of acupuncture research has been published, much of it with important clinical implications." In addition, the authors note that there is a trend towards acupuncture becoming accepted by the mainstream in the United States, citing a national survey showing a growth in acupuncture utilization.
Recent Research Topics
The modern research continues to pour in. Below is a short list of some of the research that has sparked recent interest. The list is by no means exhaustive and new research continues to map the neurophysiological mechanisms of acupuncture.
Liver Fibrosis
A recent sham-controlled study measured the mechanisms by which acupuncture prevents liver fibrosis. Acupuncture demonstrated changes to hepatocyte arrangement and relief from necrosis and hepatic pseudo-lobular formation. Also, MMP-9 protein expression levels of hematopoietic stem cells (HSC) were "upregulated remarkably" by the use of acupuncture.
Brain Waves
Magnetoencephalography (MEG) demonstrated that acupuncture induces specific responses to brain waves. Researchers discovered that, "Significantly increased delta power and decreased alpha as well as beta power in bilateral frontal ROIs (brain Regions of Interest) were observed following stimulation at ST36."
Fertility
A recent study measured the biochemical mechanisms by which acupuncture increases IVF success rates. In a randomized controlled study, it was concluded that, "Acupuncture could improve the poor receptive state of (the) endometrium due to mifepristone by promoting Th2 cytokines secretion and inhibiting Th1 cytokines to improve blastocyst implantation."
Oxygen at Points
New research has discovered that oxygen levels are higher at acupuncture points. The researchers note that their investigation may "verify the physical existence of acupuncture points…."
Osteoporosis
New research demonstrates that acupuncture improves bone metabolism for the prevention of osteoporosis. Blood analysis measured increases in levels of BGP (bone gla protein) from acupuncture treatment.
MRI Investigation
Researchers from MIT (Massachusetts Institute of Technology, Cambridge) and the University of Michigan (Ann Arbor) utilized MRI research to demonstrate that autonomic nervous system (ANS) responses to acupuncture emanate from "distinct subregions" of "brain circuitry." True acupuncture activated the secondary somatosensory cortex (S2), insula and the mid-cingulate cortex. The heart rate (HR) deceleration and skin conductance response (SCR) "magnitude of response was greater following real acupuncture" than with sham acupuncture.
Laser Acupuncture
Researchers concluded that laser acupuncture "can modulate physiological and neurovegetative parameters after stimulating the Baihui (DU20) acupuncture point" and that there was a "clear on/off-effect when the laser was activated/deactivated."
Muscle Building
Acupuncture builds and preserves muscle mass. The research measured that acupuncture "recovered the skeletal muscle mass" and "ameliorated skeletal muscle atrophy by reducing mRNA expressions of the E3 ubiquitin ligases atrogin-1 and MuRF1." Acupuncture also "increased the mRNA expressions of Akt1 and TRPV4."
Pain Relief
Researchers from the University of Rochester Medical Center in New York stated, "acupuncture releases a natural pain-relieving molecule into the body…. Adenosine is a key to reducing pain during acupuncture treatment."
References:
Shifen Xu and Lixing Lao. Medical Acupuncture. March 2012, 24(1): 10-14. doi:10.1089/acu.2011.0831.
Differential spectral power alteration following acupuncture at different designated places revealed by magnetoencephalography (Proceedings Paper). Youbo You; Lijun Bai; Ruwei Dai; Ting Xue; Chongguang Zhong; Zhenyu Liu; Hu Wang; Yuanyuan Feng; Wenjuan Wei; Jie Tian. 14 April 2012. 

Proceedings Vol. 8317. Medical Imaging 2012: Biomedical Applications in Molecular, Structural, and Functional Imaging, Robert C. Molthen; John B. Weaver, Editors.
Acupuncture Research. Inhibitory Effect of Acupuncture on Hepatic Extracellular Matrix Production in Carbon Tetrachloride-induced Liver Fibrosis Rats. 2012-01.
T. G. Wegmann, H. Lin, L. Guilbert, and T. R. Mosmann, "Bidirectional cytokine interactions in the maternal-fetal relationship: is successful pregnancy a TH2 phenomenon?" Immunology Today, vol. 14, no. 7, pp. 353–356, 1993.

Minyoung Hong, Sarah S. Park, Yejin Ha, et al., "Heterogeneity of Skin Surface Oxygen Level of Wrist in Relation to Acupuncture Point," Evidence-Based Complementary and Alternative Medicine, vol. 2012, Article ID 106762, 7 pages, 2012. doi:10.1155/2012/106762.
Zhongguo Zhen Jiu. 2012 Jan;32(1):13-6. Observation on influence of bone metabolism biochemical indices of senile osteoporosis treated with distant acupuncture and nearby tuina]. Wang T, Pang L, Huang H, Wang WY. Institute of Acupuncture and Moxibustion, China Academy of Chinese Medical Sciences, Beijing, China.
Napadow, V., Lee, J., Kim, J., Cina, S., Maeda, Y., Barbieri, R., Harris, R. E., Kettner, N. and Park, K. (2012), Brain correlates of phasic autonomic response to acupuncture stimulation: An event-related fMRI study. Hum. Brain Mapp.. doi: 10.1002/hbm.22091.

Author Information: Massachusetts General Hospital, Charlestown, Massachusetts. 
Department of Radiology, Logan College of Chiropractic, Chesterfield, Missouri. Kyung Hee University, Yongin, Korea. 
Department of Anesthesia and Critical Care, Massachusetts General Hospital, Boston, Massachusetts. 
Department of Brain and Cognitive Science, Massachusetts Institute of Technology, Cambridge, Massachusetts. 
Department of Anesthesiology, University of Michigan, Ann Arbor, Michigan.
Evidence-Based Complementary and Alternative Medicine. V 2012, ID402590. Sino-European Transcontinental Basic and Clinical High-Tech Acupuncture Studies—Part 3: Violet Laser Stimulation in Anesthetized Rats. Xin-Yan Gao, Gerhard Litscher, Kun Liu, and Bing Zhu.
Biochemical and Biophysical Research Communications. Volume 410, Issue 3, 8 July 2011, Pages 434–439. Acupuncture ameliorated skeletal muscle atrophy induced by hindlimb suspension in mice. Akiko Ondaa, Qibin Jiaob, Yasuharu Naganoc, Takayuki Akimotod, Toshikazu Miyamotoe, Susumu Minamisawab, Toru Fukubayashia.
Goldman N, Chen M, Fujita T, et al. Adenosine A1 receptors mediate local anti-nociceptive effects of acupuncture. Nat Neurosci 2010.